Here we are, Falcons fans. Five days until the regular season kicks off. Training camp is over, the roster cuts have been made, the depth chart has been released and the Falcons are locked in on the Seattle Seahawks. The questions are in, so let's get to them now. Just remember that all opinions here are mine unless noted otherwise.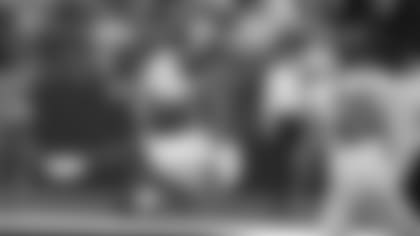 Ethan from Auburn, IN
Hey Beek! I was wondering why the Falcons are going with black jerseys for the Cowboys game in Week 2? I feel like that's kinda strange, but I don't know.
Matt: Hey, Ethan! Quick question: How long have you been watching NFL games? The Dallas Cowboys have always worn their white jerseys at home, outside of a few exceptions. The NFL rulebook states that the home team decides on which color jersey they will wear at home. It's really not strange at all that the Falcons will be wearing black. The last time the Falcons played in Arlington – which was a 39-28 Falcons win on Sept. 27, 2015 – they wore their red jerseys.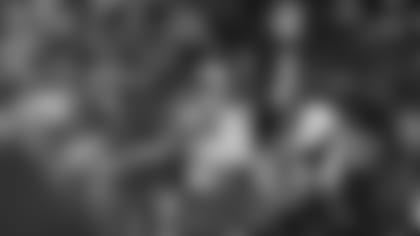 Matthew from Evans, GA
What's up? I was just wondering what the odds are of a nine-plus win season is and odds for the playoffs. Thank you!
Matt: Hey there, Matthew. If you want actual odds, you'll have to visit another site, bud. But if you want to know what my opinion is when it comes to the Falcons winning nine games, I've got you covered. Look, I think the Falcons have upgraded the overall talent on their roster since that day they walked off the field in Tampa to close out the 2019 season. But, keep in mind, a lot of things have changed, like they always do in the NFL offseason. Between free agency, the draft, coaching staff changes, injuries and the new schedule, teams are completely different – and so is their respective roads to the postseason, if they can get there. I think the Falcons have a difficult schedule but are capable of winning nine to 10 games in 2020. And with the expanded playoff format, I think that will be enough for them to get into the postseason dance and possibly make a run. Like I always say, you've got to be in it to win it, and no one cares what your record is once you're in the playoffs. It's a new season.
Andrew from Atlanta, GA
Vikings trade for Yannick Ngakoue. Titans sign Jadeveon Clowney. Atlanta has been hurting on the edge for years. Any insight into why we haven't seen the Falcons in play for a big signing or trade like one of these players?
Matt: Apparently you missed it, Andrew. The Falcons did make a big move for an edge player – back in late March. They went out and signed pass rusher Dante Fowler, and if you listen to what Pete Prisco of CBS Sports told me recently (watch above), he thinks Fowler is just as good as Clowney.
Damien from Atlanta, GA
When do you think Julio Jones will be a free agent???
Matt: Ha! Maybe after Julio Jones retires, sits out a season and decides to come back. Look, there's no way the Falcons would let Julio Jones hit the free market – and they have no intentions of it, Damien. In case you missed it, exactly one year ago, the Falcons and Jones agreed to a three-year contract extension worth a reported $66 million, with $64 million due at signing. They are committed to Jones and he's not going anywhere.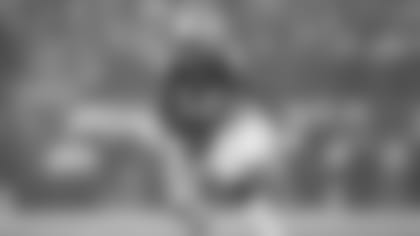 Paul from Germany
Hello Beek. I'm reading all of your articles from SFTB and I am loving it. The Patriots cut former Falcons WR Mohamed Sanu. What you are thinking about, as far as bringing back Sanu? Or do you think we are set at the receiver position and going with Russell Gage at the No. 3 receiver? Thanks, and rise up!
Matt: The Patriots gave up a lot – a second-round pick – to acquire Mohamed Sanu and it just didn't work out at all. New England released Sanu after the 31-year-old receiver tallied 26 catches on 47 targets with 207 receiving yards and one touchdown in eight regular-season games. In the Patriots' lone playoff game, Sanu had just one catch on five targets. Not great, Bob. While Sanu played well here in Atlanta and there is certainly some familiarity with the offense, I think that ship has sailed. However, if one of the Falcons receivers were to go down and the Falcons needed someone to step in, I could see them giving Sanu a look if he were healthy and available. As for now, Russell Gage has emerged as a solid No. 3 option and continues to play really well. The Falcons also like Olamide Zaccheaus and Christian Blake, two young receivers with tons of potential.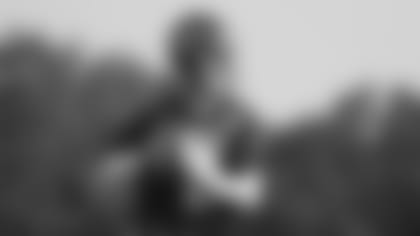 Moote from Milledgeville, GA
When are the Atlanta Falcons going to get rid of quarterback Matt Ryan? Because we cannot win with him.
Matt: You'd think that after a while I'd cease to be amazed at comments like this, but … nope. Comments like this leave me dumbfounded. Back in July, I was asked which Falcons player was the most important of the last decade. It was and is a no-brainer: It's Matt Ryan. And here's the kicker: He's still playing at an elite level, plus he's got all of the added experience under his belt. And what do you mean they can't win with Ryan? In the last decade alone he's led to the Falcons to 89 regular-season wins, five playoff berths, three division crowns, an NFC championship title and being one play away from winning a Super Bowl. C'mon, enough with the anti-Ryan stuff. MAILBAG
Do you have a question about the Falcons that you want answered? Ask a question here and it could be posted on AtlantaFalcons.com.
Go ahead, ask the Beek
Do you have a question about the Atlanta Falcons (or anything football-related) you'd like to ask Matt Tabeek? If so, hit the link. Please remember to include your home state (or country if you live outside the U.S.). Thanks for reading SFTB!