Well, this is pretty much it, Falcons fans. One more loss, and I don't really see any scenarios where the Falcons can realistically earn a playoff berth. As much as I don't even want to talk about the playoff right now, you – the fans – are still asking about scenarios. And believe it or not, the Falcons are still alive (more on that below). One thing I do know is that they would have to win out, and that means beating the Las Vegas Raiders on Sunday. So, let's get to your questions. Just remember that all opinions here are mine unless noted otherwise.
Jeremy from Calhoun, GA
Hey Beek, I don't have a Twitter account, but I use the CBS Sports app to see the tweets you and your team talk about to stay up to date on the Falcons news daily. I have seen your poll and wanted an opportunity to submit my take. Out of the 4 candidates mentioned, I really would like to see us give Holmes the chance. I mean, look at how well he does in the draft every year! He hasn't even had a first-round pick to use in years and they still build good teams for McVay. The other 3 have proven they can pick good players but not build championship rosters. At the end of the day, I want to see a winning product as often as possible! So, let's give Holmes the leg up!! How do you feel about it?
Matt: Hey, Jeremy. As of Sunday morning, four names emerged as being associated with the Falcons search for a general manager. You can follow along with our Falcons GM Tracker, where we list all of the names that credible news media outlets are reporting as possible candidates being linked to the Falcons. As of now, there are four names in that tracker: Rick Smith, Champ Kelly, Brad Holmes and Reggie McKenzie. To be candid with you, I don't really have a strong opinion on any one candidate or, in this case, on any of the names being linked to the Falcons. Not yet. I'm still doing my homework on them. I also think there are going to be many more names associated with this open position – maybe as many as 10 to 15 more, to be honest. Some of them will be legitimate candidates and others will be names floated out there by agents trying to drum up interest in their clients. We'll do our best to stick with the most credible reporting.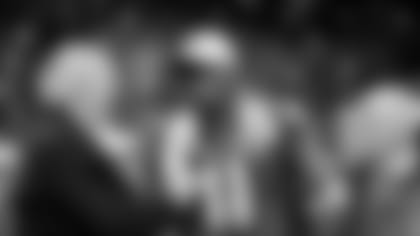 Jimmy from Virginia Beach, VA
I love reading this every week especially for the fans' questions, but my question for you is, mathematically, can we still make it to the playoffs and what has to happen besides win out? Who has to lose?? When will fans realize that if we rebuild the whole team, especially key pieces like Matt Ryan and Julio Jones, it will still probably be years before we make it to the playoffs? I think they should get a new OC and fix that defense up. They'll be back in the mix. Your thoughts??
Matt: Thanks for reading, Jimmy. Appreciate having you here contributing. I'll be honest with you when it comes to going through all of the playoff scenarios, but I'm pretty sure the Falcons don't have a chance to make it unless they win out and finish with a 9-7 record, and they'd need some help. Even if they sweep the Bucs and finish with a 9-7 mark, they'd still be out if Tampa Bay manages to win 10 or more games. They must win out and hope the Bucs lose three of their next five games. If the Bucs, Panthers and Falcons all finish with a 9-7 mark, Atlanta would get in. But I refuse to talk about the playoffs, unless they can win these next two games. If they beat the Raiders and Saints, I'll entertain some scenarios with you guys.
Jacob from New Haven, CT
Hey Beek! I feel that there has been a lot of talk of a new quarterback. Personally, from watching all the games this year I feel Matt Ryan is the least of the team's problems. I feel like the main worries the team should have is improving our offensive play calling, secondary, running the ball, and O-line. I understand maybe drafting a quarterback and building them up over the years, though I don't think it makes sense to make any major changes to that position. I feel Matt Ryan is a great quarterback who has years left in his tank where other positions need more urgent improving. I also think we need a new more aggressive offensive coordinator. I feel ever since Kyle Shanahan left, the offense hasn't been going for big down-the-field shots I love to see and other creative big plays.
Matt: As you can surmise here day in and day out, Jacob, everyone has different opinions when it comes to the team's biggest issues, needs and, of course, the quarterback position. My stance on Ryan has been pretty clear since I arrived here in 2017. Ryan has not only been the most important Falcons player over the last decade – on and off the field – he's been the best player in franchise history. I still think he's playing at very high level. And here's another big factor when it comes to discussions about his future: The Falcons have made a substantial financial commitment to Ryan and it's not one that they can easily away from without significant salary cap ramifications. My point is, like it or not, Ryan isn't going anywhere anytime soon. Now, as far as the long-term direction of the team and how he fits in, well, that will ultimately be decided by the new general manager, whenever that person is hired. As far as what's happening on the field right now, you have to give credit to where credit is due, and the Saints have had the Falcons' number the last two times they've played them – 17 sacks in the last two games! Wow.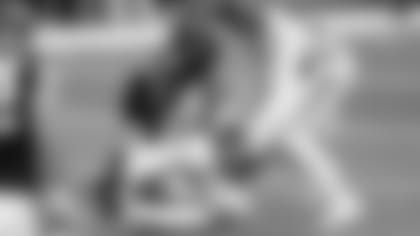 Damon from Ellenwood, GA
Hey Beek!! I'm a huge fan of your journalistic contributions to the Falcons fan base and I've been a fan of the Falcons since 1981. The organization is blessed to have you! Now to my question! From your insight, does the Falcons coaching staff and front office still believe A.J. Terrell still has the potential to truly be our #1 corner? He still looks the same young man from last year's national championship game more often than not to me. It seems to me that whoever the GM and head coach for the Falcons in 2021 are, will truly have to look at him in particular. I don't want to be too hard on the young fella, but he really is not up to snuff right now. Thanks again, Beek!
Matt: First, thanks for the kind words, Damon! I'll be sure to pass those comments on to my boss when my performance review comes up. (And if there's anyone else out there who shares Damon's thoughts about my work, hit me up and I'll give you my supervisor's direct line and email address. Thanks in advance.) OK, now to your point about A.J. Terrell, and I'm actually going to disagree with you there, Damon. In fact, I led Monday's SFTB with Terrell after Jerry from Hinesville, Ga., was singing his praises. Look, Terrell has actually been one of the few bright spots on that defense this year and his play has among the best in the league compared to other rookie cornerbacks. According to Pro Football Focus (as of Nov. 20):
Highest-rated NFL cornerbacks
Julian Blackmon, Colts – 72.2
A.J. Terrell, Falcons – 70.0
Jordan Fuller, Rams – 65.7
I think whoever comes in as the new general manager and (possibly) the new head coach, Terrell will actually be viewed as one of the positives pieces to build this defense around. One last thing: Don't forget Terrell's amazing leg interception (pictured above) he made against the Vikings! That was a fantastic play.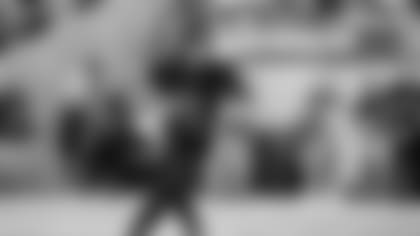 Jim from Roanoke, VA
OK, we actually have been out of the running for a playoff berth for a while IMO and don't you think Kurt Benkert should see some more playing time? What's it gonna hurt? We know what we have in Matt Ryan and Matt Schaub, and why get Ryan hurt for meaningless games?
Matt: Well, Jim, as I noted above in my response to Jimmy from Virginia Beach, the games aren't (technically) meaningless. The Falcons would have to win out and some weird and unlikely things would have to happen … but this is 2020, and this season has been anything but routine or normal. These players want to win and there is no way you're trotting out a practice squad player and benching Matt Ryan. It's not going to happen, Jim. And besides, the Falcons have a pretty good idea of what they have in Kurt Benkert. MAILBAG
Do you have a question about the Falcons that you want answered? Ask a question here and it could be posted on AtlantaFalcons.com.
Go ahead, ask the Beek
Do you have a question about the Atlanta Falcons (or anything football-related) you'd like to ask Matt Tabeek? If so, hit the link. Please remember to include your home state (or country if you live outside the U.S.). Thanks for reading SFTB!