The first injury report is out, and we are just three days away from actual football, folks. It's hard to believe, but the Seattle Seahawks will be rolling into town soon for a showdown against the Falcons at Mercedes-Benz Stadium on Sunday. Meanwhile, you've got plenty of questions, so let's get to them now.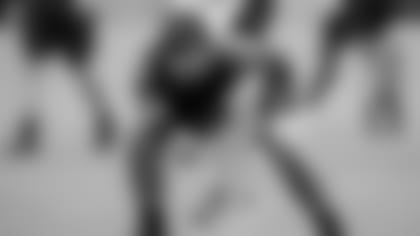 Tao from Huntington Beach, CA
Hey Beek, so Matt Hennessy isn't going to be starting at left guard according to the depth chart, huh? Did he not show enough during camp?
Matt: Hey, Tao. As Lee Corso likes to say, "Not so fast, my friend." There's a few of things of things you need to consider and then I'll let you connect the dots. First, Matt Hennessy has been hampered somewhat by a knee injury he sustained in the third team scrimmage toward the end of camp. Well, the first injury report came out and Hennessy was among the full participants. The notable because Hennessy had been held out of a few practices due to that injury, but it appears he's ready to go for Week 1. Also on Wednesday, Falcons coach Dan Quinn explained that James Carpenter and Hennessy will both get reps "for the first part of the season." For most of training camp, Hennessy worked with the starting unit, and that could have been for a lot of different reasons, mind you. Finally, consider recent history. Before the 2019 opener against the Minnesota Vikings, the Falcons listed Jamon Brown and Carpenter as co-starters at left guard, while Matt Gono and Kaleb McGary were named co-starters at right tackle. As it turned out, Brown and Gono were among the inactives for the game and did not suit up. Carpenter played all of the snaps at left guard, and McGary started against the Vikings. Stay tuned on the offensive line, now and throughout the season.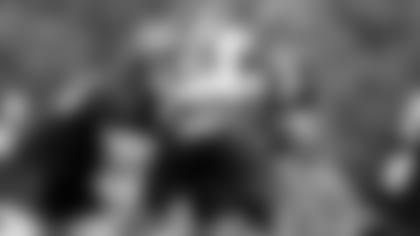 Tip from Coefield, NC
Knowing that the most important aspect of an offense is the line *hands down*, they block, create running lanes, and most importantly protect the quarter back. With the additions to the offensive line and the familiarity of the system, do you feel the line has improved enough to keep make Matt Ryan, Ice man again? Matt is a proven talent when he's not running for his life and no knock to the O-line but the Falcons will only be as good as the O-line allows them to be! With time in the pocket Matt Ryan is elite and the Falcons have the best WR duo in the league.
Matt: The Falcons rolled out three new starters, including two rookies, along the offensive line in their Week 1 opener against the Vikings. If James Carpenter ends up starting at left guard on Sunday, the Falcons will have five returning starters up front. I do think they'll be better this year. Both Chris Lindstrom and Kaleb McGary have had a full offseason as they head into Year 2. McGary started all 16 games last year and Lindstrom looks different physically. The only question mark right now is at left guard, and whether Matt Hennessy will unseat Carpenter eventually as the starter. Either way, the depth and experience up front is better heading into the season. The group must play better and that means they must be more physical and do a much better job of protecting Matt Ryan (remember, they've surrendered 50 and 42 sacks over the last two seasons).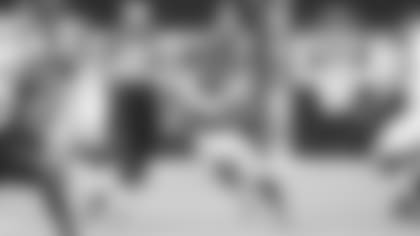 Matt from Brandon, Canada
Hey Beek, huge fan. What do you think the chances are that we make a move to bring Taylor Gabriel back? He was explosive for us during our Super Bowl run and already has experience playing with Marty Ice and Julio. Adding him as a slot receiver with Ju and Calvin out wide makes a lot of sense to me.
Matt: There's a name I didn't expect to see this morning! Taylor Gabriel, surprisingly, is still a free agent. It's been a weird offseason with no preseason games, and maybe that and the pandemic has something to do with it. Either way, yes, I do like the experience factor Gabriel brings to the table. But the Falcons really like Olamide Zaccheaus and Christian Blake, too, Matt. And both of those guys are younger and just as capable of making explosive plays – they just need to make the best of their opportunities when they get them (and there won't be a whole lot with Julio Jones, Calvin Ridley, Russell Gage, Todd Gurley and Hayden Hurst looking for the ball). One other thing to consider is the salary cap and the kind of money a veteran like Gabriel might be seeking. Thanks for writing in.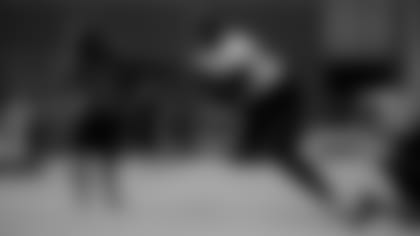 Nathan from San Jose, CA
I don't know about this, but I don't hear a lot about the second-round pick Marlon Davidson. Is it so just because he is playing the not-so-bad not-so-good type? Or is it because he might be a bust? Thanks!
Matt: Hey, Nathan. Don't buy any of that bust talk. The Falcons have been cautious with their second-round pick. He's missed a good portion of training camp because of a knee injury, and that's why you haven't heard a whole lot about him. In the team injury report released on late Wednesday, Davidson was listed as limited with a knee injury. According to Falcons coach Dan Quinn, it might take time for Davidson's conditioning to get to the point where he's ready for serious game action.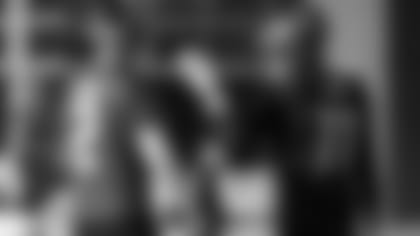 Alvie from Columbus, GA
I'm just gonna say this upfront. Hands down, Beek, I am with you on the Falcons, which is my team no matter what. But my point is, Atlanta Fans STOP hating on the Ice and Julio, they both aren't going anywhere. They put in double the work and you hate and want to trade for the new toys. SMH. This year is our year to win. I'm out. Thanks for your time, Mr. Beek. Please, please, please keep up your awesome work you do. My birthday probably came which is the 16th of September and passed by. I really do hope everyone can get back to football, especially everyone else who's not with the Grits Blitz.
Matt: Love the passion and enthusiasm, Alvie. I'm with you on the anti-Matt Ryan chatter; it's a head-scratcher. I know it's early, but have a happy birthday, Alvie! Hope the Falcons can deliver a win for you. And thanks for writing in.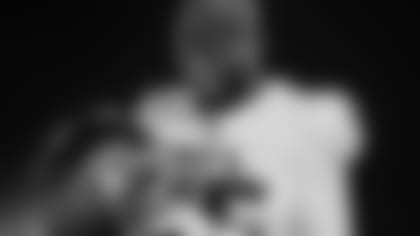 Ian from Georgia
Why are we wearing our white uniforms against the Broncos? Isn't that game going to be played in Atlanta?
Matt: Yes, Ian, the Falcons will be wearing their white jerseys against Broncos in a home game in Week 9 on Nov. 8. But look closely at the jersey schedule, Ian, specifically at the white jersey portion:
Week 1: vs. Seattle Seahawks
Week 2: at Dallas Cowboys
Week 3: vs. Chicago Bears
Week 5: vs. Carolina Panthers
Week 12: vs. Las Vegas Raiders
Week 15: vs. Tampa Bay Buccaneers
Week 4: at Green Bay
Week 6: at Minnesota Vikings
Week 8: at Carolina Panthers
Week 9: vs. Denver Broncos
Week 11: at New Orleans Saints
Week 14: at Los Angeles Chargers
Week 17: at Kansas City Chiefs
Week 18: at Tampa Bay Buccaneers
Week 7: vs. Detroit Lions
Week 13: vs. New Orleans Saints
That will be the only home game where the Falcons will be wearing white. And, who knows, maybe by November fans will be back at games – and I think it would be awesome for the home fans to see the white jerseys in person at least once. I'm a bit biased because the white jerseys are my favorites.
Scott from Bermuda
Hey Beek, Amazing column. I honestly feel we have the talent and coaching to make a run for the ring this year. I agree with you that the anti-Ryan comments by some fans are insane and he will show them, again, why he's so valuable to the Falcons. I have a couple of questions. After releasing Deone Bucannon, we only have 4 LBs going into the season. What is the thinking here? I thought his versatility would have been valuable to the defense and excellent coverage in case of any injuries. I'm confused by this move. 4 LBs is not enough, IMO. What do you think? I'm disappointed for Treadwell. I thought he would have gotten better playing with an elite QB, no disrespect to the other QBs he's played with. Too many drops? What happened? Rising up from Bermuda!!!
Matt: Hey, Scott. Not sure if you saw what happened there with Deone Bucannon, but he was re-signed and placed on the Falcons practice squad. He and Edmond Robinson are the two linebackers listed there. Remember, the league expanded the number of players teams can keep there to 16, plus six of them can have unlimited years of experience (meaning they could go sign Steve Bartkowski and put him on the practice squad if, of course, Bart was down with that). But back to Bucannon and the defense. They like Bucannon and the experience he brings, but it's also a numbers game, too. The Falcons went with 11 defensive linemen, five linebackers, six corners (Jordan Miller, however, is serving a three-game suspension) and five safeties on their initial roster. After several moves on Sunday, Bucannon eventually landed on the practice squad. Keep in mind that the Falcons will be rolling with a lot of two-linebacker formations and nickel packages this season. To do that, you need more numbers in other position groups. One more thought on the linebackers – don't sleep on rookie Mykal Walker. It's very early, but he looks promising. As far as Laquon Treadwell goes, give this interview (above) a listen. My old friend Pete Prisco of CBS Sports joined me on Falcons Audible and we discussed the Falcons moves, including Treadwell and that defense. MAILBAG
Do you have a question about the Falcons that you want answered? Ask a question here and it could be posted on AtlantaFalcons.com.
Go ahead, ask the Beek
Do you have a question about the Atlanta Falcons (or anything football-related) you'd like to ask Matt Tabeek? If so, hit the link. Please remember to include your home state (or country if you live outside the U.S.). Thanks for reading SFTB!