FLOWERY BRANCH, Ga. -- Falcons defensive coordinator Ryan Nielsen is adamant about establishing sound relationships with his coaching staff, just as much as he is with his players.
With the recent acquisition of assistant head coach/defense Jerry Gray, both Nielsen and Gray are in the early stages of their coaching relationship. A week to be exact. But in this short period of having phone conversations and spending time with Gray, Nielsen is looking "forward to days in the future with Jerry."
"Jerry's been awesome," Nielsen said Monday during his introductory press conference. "I visited [him], that's why I was kind of late coming down here today, because I was just with him talking some football and going over some philosophy things, X's and O's type of stuff, so it's been great."
Gray most recently served as the defensive backs/pass game coordinator for the Green Bay Packers before joining the Falcons on Jan. 31. Gray's prowess comes in the secondary, having been an NFL coach for more than two decades.
Nielsen's expertise is prominent in the pass rush and on the defensive front, having developed players like Cameron Jordan and Trey Hendrickson. When it comes to marrying what happens on the line of scrimmage and in the secondary, Nielsen is confident in how their coaching styles will compliment each other.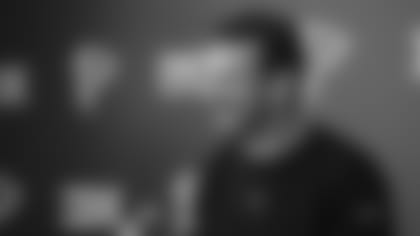 "It's going to go great," Nielsen said. "There are things that we've done, places that I've been, where he's been. And so, as you look at this playbook, it's not done. We're going to work through this, you know. That's what excites me. Everybody is going to have a say and when we make a call on Sunday, that's all of our defense."
Nielsen's point of emphasis is to stay consistent in ensuring that he and his coaching staff are always on the same page.
"The biggest thing to me is there's so many different ways to do it," he said. "As long as we're on the same page, and we walk out as one unified front, in front of the players and [are] able to coach it, and there's a reason why, then we can call it on Sundays. That's the most important thing. And so, what it looks like may be a little bit different than before, [or] it might look very similar, but [it's about] how we're coaching it and teaching it, and the players fundamentals and technique that go along with it."
As the Falcons are still rounding out the rest of the defensive staff, the most important quality on defense for Nielsen is that he wants his unit to play soundly, regardless of the what's called. That's how defenses win, he said.
"Whatever we throw out there, we want to be sound, fundamentally, and technique-wise and we want to execute what that call is," Nielsen said. "So, if we all can have our input on how to do that, we'll come up with one way to do it and then we'll go out there and be together."