While the Chiefs and 49ers prepare for Super Bowl LIV, the Falcons are busy evaluating their roster and preparing for the start of the new league year – specifically, the free agency period and the NFL Draft. We all know the Falcons will once again have to get creative when it comes to the salary cap and determining who they'll keep and who they might possibly add but, in the meantime, you've got plenty of questions and comments. So, let's get to them now. Just remember that all opinions here are mine unless otherwise noted.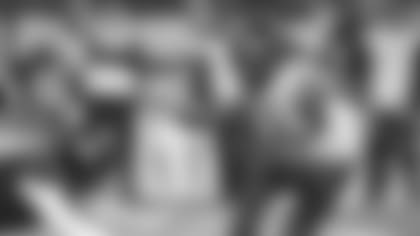 Palmer from Sacramento, CA
Hey Beek! This is my first time writing in after following the Falcons for most of my life. I love our Falcons. These seasons are tough on the fans and we all have our ideas on how to make the team better, but in the end, I trust our owner Arthur Blank and the leadership. My question is, what do you think about the Falcons picking at #16 and also trading back into the first round like they did last year? Address the defense with 2 picks in the first and then either a RB or an OG in the second. Love what you're doing man. Thanks for keeping us fans entertained and informed.
Matt: I am all for acquiring more picks and going heavy on defense early, Palmer. I think the Falcons will have a number of holes to fill come late April unless they surprise me by being active in free agency. That said, I'm not a fan of passing on talent to fill a need. The Falcons, like 31 other teams, put together a draft board where they rank the draft prospects based on their individual grades – and I think you need to stay true to that. I think you can find a really good running back later in the draft, too (more on that below). Keep an eye on Utah's Zack Moss. I like him a lot.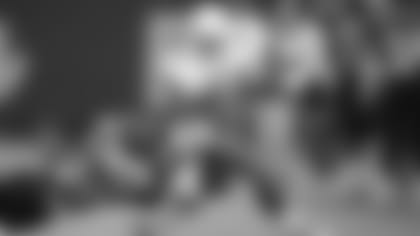 Leon from Adairsville, GA
As I look at the Falcons this season and the draft, would it be a good idea for the Falcons to draft D'Andre Swift in the first round as we for sure need a running back that can be a three-down back with speed, agility, and running smarts instead of a DE? We have sorely lacked in our running game the past two years and Devonta Freeman reminds me of a couple of old running backs we had in the past that had 1 or 2 years of decent production. Swift seems to be that all-around back like Todd Gurley was coming out of UGA and could be a big help to our ELITE QB. The OL could use help and our pass rush could use some help, however, in this case I think helping out Matty Ice would be our best call. We can pick up another Vic Beasley/Takk McKinney later in the draft. What are your thoughts?
Matt: Look, I love running backs. My favorite players to watch growing up were running backs – Barry Sanders, Emmitt Smith, Walter Payton, Tony Dorsett, Eric Dickerson and Earl Campbell, to name some of my all-time favorites. But I do not see the next Barry Sanders or Emmitt Smith in this draft class. And when I look at teams that run the ball well – like the 49ers, for instance – I'm reminded that you can find good running backs anywhere in the draft or in free agency. San Francisco's trio of backs – Raheem Mostert (undrafted), Matt Brieda (undrafted) and Tevin Coleman (third-round pick) – comprised a rushing attack that finished second in the league with an average of 144.1 rushing yards per game in 2019. The Falcons were 30 out of 32 teams with 85.1 yards per game. Running backs take a beating in this league and, therefore, have a shorter shelf life. If you need a reminder, just look at the number of games missed by Falcons running backs over the last three seasons. The Falcons definitely need to get better up front and in the running game. Remember, Falcons quarterbacks were sacked a combined 50 times in 2019. I think they need address the offensive line before drafting or signing a running back. But even more important than that, in my opinion, is addressing the defense – specifically the edge rushers and cornerbacks. It would not surprise me at all if the Falcons drafted a defensive end or cornerback first (and I hope they go that route). The Falcons defense ranked 20th combined yards per game (355.8), 23rd in average points per game allowed (24.9) and 29th in total sacks (28.0) in 2019. I know things turned around in the second half, but I'm looking at the entire season because I think it's necessary. So, to answer your question, I think the Falcons can find a decent running on Day 2 or Day 3 of the draft. Oh, and in case you don't remember, Barry Sanders (pictured above) rushed for 2,626 yards and 37 touchdowns during his final season at Oklahoma State in 1988. Yeah.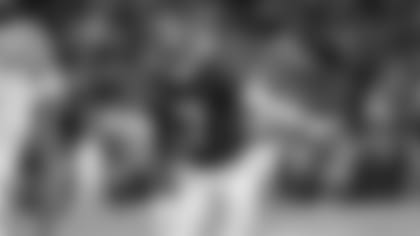 C.J. from Georgia
I saw you mention CB and RB as team needs but Devonta Freeman and Desmond Trufant are still currently on the team. So, are you basing this on things you heard??? DE, DT, and LG are our biggest needs, then I would add LB and S.
Matt: I have said consistently that I think the Falcons' biggest needs start in the trenches, C.J. The Falcons had trouble protecting the quarterback and running the football on offense. They also gave up too many yards through the air, too many points and didn't get to the quarterback enough in 2019, either. I don't think anyone will dispute any of those points because they're facts. Part of those problems stem from the play cornerback and at running back, too. And those are two areas I think the Falcons need to address this offseason – and those are two position groups that are deeper in this year's draft class (and that's Trevon Diggs pictured above).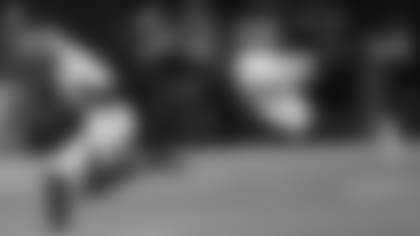 Zh'vae from Ashburn, VA
Beek, I just wanted to say that you're right. The fans have every right to be upset over the past few seasons the Atlanta Falcons have played. As a fan myself, I am angry over these seasons as well. But I will say that a lot of Falcons fans' angers are misplaced. I don't think some understand the ramifications of 'rebuilding', Beek. To rebuild means going through years of straight crap football taking chances on young inexperienced players that honestly might not even pan out. How many drafted QBs have we seen go by that were supposedly the next big thing? Have many WRs in history can even compare to a Julio Jones? There is no guarantee in this. Work needs to be done; I get it. But fans should also appreciate what they do have, because this might be the best we get for a long time after.
Matt: I still think the Falcons have a strong nucleus or core group of players, Zh'vae. And I think they believe that, too. If they can knock it out of the park with this draft class and acquire one or two quality free agents for the right price, there's no reason why the Falcons shouldn't compete for an NFC South title and make a run at the postseason with the likes of Matt Ryan, Julio Jones, Grady Jarrett and Deion Jones playing at the top of their games and leading the charge. Will the Falcons make some hard personnel decisions this offseason? More than likely, yes. But that doesn't mean they're rebuilding or won't be competitive.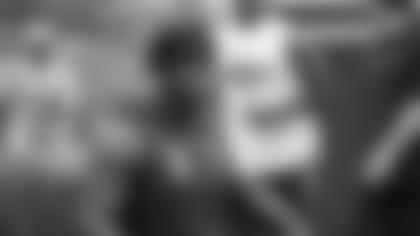 Jesse from Savannah, GA
I see the Falcons are trying to drive me crazy announcing new uniforms but making me wait until April to see them. Oh, the suspense! 😄 I guess I won't lose my mind before then, lol. Anyway, I see some mock drafts have us taking a DT instead of a DE, Javon Kinlaw to be exact. I guess I could see that. Two disruptive guys in the middle that would require attention could free up the DEs and LBs to better rush the passer. What do you think about taking a DT with our first pick?
Matt: As I noted above, Jesse, the Falcons must get better in the trenches on both sides of the ball. That means do a better job of protecting the quarterback and running the football on offense and, on defense, they must do a better job of pressuring the opposing quarterback. I would not be opposed to taking a defensive tackle like Javon Kinlaw or Derrick Brown, either. You can create pressure a lot of different ways – and those are two fine-looking defensive prospects.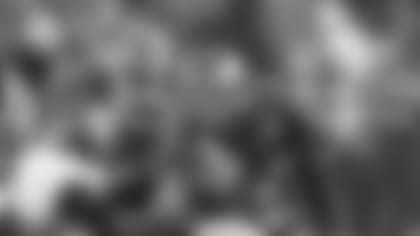 Bryson from Christiansburg, VA
What's up, Beek. I was thinking about the running back situation and wanted to hear your thoughts about maybe taking a mid-round running back such as D'Andre Swift.
Matt: I'd be really surprised if the Falcons took a running back in the first round, Bryson. Actually, more than surprised … I'd be shocked. D'Andre Swift is a really good running back and I think he may be drafted in the first round. I'd be surprised if he's still on the board after Day 2 of the draft. The Falcons need to improve the pass rush and do a better job, in general, in the trenches – on both sides of the ball. That's way more important and far more pressing, in my opinion. I think they could find a solid running back on Day 3 or in free agency. As I noted above, you can find decent running backs out there and the 49ers have proven that.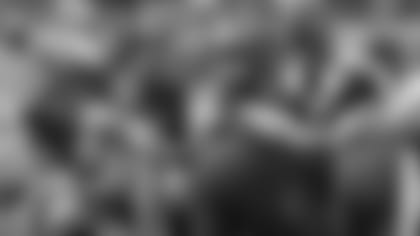 Dru from Augusta, GA
I understand we need defensive help, but we ranked 30th in rushing and it looks like Devonta Freeman is on the decline. I think D'Andre Swift in the first round would be a great choice, bring excitement, and relieve pressure on Matt Ryan and Julio Jones. Rushing also impacts our defense's performance as well by controlling the clock and getting them rest. What's your take on my suggestion?
Matt: Look, I get it – a quarterback's best friend is a strong running game. If you know anything about me it's that I believe in stingy defense and a stout running game. But you've got to dominant in the trenches and control the line of scrimmage – or everything else is out the window. The Falcons were among the top-five teams in passing last season. And …? Matt Ryan was sacked 48 times and the running game couldn't get going (plus they were behind the chains a lot). You can't run if you can't block or open holes. MAILBAG
Do you have a question about the Falcons that you want answered? Ask a question here and it could be posted on AtlantaFalcons.com.
Go ahead, ask the Beek
Do you have a question about the Atlanta Falcons (or anything football-related) you'd like to ask Matt Tabeek? If so, hit the link. Please remember to include your home state (or country if you live outside the U.S.). Thanks for reading SFTB!