FLOWERY BRANCH, Ga. – Desmond Ridder always carried the mindset of being a starting quarterback in the league. He didn't know when that time would come, but he always stayed prepared for when his number was called. Now, as prepares to assume his role at the helm, Ridder is ready for his opportunity to lead the franchise in 2023.
"It's setting the example, it's being the voice, being in that guy in locker room that guys go to, to ask questions," Ridder said in his Tuesday press conference. "Just taking initiative of when to be, where to be. Obviously, we're not going through much install right now, so kind of just pushing them and bringing everyone together. Just working on growing the culture, as brothers and just trying to grow closer."
Ridder said that he, head coach Arthur Smith and general manager Terry Fontenot met during the offseason about being named the starter. Smith officially announced the news in late March during the NFL owner's meetings in Phoenix.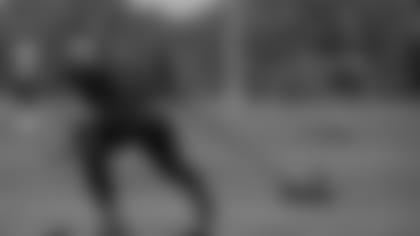 "They told me that they trust me, and they see what I do out on the field," Ridder said. "They see my leadership and that's important. I'm just going to continue to be myself, be who I am, be the leader I can be and go out there and just keep proving myself."
As Ridder went back and watched his last four games from the 2022 season, he saw consistent progression in not only himself, but in the team as well and where the franchise can go. He felt like he was too antsy in the pocket at first but, as he got more comfortable with the speed of the game, his confidence grew.
"You go back and look at those four games and each game as a player and offense, we got better," Ridder said. "It's obviously not where we wanted to be at the end of the season, but I see where we can be and what we can do. I'm excited for the progress that we showed, and hopefully we can continue to have that progress moving throughout."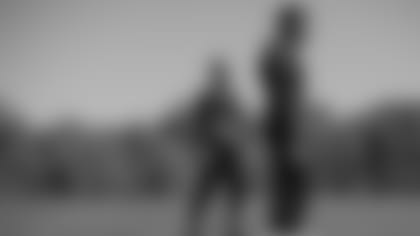 Throughout the course of the offseason, he's been training with old and new teammates in the Brookhaven area of Atlanta, working to establish chemistry amongst the group. One of those players is Taylor Heinicke, someone Ridder will be working hand-in-hand with this upcoming season in the quarterback room. With Heinicke's experience as a starting quarterback, Ridder is looking forward to learning as much as he can from him.
"He's had a completely different career and the way he's went about his game," Ridder said. "It's just going to be interesting to hear his stories and the way he's gone about things, on the field and off the field."
Ridder also noted his excitement to have Chris Lindstrom and Kaleb McGary extended and re-signed, respectively, this offseason, keeping the core members of the offensive front together.
"Those are two great guys," Ridder said. "They work their butts off every day. It obviously showed on the field. All those guys upfront do a heck of a job. They just come in every single day with no complaints. They put in the work, put in the time and obviously they got paid for that."
Ridder has high expectations for himself and the team in 2023. The main thing he's focused on is the constant progression week-in, week-out.
"Obviously we want to go out there and win the division and then, No. 2, we want to go out there and win a Super Bowl," Ridder said. "That's what every team is preparing to do coming through OTAs and training camp. We want to progress in everything that we do. Whether it's mentally physically, as a team, emotionally; we want to progress."