FLOWERY BRANCH, Ga. – Chris Lindstrom said that he wanted to be a Falcon for the entirety of his NFL career. That was after the last game of last season.
Terry Fontenot and Arthur Smith made Lindstrom the highest-paid guard in the league roughly two months later, rewarding him a five-year extension reportedly worth $105 million, including $63 million guaranteed. It was well earned after turning in a Pro Bowl year in 2022.
"Just super, super thankful," Lindstrom said in a Tuesday press conference. "Thankful for the guys who came before me. There are so many guys who set the standard to build upon. And so, I really hope that guys surpass it, and guys continue to grow. It's good for the position, which is good for everybody.
"It (still) doesn't feel real most of the time, honestly. But I'm super thankful, and I know the long-term impact that it has. I'm thankful to the staff and Mr. (Arthur) Blank."
Since being drafted in 2019, Lindstrom has gradually emerged into a premier offensive guard, anchoring a top-5 offensive line unit that blocked for the third-best rushing attack in the league last season.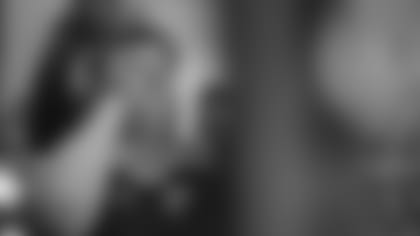 Per analytics site Pro Football Focus, Lindstrom graded out at 93.1 in run-blocking and 81.7 in pass-blocking, earning a 95.0 overall grade. In the past two seasons, the Boston College product has played 2,081 total snaps, only allowing two sacks over that span. He was also recognized for off-field efforts, as he earned the Falcons Walter Payton Man of the Year award for his community impact.
"What I've always tried to focus on was making sure the guys in the (meeting) room, offensive linemen first and then the team overall," Lindstrom said, "knew that I was as prepared as I can be and giving it my best effort every single day, I step foot in here."
Lindstrom was also named to his first Pro Bowl, PFF's All-Pro Team, the AP All-Pro second-team and PFWA All-NFC Team 2022.
"(Former Falcons center) Alex Mack told me it's really, really boring being good at offensive line play," Lindstrom said. "It's like the same things over and over again. It's kind of repetitive, but that's how you become better. Working at small things."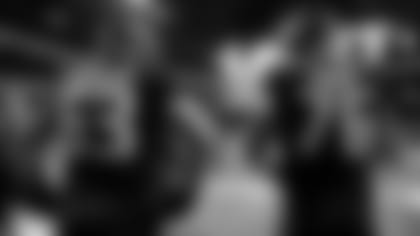 In addition to Lindstrom, the Falcons will be keeping another key piece on the offensive front. Kaleb McGary, Lindstrom's draftmate, re-signed with the Falcons on a three-year deal worth $34.5 million. McGary has played next to Lindstrom over the past four years, which gave way to establishing a close bond amongst the two linemen.
"We have a great off-the-field relationship, but our on-the-field relationship is huge, too," Lindstrom said. "You work with the same person every day; you have a feel for communication with one another. You know each other's strengths and weaknesses. I feel like we really have that."
Desmond Ridder, who was recently named the Falcons starting quarterback, showed his excitement on Tuesday for his teammates being extended and re-signed.
"The smile on my face right here," Ridder said in a Tuesday press conference. "Those are two great guys, and they work their butts off every day. It obviously showed on the field. All those guys up front do a heck of a job. They all have to work as one, so I know they gel really well. They just come in every day, no complaints, put in the work and the time, and they got paid for it."
Lindstrom rewarded himself by buying a John Deere tractor he had his eye on for the past couple of months. He and his fiancé Madison went to go look and choose one for him to go plow this offseason, which has become one of his favorite pastimes.
"That's my fun thing to do, to mow the lawn and plow," Lindstrom said. "Very simple. I put headphones in, and there's not a better place in the world."