With Super Bowl LIV officially in the books, that'll do it for the 2019 season. I could make a few remarks about that game in Miami on Sunday night, but I'll pass. I don't know about you, but I'm more than ready to turn the page and start talking about the 2020 season – and everything leading up to it. The Atlanta Falcons have a ton of decisions to make personnel-wise and need to knock it out of the park in April when the NFL Draft kicks off. In the meantime, you've got plenty of questions, so let's get to them now. Just remember that all opinions here are mine unless otherwise noted.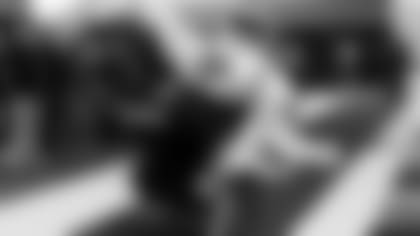 Ronald from Port Orange, FL
Hey, Beek. I keep seeing mock drafts with the Falcons taking a WR. What do you think about Jauan Jennings for a later-round pick? He so far isn't showing up in any mock drafts. I watched him throughout his career with Tennessee and I see him as a big play receiver in the middle that could be a replacement for Mohamed Sanu and an asset if Falcons let Austin Hooper go. Throughout his career I feel he has had an underachieving QB at Tennessee, and still had pretty good numbers, and made some very tough catches.
Matt: I think Jauan Jennings could end up being a first-round pick (he turned some heads at the Senior Bowl), but I do not see him going to the Atlanta Falcons at 16, Ronald. Pro Football Focus actually has Jennings going to the Green Bay Packers at 30 in this mock draft back in mid-January. The Falcons have some pressing needs, but receiver is not up there – not when you have Julio Jones and Calvin Ridley as 1-2 on your roster.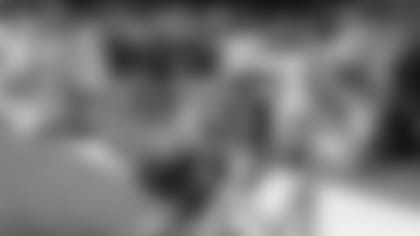 Christian from Grand Prairie, TX
If the Falcons happen to have to cut ties with Austin Hooper, which is a hit to the offense, who might replace him? What are the chances the Falcons select Thaddeus Moss possibly in the third round? I think it's a good pick, he has good hands and good size. I was just thinking ways to fill holes through the draft and it came to mind. We all know his dad is Randy Moss, so he's been around the game a bit. Are there other guys that may intrigue you?
Matt: As of right now, Austin Hooper is an Atlanta Falcon and based on everything we've heard, the team has a ton of respect for him and everything he's accomplished here in four years. I've pointed out repeatedly over the last few seasons that his stats continue to improve in virtually every single category and that Hooper is young – he turned 25 in November. So there's still a ton of upside with him and, as you noted, losing him to free agency would create a void in this offense. Aside from Hooper, the Falcons also have Jaeden Graham, 24, and Luke Stocker, 31, on the roster. Both Graham's and Stocker's current contracts run through the 2020 season. I'm still waiting to see what happens with Hooper, but there could be some interesting names become available in free agency and there are some intriguing prospects in the draft as well. I do like the potential of Thaddeus Moss. Where he goes in the draft at this point is anyone's guess, but I think he'll end up being a Day 3 pick unless, of course, a team falls in love with him (that's all it takes – one team). I think the Falcons have some pressing needs, but tight end could end up moving up the list. Stay tuned.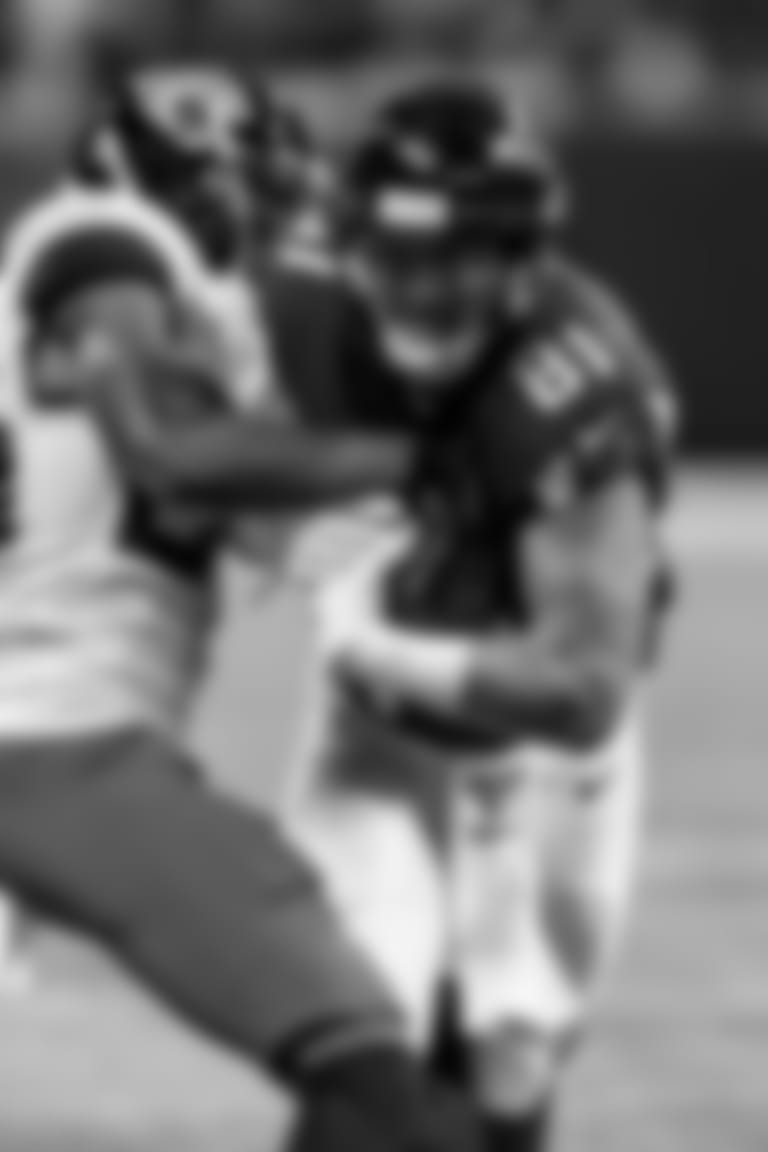 Tristen from Dallas, GA
Hey, Beek! Love what you do and always love to hear from you on the Falcons. My question is, what do you think the Falcons should mainly focus on? The draft or free agency? From my understanding we have rather low salary cap and I'm concerned if we should waste time on trying to snag a few big-named players.
Matt: The Falcons look at both free agency and the draft as one, big player acquisition process, Tristen. Like a lot of teams, the Falcons evaluate the free agent market and try to gauge who might become available (what the going rate might be) and, concurrently, look at the current draft class and how that talent stacks up there as well. It's not like they put all of their focus on free agency and then turn their attention toward the draft. They have a good idea of what they have on their roster, who might become available and how the draft stacks up. Once they make some roster decisions, determine their needs and how they have to spend, they'll decide which players – if any – they'll pursue. Hope that makes sense.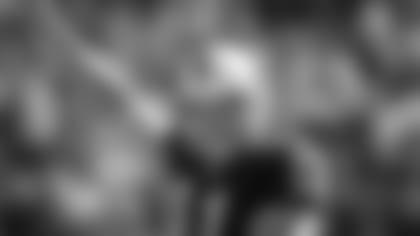 Anthony from Warner Robins, GA
Hey Beek, I m a big fan of the column. I had a two-part question for you: 1) Has a kicker ever been drafted in the first round? And 2) what do you think of the Falcons maybe acquiring Rodrigo Blankenship? He might be a good fit for the team. Thanks, Beek, and keep up the great work on the column!
Matt: Thanks, Anthony. Appreciate the kind words. To answer your first question, yes, kickers have been drafted very high in the draft, including the first round. Right off the top of my head I know that Sebastian Janikowski was drafted in the first round of the 2000 NFL Draft. The Raiders took the former Florida State star 17th overall and, looking back, it's hard to argue. Janikowski went on to play 17 seasons for the Raiders before playing one year as a Seahawk in 2018. I don't know if he's a Hall of Famer, but he'll be eligible in 2024. As far as the Falcons go, I know they really like how Younghoe Koo played once he was given an opportunity. Will they bring in competition this spring and summer? I'd be surprised if they didn't. Will it be Rodrigo Blankenship, who some consider the top kicking prospect in this year's draft class? I have no idea. I do think there's a good chance Blankenship is drafted, but I would be surprised if the Falcons used a pick on a kicker at this point.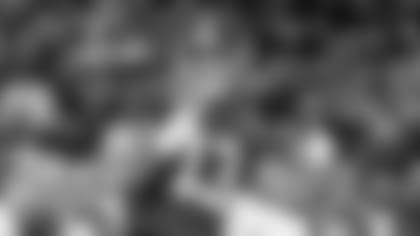 Michael from Ithaca, NY
I agree; we can get a running back later on in draft or in free agency, but we need to do it not talk about it ... I also understand we've got to fix the edge rusher position for sure; it has been bad. My question is, is this the draft we should take a major QB to groom behind Matt Ryan? I know Matty has a couple of years left, but things change quickly. Would love to see Tua Tagovailoa throwing to Julio Jones and Calvin Ridley.
Matt: I honestly don't think this is the year the Falcons use a draft pick on a quarterback, Michael. They have too many other pressing needs to address. This is not a team that's rebuilding or ready to begin a new era. This roster has some key players in place and if they can get a few others positions solidified, they could be in position to contend again for a division title and more. And for what it's worth, Matt Schaub still has another year on his deal and proved to be a worthy fill-in last year.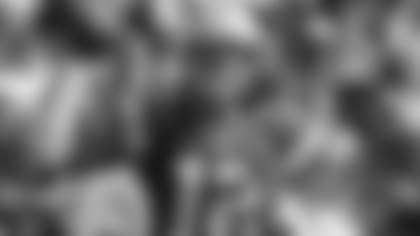 Matt from Roswell, GA
Knowing that the Patriots are desperate for a TE, do you think they'd be interested in a trade with us? Austin Hopper for Sony Michel? I'd go for that and it might convince Tom Brady to stay in New England.
Matt: I'm not sure where to begin with this one because some of these hypotheticals are, well, crazy … Look, would you make a trade for a player knowing that he might become a free agent in a matter of weeks? Probably not. And who says the Falcons would want to trade Austin Hooper, even if it were a possibility? Who says the Patriots want to trade Sony Michel? And I doubt whatever the Patriots do at tight end is going to have any impact on what Tom Brady ultimately decides. I get it; hypotheticals are fun to talk about, but this isn't fantasy football. MAILBAG
Do you have a question about the Falcons that you want answered? Ask a question here and it could be posted on AtlantaFalcons.com.
Go ahead, ask the Beek
Do you have a question about the Atlanta Falcons (or anything football-related) you'd like to ask Matt Tabeek? If so, hit the link. Please remember to include your home state (or country if you live outside the U.S.). Thanks for reading SFTB!