It's gameday, Falcons fans! And I don't want to hear that it's "a meaningless preseason game" or anything like that, either. These games count in a big way for every player taking a rep. These players, especially the undrafted free agents and younger ones, are auditioning – for the Falcons and, quite possibly, for 31 other teams. Not only that, the Falcons' scouts are watching the Broncos – and every single NFL team for potential free agents and players who could become available via roster moves, etc., in the coming weeks. So, these games count in a big way. OK, I'm done with the rant. Onto your questions. Just remember that all opinions here are mine unless noted otherwise.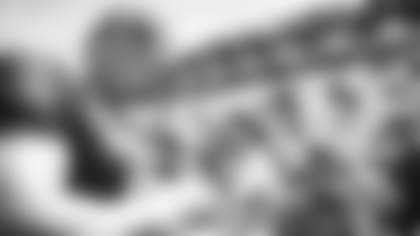 Kevin from Sierra Madre, CA
Hi Beek, it is too bad that Kaleb McGary is out for the game against the Broncos and now I understand he could be out of the opener against the Vikings? Do you think he will be fine this upcoming season?
Matt: The most important thing Kaleb McGary can (and will) do right now is put his health above everything else, get all the answers/treatment he can, and then resume playing once he's ready to go. In case you haven't heard the news, the Falcons announced that McGary underwent a cardiac ablation procedure on Wednesday. There's no official timetable set for his return at this point, Kevin. I've seen the reports out there and I also know what ESPN's Adam Schefter reported – that McGary missed 6-8 weeks the last time he underwent this procedure in college – on Wednesday. Right now all that matters is that man's health, regardless of how long it takes, and the team will support him every step of the way. McGary is a great dude; I personally like him a lot. I'll never forget my first conversation with him. Within a minute or two we realized that we're both obsessed with the TV show "Vikings" on the History Channel and the video game "Skyrim" (Elder Scrolls V). He's got a terrific personality, is funny – and he's one heck of a football player. Let's all hope he has a speedy recovery, too. Thanks for writing in.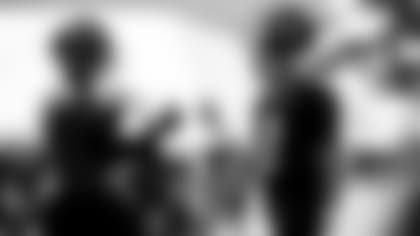 Jason from Grovetown, GA
Hey Beek, I'm concerned. I'm a huge, huge Falcons fan and I'm a little worried. I know Julio Jones is our biggest receiver. Do you think Atlanta will be able to sign him for a long-term deal? I'm worried.
Matt: I really wouldn't worry about it too much, Jason. Julio Jones is in camp and out on the field with the team. He's easing his way back into drills, but rest assured, he'll be ready to go for the Week 1 game against the Vikings. And I wouldn't waste a lot of your energy on worrying about his contract, either. Falcons general manager Thomas Dimitroff has said repeatedly that getting a new deal in place for Jones is a top priority. It's not a matter of if, but when at this point. I firmly believe that.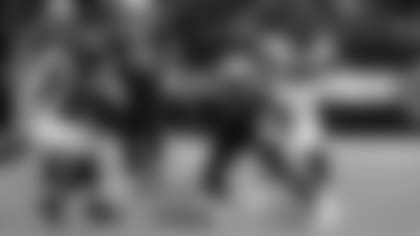 Noah from Chattanooga, TN
With the new Michael Thomas deal with the Saints, what will a future contract with Julio Jones look like? Similar to Thomas's deal or would Julio possibly be paid more?
Matt: I have no idea what a potential new deal for Julio Jones will look like right now, Noah. I do know that Julio Jones is not among the top 10 receivers when it comes to annual salary, according to overthecap.com, so I'd expect that to change. I expect that the Falcons will take care of Jones, but also be very cognizant of the fact that they have several other players that must make decisions on in terms of whether or not to sign them to long-term deals.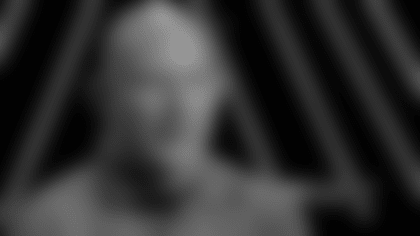 Tae TrueFan from Atlanta, GA
I dont [sic] know why they let you hang around the facilities bro your football knowledge/IQ is trash...seriously! Where's Vaughn McClure?
Matt: And good morning to you, too, Tae! You might want to check the expiration date on those Cheerios. Look, since I have a strict policy of attacking people's logic and not them personally (because, let's be honest here, life is too short), I'll gladly answer your question. Vaughn McClure, who works for ESPN, is here on most days when the team is available to the media. I'll be sure to let him know he's got a really big fan in you next time I see him. Thanks for writing in, but I'm a little disappointed you didn't ask me a real question – you know, to test my football knowledge/IQ. If you ever think of one, Tae TrueFan, you know where I'll be. Just hangin' around the facilities (there's a picture of me above doing just that). Also, you can find me here:
Hope your day gets better, Tae.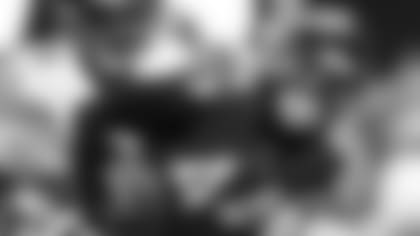 Edward from Dahlonega, GA
Do you think the Falcons made a mistake moving Vic Beasley from linebacker to defensive end?
Matt: I think Dan Quinn knows exactly what he's doing with the defense. Remember, defense is Quinn's calling card. Go back and read about the 2013 and 2014 Seattle Seahawks and the Legion of Boom. Those were Quinn's units. He knows how to put players in position to succeed. He's also vowed to get the best out of Vic Beasley and take a more "hands-on" approach with him. So, no, I wouldn't call it a mistake. A lot of things went sideways in 2018, and much of it began with the key injuries to both starting safeties and Deion Jones missing 10 games. Have some faith Dan Quinn. And for what it's worth, I like what I've been seeing from Beasley so far in camp, even though it's still really early. You can read about it here. Thanks for writing in, Edward.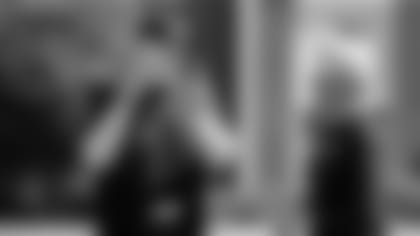 Dexter from Albany, GA
Why are the Falcons so overlooked and not getting the respect they deserve? And do you see the team winning more then 10 games this season?
Matt: Who is overlooking the Falcons, Dexter? Everyone's got an opinion and there are a lot of so-called experts out there. Many of them get a lot more respect mainly because they've been around so long; it doesn't mean they're always right. But I digress. I think the Falcons are getting the kind of attention and respect you'd expect for a team that just finished 7-9, missed the playoffs and had to do some major retooling with its offensive line. Most people expect the offense to once again be a dynamic one and are taking a wait-and-see approach when it comes to the defense. Make sense to me. Until we see some preseason games – and the first one is tonight – I have them down winning 10 games and going 4-2 in the NFC South. If they can do that, they'll get into the postseason. And as I've said many times, once you're in it, anything can happen. Thanks for writing in, Dexter. MAILBAG
Do you have a question about the Falcons that you want answered? Ask a question here and it could be posted on AtlantaFalcons.com.