FLOWERY BRANCH, Ga. – Marcus Mariota saw wide open space to his left and sprinted towards it. The Falcons quarterback had a clear path to the end zone that only someone with his breakneck speed could follow, so he turned on the afterburners and cut just inside the pylon before a defender angling to cut him off.
Mariota didn't just cross the goal line and head right back for the huddle. He reared back and fired a deep shot into a massive crowd watching Saturday's practice. The move seemed uncharacteristic for mild-mannered Mariota, but it wasn't conducted in isolation. An on-time, on-point touchdown pass prompted a celebration that was more uppercut than fist-pump, a sign that Mariota was feeling it during a competitive-as-heck practice session.
"That's probably a little bit more emotion than I've seen from him in a while, but a little bit of it is a little cathartic," Falcons head coach Arthur Smith said Saturday. "Like a lot of these guys, he wants to go out there and improve. He's had some big moments in this league, and it's been an interesting journey to this point but he's high in talent and he's won some big games in this league. "
He's also entering an opportunity to re-establish himself as a starting quarterback. He lost the title during the 2019 season – Arthur Smith was Tennessee offensive coordinator at the time – and then spent two years as Derek Carr's backup in Las Vegas.
Mariota is determined to go out and earn this starting job and show he belongs in such a role at age 28, with plenty of career left in him.
"One of the biggest lessons I learned in Tennessee is that it is a merit-based business," Mariota said. "You have to perform. In this position, there will be guys who want to play in your spot. You must continue to prove not only to yourself, but the people around you that can play in the league. So, I don't take this opportunity lightly."
He's off to a strong start in Falcons training camp, showing mastery of this scheme. He's in control and, while every throw isn't perfect, he's making plays and delivering passes that provide receivers room to run after the catch.
Mariota believes that his experience in Las Vegas and Tennessee help prepare him for this opportunity, and that he's in good position to capitalize upon it.
"It's just like all of us right? I hope every day or every year that I get to do this, I'm a better coach," Smith said. "Certainly, his experiences brought him to this place and he's in a good rhythm, he's in a good flow out there."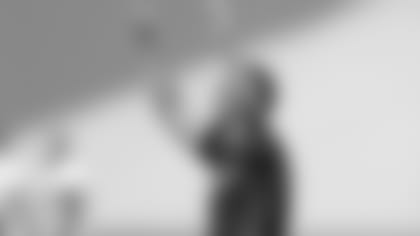 While there's plenty of room to improve, Mariota is in a good place. He's continuing to build chemistry with his receivers, getting to know his offensive line. He's also having fun out there, practicing without the weight of "is this my last chance?" weighing on his shoulders.
"I'm very comfortable with where I'm at," Mariota said. "I'm trying make sure everyone else is in the same place so we can go out there and play fast."
Mariota isn't the only one trying to prove himself in Falcons camp. There's competition everywhere, often with players employed on one-year prove-it deals. That has raised practice intensity across the board, which is a good thing for a team trying to find itself in 2022.
"It creates an atmosphere in practice where guys understand that this might be their last opportunity or the best opportunity they've gotten in couple years," Mariota said. "That creates game-like situations and scenarios. Because of that, when guys go out there in Week 1, they're comfortable with where they're at."
The Best Season Ticket Member Benefits are Back
We're offering our best season ticket benefits packages ever this year! Find the season ticket benefits that are most attractive to you.