Human nature can be quite fickle at times. When something doesn't go our way, we change course and rewrite our memories to make ourselves feel better about why something didn't work out the way we ultimately wanted it to. Sometimes, we become jaded to something we once loved.
As Marcus Mariota walked into the Falcons facility in Flowery Branch, Ga., last Friday morning, that's who he could have been. However, that was not the man he was.
Considering all he's been through since being drafted second overall in the 2015 NFL Draft, if Mariota was jaded, perhaps no one would blame him. If he was closed off, maybe that could be excused away, too.
In his first five years in the league, Mariota experienced turnover at Tennessee at a rate some quarterbacks never experience in their entire careers. He was neither jaded nor closed off, though, as he made his rounds, shaking hands with people throughout the building.
On his first official day as a Falcon, Mariota carried himself with a self-awareness that was quite the opposite of fickle and jaded. He didn't shy away from skepticism, nor did he dodge questions about his past: why things came to an end the way they did with Tennessee two years ago, and why he's been a backup since.
Mariota comes to Atlanta with something to prove to both himself, and to the league at large.
He wants to prove that he can not only be a starting quarterback again, but that he's someone who can consistently play at a high level, too. He's someone who seemed to hunger for a chance to be a leader again, almost craving the chance to "be a guy other guys can look up to."
When asked what he wants fans, coaches and teammates alike to see from him, Mariota's answer was filled with a self-awareness of someone who's actually done the work on themselves to be honest in explaining where they are both professionally and personally.
In essence, Mariota said, sure, he hopes people see his mobility and arm strength, of course. More than anything else, though, Mariota wants to show people he's someone who's grown up... a lot.
"Someone that's gone through the ups and downs, that's gone and played at a high level, that's also been down at the lowest point, but has realized that those experiences will ultimately make me a better player," Mariota said. "You're going to see a guy who has learned a lot from where he's been."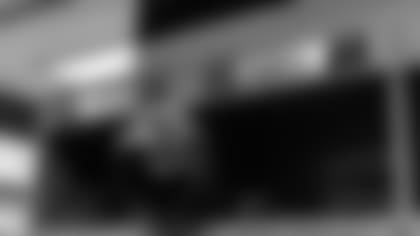 Ironically, this answer echoed that of Mariota's former offensive coordinator, and now head coach, Arthur Smith.
"There's been a lot of growth from (Marcus) and myself," Smith said in his joint press conference with Terry Fontenot on Wednesday. "... He's at a different point in his career from where he was then. I'm at a different point in my career. A lot of lessons learned and we're excited to work together again. He's an exciting player, a smart football player, and he's excited about the opportunity to get to Atlanta to prove himself."
And there's that phrase, again: Prove himself.
Mariota said the last few years since the 2019 season acted almost as a reset for him. His two years with the Raiders allowed him to - as he put it - have the opportunity to get healthy, "both mentally and physically."
It's been a few years since Mariota has been handed the keys to an offense, but he feels he is ready for that opportunity, maybe now more than ever.
"You're going to realize that what I was three or four years ago isn't necessarily who I am now," Mariota concluded. "I am excited to show fans, and even myself, what I am capable of."
The Best Season Ticket Member Benefits are Back
We're offering our best season ticket benefits packages ever this year! Find the season ticket benefits that are most attractive to you.