Marcus Mariota knows what he is stepping into.
He is replacing arguably the best player in Falcons' history in Matt Ryan, who leads the Falcons and every major passing category. Last week owner Arthur Blank said Ryan would be in the Falcons ring of honor and eventually in the Pro Football Hall of Fame.
"Those are big shoes to fill, no doubt," Mariota said. "And I think for me, something I've definitely learned over the course of my career is you can't compare yourself to other people. What Matt did here, what he's accomplished here is truly greatness. And for me, I just got to kind of carve my own path."
And while Mariota, the former No. 2 pick in the 2015 draft, hasn't had the success that Ryan had in the NFL yet, Mariota has accomplished some in the league. He led the Tennesse Titans to a comeback playoff win over the Kansas City Chiefs in 2018. He also threw for a career-high 3,429 yards, 26 touchdowns, and nine interceptions in 2016.
Mariota was benched in favor of Ryan Tannehill in 2019 after throwing two interceptions and just 63 yards against Denver. As Mariota continued through the 2019 season, his first time as a backup in the NFL, he remembers how then offensive coordinator Arthur Smith supported him.
Not the kind of support where Smith was giving Mariota praises or disagreeing with the decision to bench him, but Smith was honest and told Mariota what he needed to do to get back to being a starter in the league.
It was the constructive criticism that Mariota needed and appreciated.
"He's always been focused on making sure I can get better," Mariota said about Smith. "You know, in and out of the pocket. You know, how I'm digesting the offense, how I'm seeing defenses. He always made it a point just to find little areas of improvement. So Art is somebody that's always been there for me. He's always shot me straight.
"And, you know, I knew what I was getting into, what kind of culture is building here. So that's why I'm excited to be here because I really do believe in Art, and I believe what he's doing."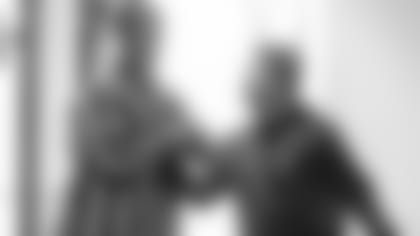 Smith is a coach Mariota trusts with a system he is familiar with, but the decision for Mariota ultimately came down to opportunity. The Falcons give him his best shot at becoming a starting quarterback again.
"Really, for me at this point in time in my career, that's what I was looking for," Mariota said. "And, you know, no matter what the situation is, I gotta do my best to lead these guys and help these guys become the best of their abilities."
Still, Mariota knows that there is a chance that he is not the starter this year. In a press conference Wednesday, general manager Terry Fontenot mentioned multiple times that the Falcons would continue to fill out the quarterback room, whether through draft or free agency.
The Falcons were at Desmond Ridder, Malik Willis, Kenny Pickett, and Matt Corrall's pro days. The Falcons could draft a quarterback in April to compete with Mariota for the starting job, and he recognizes that.
Either way, Mariota thinks his experiences in the NFL will be valuable to the Falcons.
"I've been a guy that's a starter in this league," Mariota said. "I've been a guy that won a playoff game. I've been a guy that's also been benched. I've been a guy that's also been just a practice player. So I really feel like my value as a leader comes in relationships. I will be able to relate to a lot of different people because I've experienced a lot of different things in this league. And I think to be a leader, you have to earn respect from your teammates, and if you're able to relate to those guys, you know that that whole process kind of gets going a little bit faster.
"So again, the value that I've had over my time over my short career is gonna allow me to be a guy that people can come to, and hopefully I can elevate them and make them the best players they can be."
As for a number, Mariota has donned the number eight since his Heisman trophy-winning days at the University of Oregon. That digit occupied by the Falcons' unicorn tight end Kyle Pitts.
Mariota says he has talked with Pitts and that he won't ask for the number. Instead, he will switch to 1, the number he wore when he began playing Pop Warner football for the Kalani Falcons in Hawaii as a child.
"It'll be a little bit weird for me wearing one," Mariota said with a smile, "but I mean, Kyle has done unbelievable things already in one year that by all means, it's his." Interested in Falcons tickets?
Join us in 2022 for 9 Regular Season home games! Let us help you find the seats and benefits that interest you!