The Dallas Cowboys have what appears to be one of the most complete and talented rosters in the NFL. Yet, in Week 1, the Los Angeles Rams dictated play in their 20-17 victory against the Cowboys.
With a strong running game that blended well into their play-action passing attack, the Rams dominated time of possession and looked more like the team that reached the Super Bowl in 2018 than the group that took a step back last season. As Atlanta seeks to win its first game of the season and avoid an 0-2 start, should they follow the blueprint that Los Angeles provided against Dallas?
In case you missed the Cowboys-Rams game on Sunday night, Rams coach Sean McVay opted to go with an up-tempo game plan on offense to neutralize the Cowboys' pass rush," Matt Tabeek writes for AtlantaFalcons.com." "And it worked beautifully.
"Los Angeles quarterback Jared Goff executed it to (near) perfection and the Rams' running back by committee (led by Malcolm Brown's 79 yards and two touchdowns on 18 carries) eventually wore out the Cowboys on defense – and kept their high-powered offense (Dak Prescott, Ezekiel Elliott, Amari Cooper, Michael Gallup and CeeDee Lamb) on the sidelines, especially in the first half."
Raheem Morris explains challenge Cowboys pose
The Falcons failed to contain Russell Wilson in their Week 1 loss to the Seattle Seahawks, something that defensive coordinator Raheem Morris pinned on himself. Despite scoring just 17 points in their season opener against the Los Angeles Rams, Dallas has plenty of offensive firepower at its disposal. With another challenge ahead for Atlanta's defense, Matt Tabeek wrote about Morris taking ownership of his unit's performance in Week 1 and how they are preparing to face the Cowboys this weekend.
"You know, when you talk about Dallas, you're talking about some guys who have some real talent," Morris said. "On the outside, both at running back, both outside at the wide receiver standpoint; they can get the ball anywhere. Their quarterback is a very good player. He's able to do some of the same things that these guys did to us last week if you allow them to. And he can absolutely beat you with his arm; he's a good football player as well.
"When Zeke (Elliott) gets the ball in space, he's a problem. When all these receivers get the ball in space, they're a problem. So, you've got to limit space, get some tackles, get some population to the ball, and run there as hard as you can …"
Behind Enemy Lines: Great matchup for Falcons receivers
Julio Jones is currently the NFL's leading receiver after gaining 157 yards against the Seahawks. He's far from alone, however, as three of the six most productive receivers in the league after one week reside on the Falcons' roster. Calvin Ridley is fourth in the NFL with 130 receiving yards and tied for the league lead with two touchdown catches, and Russell Gage is currently sixth with 114 yards. David Helman of DallasCowboys.com provided a preview of what the Falcons will face when they play Dallas, and he believes this is a very good matchup for Atlanta's three talented receivers.
"There's no way around it, this is a mismatch," Helman said. "[Trevon] Diggs did look solid, but he experienced the growing pains you'd expect from a rookie starter. Chidobe Awuzie also managed an interception, but for the most part the Rams receivers won the day. Obviously, L.A. has a very stout receiver corps – but they don't have a guy on Julio Jones' level. If the Dallas pass rush can't get home, I'm expecting Jones, Calvin Ridley and Russell Gage to put up some serious numbers."
Foye Oluokun and Ezekiel Elliott fulfilling NFL dreams
Now a starter at linebacker for the Falcons, Sunday's game will carry special meaning for Foye Oluokun. He'll have yet another opportunity to go head to head with Ezekiel Elliott, his former high school teammate. Kelsey Conway wrote about the unique relationship between Oluokun and Elliott ahead of this weekend's matchup.
"Oluokun and Elliott shared many of their childhood sports memories together and they'll share another one this weekend," Conway writes. "Both were standout athletes who shared a love for football and basketball together and went on to become starters for NFL teams. That's a lot of practices and games accumulated over the years. The only sport the two didn't play together was in the spring when Oluokun played baseball and Elliott ran track.
"During their time at John Burroughs, Oluokun and Elliott reached the state championship game three years in a row (2010-12). Elliott carried the load of the offense as one of the best running backs in the country and Oluokun was the tall, athletic wide receiver and cornerback coach Gus Frerotte relied on. With only 28 players on the team, Oluokun's versatility was something the team relied on. After spending 14 years as an NFL quarterback, Frerotte knew talent when he saw it."
Everything to know about the Dallas Cowboys
Falcons reporter Kelsey Conway provided her preview of the team's upcoming opponent, sharing five bits of information about the Cowboys. First on her list, and something well known throughout the league, is that Dallas has possibly the NFL's best running back in Ezekiel Elliott.
"After what some considered to be a down year for Elliott in 2019, he looked like the 2018 version of himself when he led the league in rushing yards with 1,434 yards on Sunday night against the Los Angeles Rams," Conway writes. "The former No. 4 overall pick rushed for 96 yards on 22 carries and two touchdowns in the Cowboys' Week 1 loss. He was also a factor in the passing game catching three passes for 31 yards."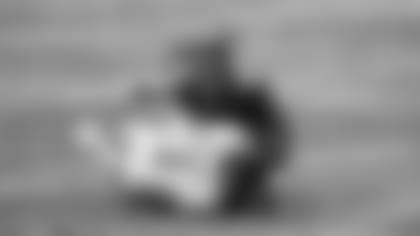 Stage set for a breakout game from Takk McKinley
Takk McKinley's 2020 season got off to a fast start, as the fourth-year defensive end sacked Russell Wilson on the very first defensive play of the year. After an offseason in which he focused on shedding weight, McKinley returned to the Falcons lighter and faster. His offseason efforts were apparent in Week 1, and an improved McKinley would mean big things for Atlanta's defensive line. Given his performance in Week 1, Kelsey Conway writes that a breakout game could be in store for McKinley against a Cowboys offensive line that's dealing with a number of injuries.
"McKinley has yet to put together the dominating season the Falcons envisioned he could. He's shown flashes of promise at times but has struggled with consistency," Conway writes. "In three seasons, McKinley has recorded 71 tackles, 16.5 sacks and 38 quarterback hits.
"In Sunday's home loss to the Seahawks, McKinley looked like a different player. His speed was on display as was his relentless effort to get to Russell Wilson. McKinley had six quarterback hits, five tackles and one sack in Atlanta's 38-25 loss."
AFR: Falcons-Cowboys could be an offensive slugfest
For as talented as the Falcons are offensively, the Cowboys are one of the few teams in the league with a comparable unit. Ezekiel Elliott is in the conversation for the best running back in the NFL, and by adding CeeDee Lamb in the draft, the Cowboys now have arguably the league's most talented trio of wide receivers. If these two offenses play up to their potential on Sunday afternoon, the Falcons and Cowboys could be locked into a very memorable shootout.
Julio Jones set to break Roddy White's record Sunday
"It's a great achievement and a great accomplishment to be mentioned because Roddy kind of taught me the game early in my career," Jones said. "Being able to put up numbers the way he put up numbers, having the ability to surpass him is nothing but love on both ends. Being mentioned in the same sentence as Roddy White, what he stands for as an Atlanta Falcon, what he did here for 11 years."
Matt Ryan shares keys on handling Dallas pass rush
By adding Everson Griffin and Aldon Smith over the offseason, the Cowboys beefed up a defensive line that already featured a premier pass rusher in DeMarcus Lawrence. Smith had the only sack for the Cowboys in Week 1, his first NFL action since the 2015 season. The Falcons did a good job protecting Matt Ryan in their first game of the season after allowing him to be sacked a league-high 48 times in 2019. For the Falcons to have success in Dallas, the offensive line will once again have to be sharp, which Kelsey Conway detailed in a piece this week.
"[Aldon Smith] played well last week and got better as the game went on," Ryan said in his weekly press conference. "I've played against him before, I know how disruptive he can be so we're going to have our work cut out for us. We've got to be on top of our plan and play really well to give ourselves a chance to be successful."