When Atlanta Falcons linebacker Foye Oluokun and Dallas Cowboys running back Ezekiel Elliott take the field at AT&T Stadium on Sunday, they'll be reminded of their days as teammates at John Burroughs School in St. Louis.
Oluokun and Elliott shared many of their childhood sports memories together and they'll share another one this weekend. Both were standout athletes who shared a love for football and basketball together and went on to become starters for NFL teams. That's a lot of practices and games accumulated over the years. The only sport the two didn't play together was in the spring when Oluokun played baseball and Elliott ran track.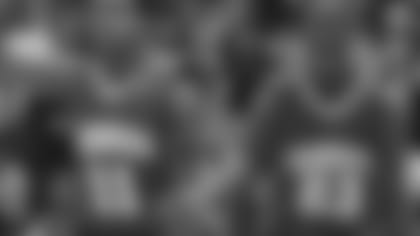 During their time at John Burroughs, Oluokun and Elliott reached the state championship game three years in a row (2010-12). Elliott carried the load of the offense as one of the best running backs in the country and Oluokun was the tall, athletic wide receiver and cornerback coach Gus Frerotte relied on. With only 28 players on the team, Oluokun's versatility was something the team relied on. After spending 14 years as an NFL quarterback, Frerotte knew talent when he saw it.
"When I got a hold of them, they were probably the best athletes the school has ever seen," Frerotte said. "As far as seeing the potential in both of them and understanding what they could do, they were head [and shoulders] above the rest. Zeke was a special player and Foye was special in his own right."
Both continued their football careers at the collegiate level. Elliott attended Ohio State where he earned second-team All-America honors in 2015 and went on to be the fourth overall draft pick in the 2016 NFL Draft. Oluokun took his talents to New Haven, Conn., where he spent five seasons at Yale University. According to Frerotte, Oluokun had another offer from Oklahoma State but getting an Ivy league education was important to his family.
Oluokun arrived at Yale weighing 185 pounds and was recruited to play cornerback. He spent time playing safety as well and in his fifth season, he moved to linebacker. As Frerotte thought, Oluokun's football intelligence and athletic skill set would allow him to have a chance to be a successful player at the next level.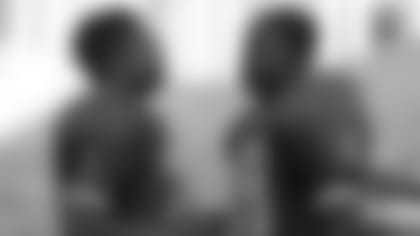 Without an invite to the NFL combine, Oluokun didn't receive the type of attention Elliott and most players get ahead of the draft. That didn't matter to the Falcons after coach Dan Quinn and general manager Thomas Dimitroff saw Oluokun's tape from Yale. With the 200th pick in the 2018 NFL Draft, the Falcons selected Oluokun and he's quickly become a starter in Atlanta's defense.
"Foye is such a good player for us," defensive coordinator Raheem Morris said. "He's so talented. He's so smart, he's big and he's strong. He can match up well against anybody. I really feel like Foye can matchup with a lot people in this league."
Oluokun has started in 10 games in his first three seasons with the Falcons and recorded 159 tackles, two forced fumbles and two quarterback hits. When Pro Bowl linebacker Deion Jones suffered a foot injury early on in the 2018 season, Oluokun was thrusted into a starting role and relished in the opportunity.
When the Falcons opted not to re-sign De'Vondre Campbell this offseason, a four-year starter for the Falcons, one of the main reasons they felt comfortable in doing so was their confidence in what Oluokun could be as a full-time starter.
The first meeting between Oluokun and Elliott came on Nov. 18, 2018, when Dallas beat Atlanta 22-19 at Mercedes-Benz Stadium. Elliott played a key role in the Cowboys' win as he rushed for 122 yards on 23 carries. Coincidentally, that game happened to be one of Oluokun's best games in his career. He led the Falcons in tackles that day with 10.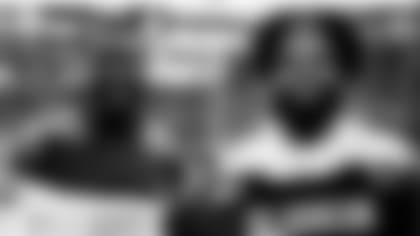 Although they'll be competing against one another, the level of respect and admiration these two have for one another will be on display. In many ways, Elliott has been a source of inspiration for Oluokun as he's navigated through his NFL career.
"He's definitely an inspiration to me in getting to the league," Oluokun said of Elliott. "He went through it first. So, if he could do it then I could do it. This is always a matchup I'm going to look forward to going against in these years coming up."
The Cowboys and Falcons will both be searching for their first win of the season and there's an immense amount of pressure for both clubs heading into this game. Oluokun will have to play to well again to help Atlanta's defense shut Elliott and Dallas' run game down. Elliott is coming off a strong Week 1 performance against the Los Angeles Rams where he amassed 127 total yards of offense and a touchdown.
When the final whistle blows on Sunday, regardless of what the score is, Elliott and Oluokun will leave knowing they're continuing to live out their dreams and making memories together.
"It's just really crazy because where we went to high school there weren't really Division I athletes," Elliott said. "It was really an academic school, not a sports school. We were the first two people drafted from that school, period. It's exciting. I'm so happy for Foye. His journey was a little bit different than mine but he's definitely contributing and playing a lot for those guys and playing good ball. I'm very happy for him and I'm excited to go up against him for the second time on Sunday."