Both the Atlanta Falcons (0-1) and the Dallas Cowboys (0-1) enter their Week 2 matchup seeking their first win of the season. It's a crucial game for both teams, but there is real star power in this contest, and it promises to be an exciting afternoon of football.
These two teams last met in 2018, when the Cowboys knocked off the Falcons 22-19 in Mercedes-Benz Stadium. Atlanta had won its three previous games against Dallas, however, including its last trip to AT&T Stadium in 2015, which resulted in a 39-28 victory.
This fall, we'll be asking those who cover the Falcons' upcoming opponent a few key questions about the matchup and top storylines. This week, David Helman (@HelmanDC) of DallasCowboys.com shared his insights on what the Falcons can expect this weekend.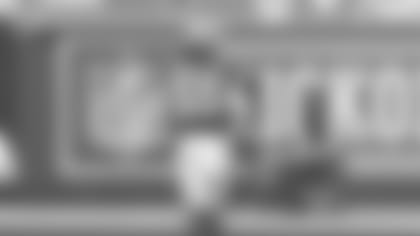 How do you anticipate the Leighton Vander Esch injury impacting Dallas's defense and how do they plan to replace him?
David Helman: It's going to be a challenge, there's no doubt. The Cowboys tightened things up eventually on Sunday night, but not before the Rams managed to rush for 153 yards. Jaylon Smith is at his best against the run, but he can't do it alone. My guess is we'll see backups Joe Thomas and Luke Gifford try to step in for Vander Esch. Long term, the hope is that Sean Lee can return from injured reserve in two or three weeks – but that's not going to help Dallas against Todd Gurley on Sunday.
Coach Mike McCarthy: Leighton is a big part of our defense at the Mike position. Beginning in camp, he was a key communicator. I think he's a young player really coming into his own. We're definitely going to miss him, we're looking forward to getting him back at some point. But I thought Joe Thomas stepped in and played well. He kept us lined up and got the calls and so forth. But, yeah, anytime you lose a player of Leighton's stature it definitely affects your defense.
What have the additions of Everson Griffen and Aldon Smith meant for the Cowboys?
Helman: That's still a huge TBD. Aldon Smith looked amazing for a guy who hasn't played since 2015. His 11 tackles led the team last week, and he managed the Cowboys' only sack of Week 1. The problem is that he didn't get a ton of help. The Rams used a ton of screens and quick passes to completely neutralize DeMarcus Lawrence, Everson Griffen and the rest of the Dallas pass rush. If the Cowboys' defense is going to succeed in 2020, it has to start up front. So Smith is going to need some help going forward.
Coach McCarthy: [Aldon Smith] is doing great. It's a great story, and I can't say enough about him and what he's done to get to this point. From a pure football standpoint, he really went out there and lit it up in Week 1. I'm really happy with the way Aldon played, and he's been a great fit for us. The defensive line improved as a whole. There's a lot of veteran alphas in there, and Aldon is definitely one of those guys. He's off to a great start.
It seems the Cowboys still want their offense to flow through Zeke, do you think they will unleash their three-headed monster at receiver against Atlanta?
Helman: Ezekiel Elliott is always going to be a focal point in this offense, but the Cowboys are foolish if they spent those kinds of resources at receiver only to not use them. Through one week, it looks like they're going to. Their Big 3 of Amari Cooper, Michael Gallup and CeeDee Lamb combined for 190 yards on 18 catches last week – and that was with an offensive pass interference penalty wiping out Gallup's 47-yarder in the final minute. Zeke is going to get his touches, but the Cowboys still look very likely to get big use out of their receivers.
Trevon Diggs looked solid in Week 1, but how do you believe Dallas's secondary matches up against Atlanta's wide receivers?
Helman: There's no way around it, this is a mismatch. Diggs did look solid, but he experienced the growing pains you'd expect from a rookie starter. Chidobe Awuzie also managed an interception, but for the most part the Rams receivers won the day. Obviously, L.A. has a very stout receiver corps – but they don't have a guy on Julio Jones' level. If the Dallas pass rush can't get home, I'm expecting Jones, Calvin Ridley and Russell Gage to put up some serious numbers.
Coach McCarthy: I'm very impressed with the Falcons offense. Obviously, start out with their run and pass game, really their explosion and their big-play production. You can't say enough about Calvin and Julio and the numbers they put up in Week 1, and it's obviously a carryover from last year. Matt (Ryan) is playing at an All-Pro level, so it's going to be a big challenge for our defense.
How do you think this game will unfold? What does Dallas need to do to win, and what would a path to victory look like for the Falcons?
Helman: At the very least, I hope it's a little more fun. For all the hype about the Dallas and L.A. offenses, I wasn't expecting a 20-17 slugfest last week. The Cowboys and Falcons have too much fire power for someone not to score 30-35 points. If the Cowboys are going to win, they need more consistency on offense. They managed very few explosive plays last week, and they were an awful 3-of-13 on third down. The strength of this team is on offense, so that's not going to cut it. They need explosive passing plays to open up the field for Elliott. Conversely, if I were the Falcons, I'd study that Rams tape closely. The Dallas defense struggled with misdirection runs and screens. Meanwhile, the L.A. secondary sat back in zone and refused to allow the big play. The Rams gambled that Dallas wouldn't be able to string together long, methodic scoring drives – and they were right. If Atlanta's defense can prevent quick strikes and force the Cowboys to march down the field, they just might be able to keep the score down.