Chances are if you've been following the Falcons at all since the final weeks of the season, you've seen the push Cordarrelle Patterson has made on social media to be re-signed by Atlanta. 
It started innocently enough. Patterson was asked at a press conference if he'd like to stay in Atlanta. The offensive weapon (because that's really the only way to accurately describe the running back/wide receiver/return specialist hybrid) said of course, he'd love to stay in Atlanta. At the time, he was wearing a sweatshirt that read: "Atlanta Georgia Changed My Life."
Patterson came to the Falcons last offseason, signing a one-year deal valued at $3 million. He finished the season with 618 rushing yards, 548 receiving yards and 11 touchdowns. It was a season many didn't expect from Patterson. He'd become known as a special teams guy, others often gave him the "gadget" moniker. In Atlanta, the Falcons unlocked the Cordarrelle Code and Patterson morphed into a player that meant quite a bit to the Falcons offensive operation in 2021. The most interesting part of all of this, though, is that he had this year of production a decade into his professional career.
With free agency looming, Patterson's one year in Atlanta is officially over. But Patterson has made it no secret that he'd like to stay if he can.
After wearing that sweatshirt to a post-practice media availability, Patterson wore a pair of customized cleats in the Falcons final regular season game that read, "Why not retire in Atlanta?" on one side and, "Cut the check Mr. Blank" on the other (of course, referring to Falcons owner Arthur Blank).
Then, came the tweets as the offseason began, with Patterson posting pictures with Falcons general manager Terry Fontenot… Changing his profile picture to a shot of him and Blank… A quick peek into the Falcons locker room to show that, yes, his locker is "still here."
So, with all of this in mind, Kris, Scott Bair and I ('tis Tori McElhaney, greetings) are here to discuss the possibility of the Falcons bringing Patterson back in 2022. Let's get into this week's Question of the Week.
What do we think of Patterson's social media campaign?
Tori: I don't mind it, perhaps because I am not affected by it. I don't think it's particularly swaying Terry and the rest of the front office's offseason decisions, but I think it's an… interesting strategy, nonetheless. I think fans like it because how often do you see a player this vocal about where he wants to be? Not very often. I know it keeps me on my toes. I should really turn on notifications for CP now that I think about it.
"I'm gonna go win your fans over, so when it's time for a contract, you know I got the fans on my side," Patterson said. "So that's just one thing I do, I gotta get all the fans, man, get them in line, and they're gonna vouch for me at the end of the year."
And anyone in Patterson's situation may also have thought this way. The Falcons were his fifth team in six seasons, and building a family with young children may make moving around difficult for Patterson. Not to mention his family is just a few hours down the road in Rock Hill, South Carolina. Patterson has fulfilled his November prophecy of being the fan-favorite, as fans have been equally campaigning hard for the Falcons to re-sign him.
I say all of that to say I am not surprised to see Patterson's social media campaign. It's cool to see an athlete openly pitching for a team to re-sign them. It is also a smart move by Patterson because it makes fans feel good that one of their best players wants to make it work in Atlanta and puts pressure on the front office.
Scott: Patterson's pushing the narrative that he wants to stay in Atlanta…pretty freaking hard. I don't think it'll have an impact on whether the Falcons re-sign him or not. They aren't going to exceed their valuation of him or their offer to him because he's a fan favorite. I don't think that's how this front office is wired.
And, just to play devil's advocate here, what are other teams thinking about a player who, if they signed him, publicly proclaimed that he wanted to play somewhere else? And does he lose some leverage because the Falcons know how badly he wants to stay?
It's a fun little offseason storyline, but I'm not sure it's giving him an advantage when it comes down to business.
Tori: In my mind, there are three free agents you potentially prioritize if you're the Falcons: Patterson, Foye Oluokun and Russell Gage. I – personally – would put Oluokun over Patterson and Gage. I say this because I think it would be easier (and cheaper) to find offensive skill players that could one day replace Patterson and Gage's production than it would to find a young emerging linebacker who knows Pees' scheme as well as Oluokun does as the MIKE linebacker. I don't foresee the Falcons being able to re-sign all three. So, if they can only sign one, I'd prioritize Oluokun over Patterson, and Gage, too.
Kris: This is a difficult question. Patterson will be 31 in March and his production and usage during the last four games of the season plummeted. I think Oluokun would be a higher priority signing than Patterson. Patterson's value and priority depend on whether Fontenot and Smith believe he can recreate his breakout season. If they believe Patterson can be that guy, it would be hard to argue against prioritizing a player who won games for the Falcons as a legitimate receiver and rusher. And he led the team in rushing touchdowns and receiving yards.
Scott: I'm with Tori and Kris in putting Foye Oluokun atop the list, but I'm going to take it a step farther here. Because of the Falcons' limited cap space, they'll have to focus on one deal at a time and decide what to do with the remainder. They should lock Oluokun down – they'll find some ways to free up some space – and see what they have left to work with. That'll determine what they can do with remaining players. Getting Oluokun done before he hits the open market would be ideal, so they can proceed with their offseason plan after getting what I consider the top priority done.
There will be an opportunity to reach an agreement with Patterson in time, and the Falcons will be better for it.
If we're looking at Spotrac, Patterson's current projected market value is two years, $18.2 million (an average salary of $9.1 million a year). Could the Falcons muster up the money to make a competitive offer?
Tori: Sure the Falcons are in a better position regarding the salary cap this year than they were last offseason, but they're not out of the woods yet. Because of big contracts that have been restructured a number of times (i.e. Matt Ryan's contract), the Falcons still have to be smart about the money they spend this offseason in much of the same way they were last offseason. That essentially means they cannot spend money they do not have, and I am not 100 percent sure they will have the means to come close to meeting Patterson's market value this offseason. I'm not even 50 percent sure they can.
OK, fine: real talk. I don't think they can do it. Nor do I think they should when you also consider the other needs they have across the entire 2022 roster. Look. I thoroughly enjoyed watching Patterson, and I have a lot of respect for him and his career. At the end of the day, though, this is a question about money. And the cap just doesn't look like it'll work in his favor, in my opinion.
Kris: I am not sure if the Falcons would be comfortable doing $18.2 million over two years, but I could potentially see the team getting close to that number on a yearly average. For example, a two-year heavily incentivized $12 million deal with only the first year $6 million guaranteed seems like one I could potentially see the Falcons doing. But anything higher than that seems like a stretch for a team with many needs elsewhere.
Scott: If Patterson wants the deal Kris just presented, both sides would walk away happy. The valuation, however, could be impacted by the open market in a team friendly way. I'm curious what teams will offer an offensive player entering his age 31 season. It's possible it creates the possibility of Patterson taking a deal for less than what was mentioned above. Call me skeptical here, but I don't think there will be a robust market for Patterson. I could be wrong and I'll own it if I do. Freezing Cold Takes, consider yourself warned.
What do you think will need to happen for the Falcons to re-sign Patterson?
Tori: Patterson is going to have to play ball. It's going to have to be quite the negotiation process and Patterson would have to work with the Falcons to get that value down, essentially to what Kris suggested in the previous section. I just don't think the Falcons have the means, nor the all-out desire, to sign a free agent with that type of price tag. If this is 2023, maybe. But there still isn't much wiggle room cap-wise right now to make this kind of move unless Patterson is willing to lower his price somewhat significantly in my mind.
Kris: I think the team would have to let go of Mike Davis. I don't see a situation where the Falcons can afford to play both backs next season. I think it will come down to an either/or situation, with them pairing either player with a running back from late in the NFL Draft like Dameon Pierce, from Florida, who looked great at the senior bowl, possibly or another back that they may like.
Scott: I think the Falcons could combine Patterson's and Davis' salary into an offer for No. 84. That would come at Davis' expense, as Kris said. The Falcons would need to pair Patterson with a drafted runner who could play right away.
That might get something done, even on a deal that looks like a multi-year pact but is essentially a one-year, guaranteed deal with pay-as-you-go years after that.
If I'm wrong and Patterson's market explodes, I think he follows the money. I would. Wouldn't you? If it's lean, the Falcons will pounce by giving him a substantial raise without spending so much it sacrifices their ability to fill other needs.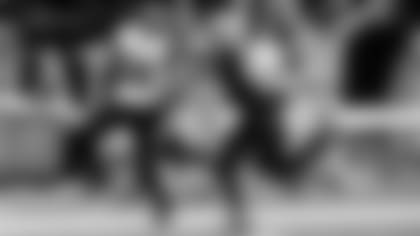 Finally do you think Patterson will be a Falcons in 2022?
Tori: No. I think Patterson has out-priced the Falcons, as much as it may pain me to point out. Another team may be more willing (and have the means necessary) to pay him the money he desires, and I do believe he deserves that pay day.
Kris: Yes. I think the Falcons find a way to work a team-friendly deal out with Patterson. It will likely come at a significant pay cut from where he could probably get elsewhere – hence team-friendly – but as much as he has been campaigning to finish his career here, it seems like he would be willing to accept the pay cut.
Scott: I'll break the tie. I think Patterson returns for another year, but for a different reason than Kris. I think his market won't go crazy and the Falcons provide enough of a financial incentive when paired with this team and this offense being the perfect fit. Falcons Final Whistle | A Postgame Podcast
Break down the hottest topics surrounding the Atlanta Falcons and how they can impact the team's success with Falcons Insiders Scott Bair, Tori McElhaney and Terrin Waack. Like and subscribe to join us for the lively debate on Falcons Final Whistle.
Welcome to Falcons Final Whistle – an Atlanta Falcons football postgame podcast during the season that shifts gears in the offseason to answer a pressing question about the team's future each week through free agency, the NFL Draft and the offseason program.