Welcome to Straight from the Beek! The Falcons' three-day mandatory minicamp kicks off today in Flowery Branch and I'm looking forward to seeing who is here, who lines up where and for any new wrinkles on either side of the ball. In the meantime, you've got plenty of questions, so let's get right to them. Just remember that all opinions here are mine unless noted otherwise.
And we are off, Dirty Bird fans.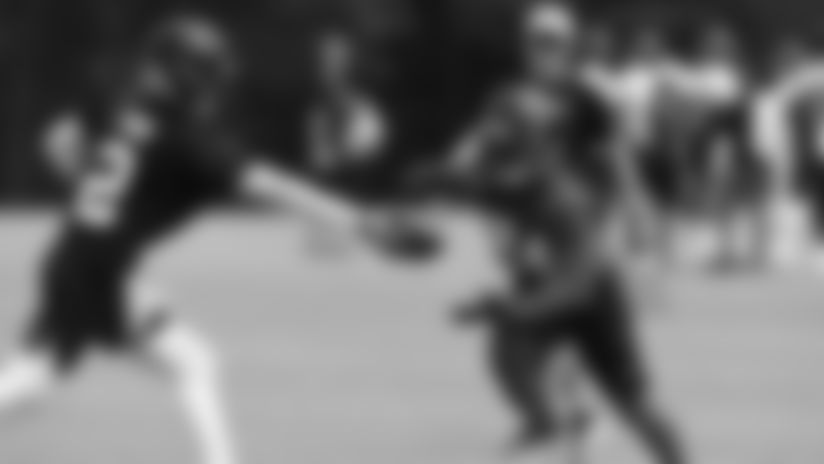 Marlon from San Leandro, CA
Hey Matt. How are you doing? I do apologize for staying away temporarily ... I love being able to ask your opinions about The Beloved Falcons. My question is, do you think the Falcons will invest heavily in Devonta Freeman? The reason why I'm asking is because I think that this year he (Devonta) has a lot to prove and he will be eventually be coming up for a new contract and I love and respect him and his game. He is the new Beast Mode of the South. I know you are straightforward with your opinions and I love that. What do you think???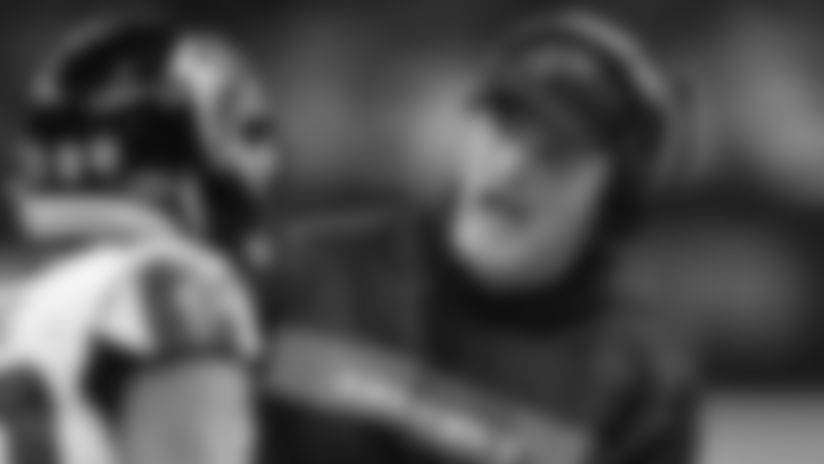 Tristan from Douglasville, GA
Hey Beek! I love the column. Wrote in earlier about mandatory training camps, thank you for clarifying that for me. So, I'm really excited to see DQ have a more hands-on approach on the defense by taking over the DC position. But my question is: How much of an impact will he be able to have on the defense in just one offseason? I am not doubting his coaching or his abilities but is one offseason going to be enough for us to see a difference in our defense? Also, who is one person on defense that you are excited to see in action when it comes to the rookies? Thanks, Beek!
Matt: Hey, Tristan. It's not like Dan Quinn is installing a new defense from scratch. His fingerprints are all over this defensive scheme already. That said, Quinn didn't think the unit met his standards in 2018 and he obviously made some sweeping changes. I'm expecting this unit to be much more aggressive at times in 2019, Tristan. I think Quinn is going to find ways to put certain players in situations where they can wreak some havoc. He's also taking a more hands-on approach with players when it comes to teaching them how to deal with (and win) double-teams and other situations that may have stalled them in the past, for example. I sense more than anything, though, that we're going to see a unit that is constantly putting forth all-out effort, all the time. Quinn is big on that and really doesn't tolerate anything less. So … stay tuned.
Dave from Warwick, RI
Hey Matt, this will be my third time posting here since the launch of your gig here, but no fear, I've read literally every week and truly believe it's one of the best things to ever happen to our community. It would not have been possible without you! Just a couple of things – I thought the offensive roundtable was the best thing to happen since we used to do those weekly podcasts. Do me one favor as a loyal fan and a consistent reader, do a defensive roundtable! Bring in Dan Quinn and Keanu Neal or whoever! These podcasts might be work to put together but they are absolutely worth it cuz us fans LOVE that stuff. Us diehard commoners who have to work boring jobs survive off content like that. Keep it coming, please! Anyway, I will be attending a couple games this year. The only one set in stone so far is Week 2 ... Bring on the Eagles, and 2019!
Matt: Dave, really appreciate your note – and glad you enjoyed the latest Falcons Audible podcast. It might've been the coolest thing I've done since arriving here in May of 2017. And your words at the end … that's what motivates me. I can tell you this much: We're planning to do more. Much more. A defensive roundtable is definitely in order. Make sure you send a note when you make it to the A for the Philly game. Should be a good one!
Alton from Shoreline, WA
Beek Beek Beek! You've done it again! That podcast with Matty Ice and the coaches was awesome! I really appreciate all the content you provide regarding the Dirty Birdz. Everyday I'm looking for info and you help a lot with that. Thank you, sir! My question is about Ra'Shede Hageman. How is he looking at camp as far as shape goes? He is a big fella that took a little time away. Him being part of the rotation is a big deal to me 'cause he is a big man compared to the shorter D-line guys like Grady Jarrett and Deadrin Senat. Thanks for everything, Beek! Rise Up!
Matt: Glad you guys are loving the podcast! More to come, I promise. As I noted in a recent edition of SFTB, Ra'Shede Hageman is off to a decent start. Dan Quinn was asked about Hageman following the final day of OTA and said the defensive tackle was "off to a good start" and that they've been pushing him hard with the conditioning. All positive signs so far.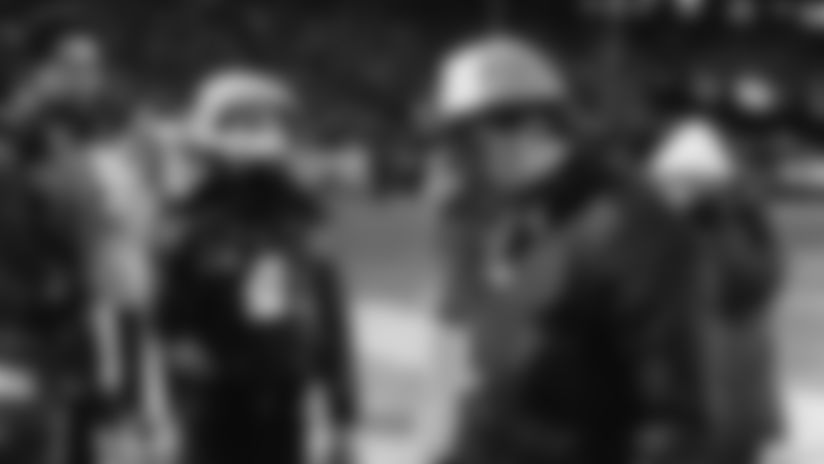 Michael from Roberta, GA
I have been a Falcons fan since the Leeman Bennett era (pictured above in 1981). I've cried and cheered, win or lose. But what I want to know is are we targeting more defensive players to make that Super Bowl run or more offensive players that have the talent to make it there?
Matt: The Falcons are lucky to have loyal fans like yourself – and thanks for reading SFTB and writing in. I don't think the Falcons are done adding players, especially on the defensive side of the ball. Who and where is still very much up in the air; it'll all depend on which players come free during camp and around roster cutdowns – and if they're a fit here. Stay tuned.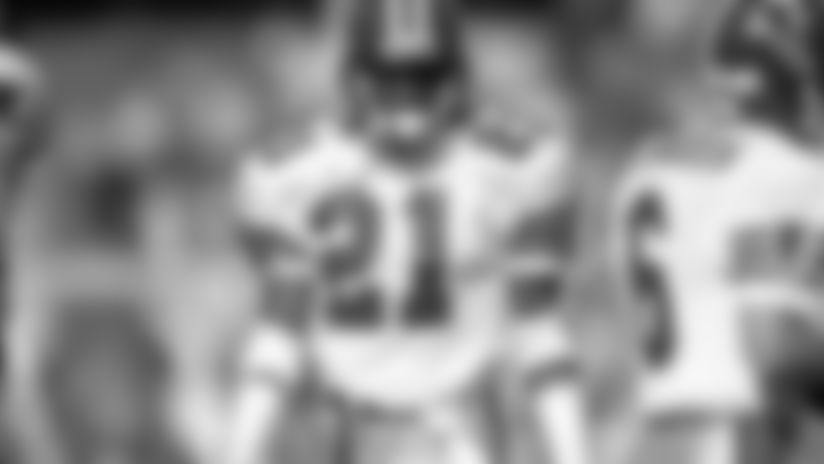 Jon from Fort Walton Beach, FL
Uniforms???
Matt: Are you asking me which ones are my favorites? If you're a regular here, you already know what I'm going to say … the ones the Falcons donned during Deion Sanders' rookie season in 1989. Favorite combination? Red-white-silver. Gorgeous and distinct. The last time I asked you guys, this is what you responded with: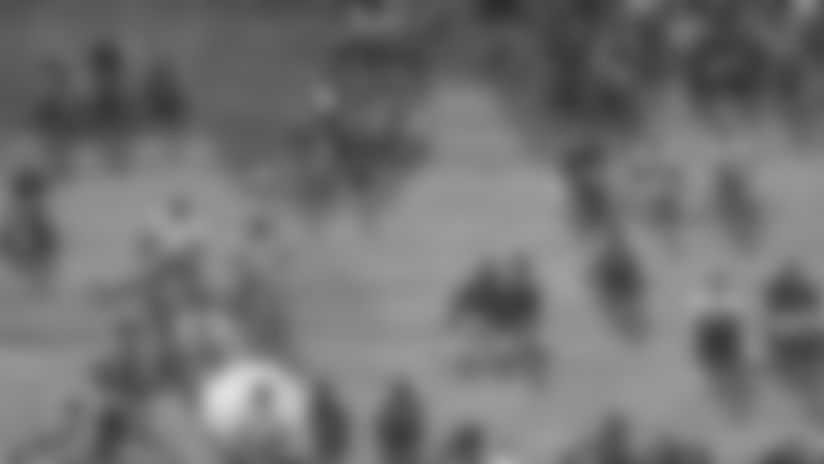 Johnny from Johns Creek, GA
Hello, Beek. Do you know if the Falcons will have a day for the public to attend minicamp this week? Thank you.
Matt: Hey there, Johnny. No, minicamp is closed to the public. However, I do believe select season ticket members have the option of attending. Training camp is a different story; there will be a number of practices open to the public. I'm expecting the schedule to be released soon.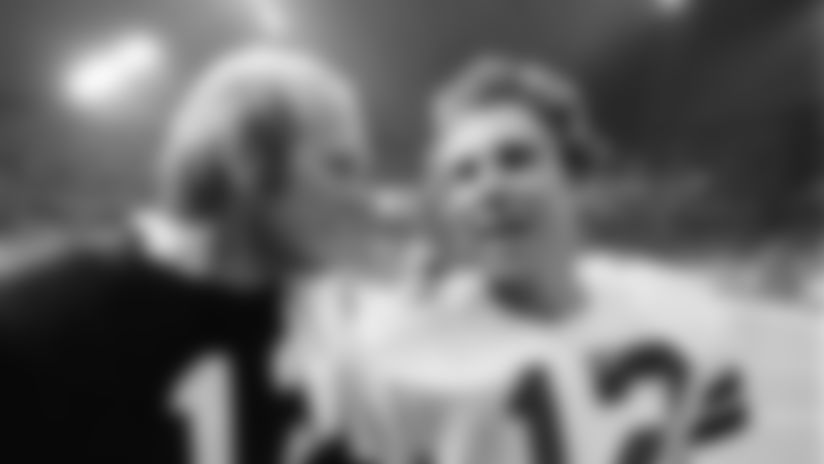 Rick from Eatonton, GA
OK, OK already. Enough with the Matty Ice bashing. We have a top-five if not top-three QB and his stats have proven it over and over again. Sorry Beek, but as a lifelong fan, I am so tired of the "fair weather" armchair GMs, coaches and QBs. We are a tough and determined team and I have NO DOUBT we will post a MUCH better record this season. Do we have holes to fill? Yep just like 31 other teams. I am concerned about the D-line and secondary but have high hopes DQ now running the defense will correct those shortcomings. OK, soapbox put away (for now). MAILBAG
Do you have a question about the Falcons that you want answered? Ask a question here and it could be posted on AtlantaFalcons.com.