It's late May and the Falcons have just wrapped up the first of three organized team activities.
Aside from a few players who are on the cusp of returning from injuries and a couple of others who opted not to partake in the voluntary team workouts, optimism is running high here at the team's headquarters in Flowery Branch.
Everyone is smiling – Falcons coach Dan Quinn, quarterback Matt Ryan and even safety Keanu Neal, who fielded questions about working his way back from a season-ending knee injury suffered in last year's season-opening loss in Philadelphia, managed to flash a few smirks.
But no one has a bigger grin on his face than running back Devonta Freeman. When Freeman was asked how it felt to be running around the Falcons' practice fields in the 90-degree Georgia heat on Thursday afternoon, he uttered the word "fun" four times in his first response to reporters.
"I feel good just to be out here running around," Freeman said. "Having fun. This is fun. Just having fun running around, like, it brought me back to my memories when I was a young kid, playing in the middle of the field. This is fun just being out here."
Freeman, who is entering his sixth season with the Falcons, is coming off a season that was anything but fun.
The Miami, Fla., native played just two games in 2018 before being placed on injured reserve because of knee and groin injuries.
When Freeman is healthy and playing, the Falcons are a different team. The first words out of the mouths of teammates and coaches are energy, juice, contagious, excitement and fun – all things the Falcons could have certainly used last year as they finished 7-9 and missed the postseason for the first time in three seasons.
Since the Falcons' run to Super Bowl LI in 2016, the running game has been on a downward slide. At the same time, Freeman has missed a total of 16 games during that span and the Falcons have finished 11-5, 10-6 and 7-9.
Table inside Article

| CATEGORY | 2016 | 2017 | 2018 |
| --- | --- | --- | --- |
| Attempts | 421 (12th) | 430 (16th) | 351 (30th) |
| Attempts/game | 26.3 (12th) | 26.9 (16th) | 21.9 (30th) |
| Yards | 1,928 (5th) | 1,847 (13th) | 1,573 (27th) |
| Yards/game | 120.5 (5th) | 115.4 (13th) | 98.3 (27th) |
And Freeman's rushing numbers over those three seasons?
Table inside Article

| CATEGORY | 2016 | 2017 | 2018 |
| --- | --- | --- | --- |
| Attempts | 227 | 196 | 14 |
| Attempts/game | 14.2 | 14.0 | 7.0 |
| Yards | 1,079 | 865 | 68 |
| Yards/game | 67.4 | 61.8 | 34.0 |
If the Falcons hope to win the NFC South and make another postseason push, they'll need to get that running game going – and Devonta Freeman will undoubtedly play an integral part in making that happen.
For starters, Freeman needs to be on the field – and healthy. He knows that, and the Falcons know that.
"I think probably the least of your concerns would be his ability to perform in big spots – it's proven," Falcons running backs coach Dave Brock said. "Just remain healthy and put yourself in a situation where let's go out and have the very best year he's had in his career and, again, that's what I'm anticipating."
And, Brock added, "so far so good."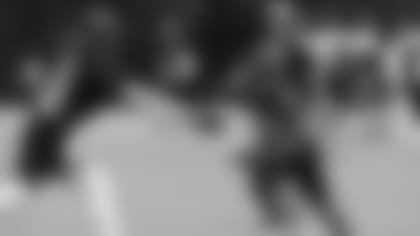 Ryan echoed those thoughts.
"He looks good. He's moving around really well," Ryan said. "You can tell the energy and the excitement is there. He's always been that way; he's always loved playing. You can feel that when he gets out on the field and it's contagious – guys around him feel that, too."
As for the man himself, Freeman said he doesn't have a chip on his shoulder and isn't feeling any sort of extra pressure to put up big numbers.
The 27-year-old whose body has taken a beating over the last two seasons said just the opposite.
"No, this is what I do, just play football," Freeman said. "There's no extra pressure. I love football. It's something I love to do. I just want to be out there playing, have fun and get better every single day because I believe there's something to work on every single day. Never settling, never get comfortable and complacent – just work hard every single day and have fun."
If Freeman can stay on the field for 16 games, he won't be the only one having fun in 2019.
And those smiles in Flowery Branch won't be going away anytime soon, either. MAILBAG
Do you have a question about the Falcons that you want answered? Ask a question here and it could be posted on AtlantaFalcons.com.