We're about midway between the start of free agency (16 days ago) and kicking off the NFL Draft (20 days away) and the Atlanta Falcons continue to make over their roster. Will they make more moves? Who are they targeting in the draft? Falcons fans continue to flood my inbox with questions likes these, so let's get to them now. Just remember that all opinions here are mine unless otherwise noted.
William from Spokane, WA
Once again, I thank you for your time and knowledge. To answer your question, a B+ draft would be ... love Javon Kinlaw and two other starters. I know that's tough but not impossible. But the bummer is I think Kinlaw will be gone. If so, I'm pushing for DB help, even if it's a safety (Xavier McKinney).
Matt: OK, so three starters out of the Falcons' six draft picks is how you'd define a B+ draft. If the Falcons walk away from this draft with three legitimate starters, I'd personally give it a higher grade. That would be impressive at this point. In my opinion they could use another starter at defensive back, linebacker, possibly left guard and edge rusher.
Buc from Morrow, GA
Beek tha Freak ... (it's been awhile). Hoping you and your loved ones are healthy and happy to be home with you! This is wishful thinking on my part but at 16 in the first round my top choice is JAVON KINLAW! The young man has "GAME WRECKER" written all over that large frame of his. I feel like a CB at 16 isn't gonna have an immediate impact (unless your name is Jeff Okudah). If I were the GM, if KINLAW doesn't fall to us at 16, I'm trading to the back end of the first round (and drafting A.J. Epenesa) and getting more picks. We have many needs and need depth. And we can get a good CB in the second round and I would move back into the second round and try to get Geronimo Allison/Marlon Davidson/Justin Madubuike. My theme for this year's draft is "GAME WRECKER." Your thoughts, sir? Side note: TOO excited about new uniforms.
Matt: Ha! Nice nickname, Buc. Thanks, we're all feeling well and are healthy here. Hope the same for you and everyone out there. I think if I had to pick a favorite prospect among Falcons fans right now it would have to be Javon Kinlaw. If Thomas Dimitroff is reading SFTB this morning, hopefully he's taking notes (I'm kidding, of course). Look, there's a lot to like about Kinlaw – I have him going to the Falcons in my most recent mock draft. I think we can all agree that the Falcons should go defense with that first pick regardless. And, you're right, they definitely could use some difference-makers on that side of the ball.
James from Gainesville, GA
Do you think it might be interesting if the NFL were to allow trading players or draft picks for additional cap space allowance?
Matt: Do I think it would be interesting? Um, yes, that's one word for it.
Cody from Ohio
When will the new uniforms be revealed?
Mike from Waynesville, GA
Hey Beek! Just want to say great job! Your balanced, brave analysis keeps us grounded! OK, I have figured out this Thomas Dimitroff thing. So they were calling for his head last year. The man has made some genius moves: Julio, Debo, Grady, etcetera. Sometimes not so much. But I've figured out his superpower and why he hangs around! The salary cap! Weren't we supposed to be in cap hell? And look at what he's done. When everybody else is playing checkers, he's playing major chess! I think his salary management skills are second to none. What say you, Beeker?
Matt: The Falcons have said since the end of the season – and I'm talking about owner Arthur Blank, president Rich McKay and general manager Thomas Dimitroff – that they would sign the players they needed to in free agency and that the salary cap would not prevent them from doing so. They knew they would have to get creative, and that usually entails restructuring existing deals, release other players and re-signing others with deals that provided some relief. And they've done a really nice job of doing that and addressing some needs while making some tough decisions in the process. Does it mean that they've somehow fooled the system? Heck no. Does it mean that some players have decided to take less money out of the kindness of their hearts? No again. One way they reportedly did it, according to ESPN's Field Yates, was by converting $8.75 million of Matt Ryan's base salary in 2019 into a signing bonus. That, in turn, created $7 million in cap space. Now it's time for the players they signed to go and produce on the field. That will be the ultimate judge. Stay tuned.
Jordan from Oroville, CA
Hey Beek, what are your thoughts about the NFL rule change for a 14-team playoff schedule? Also, what about the 17-game regular season? And how does it affect the Falcons considering the tough division they're in. Hope you and your family stay healthy and take care.
Matt: Here are my quick thoughts on it, Jordan. I think this league is all about parity and, based on the scores week in and week out, the teams are very evenly matched. There's a not a huge talent discrepancy from team to team. And I think over the years some very good teams have been left out of the postseason – teams that turned things around in the second half of the season that would have been a very tough out, for example. And some divisions (some years) are tougher than others. So, for the most part, I like adding another team from each conference into the mix. I also like that only one team – the No. 1 seed in each conference – receives a bye in the playoffs. That'll make teams work harder for that spot and it's a nice reward. As far as 17 games, well, at least there will be one less preseason game. In all, I think it'll be good for the fans and the league. The players agreed to it under the new CBA (although the vote was very close), so they're on board with it too.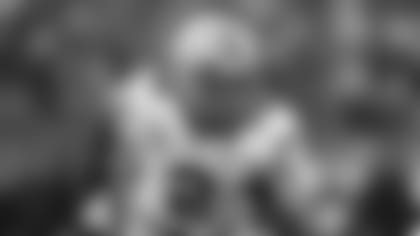 Josh from South Bend, IN
Beek, you my friend, are a cool cucumber. I cannot believe Falcons fans are actually asking for us to trade up and get Chase Young. Well yeah, I would love him on the team, who wouldn't. Dude is a beast. But there is no way we can give away any of our six draft picks. Makes me crazy when I hear people say things like that. Now I would love to snag Javon Kinlaw at 16 because I think he can add to the D-Line right now but could also see us trading back in the first for another pick in the second. Thanks for keeping your cool Beek, because I can't. I didn't ask a question, so ... what's your favorite color? Rise Up
Matt: I really appreciate the kind words, guys. Always make me chuckle as I'm forwarding all of the compliments in my inbox to my direct supervisor here at work. Yes, some of the questions might seem like a reach, but never say never in the NFL, Josh. Just remember the trade up for Julio Jones … and, yes, I'd sign up for Javon Kinlaw at 16. Will he be there? That's the question right now? And, of course, what will the Falcons do? Stay tuned. Oh, almost forgot. My favorite color is blue. MAILBAG
Do you have a question about the Falcons that you want answered? Ask a question here and it could be posted on AtlantaFalcons.com.
Go ahead, ask the Beek
Do you have a question about the Atlanta Falcons (or anything football-related) you'd like to ask Matt Tabeek? If so, hit the link. Please remember to include your home state (or country if you live outside the U.S.). Thanks for reading SFTB! 2020 Falcons Tickets
See the Falcons battle divisional foes along with the Bears, Lions, Broncos, Raiders, & Seahawks at the best venue in sports.