Before I dig into my inbox and get started with your questions, I want to wish all of my loyal readers here – and the entire Dirty Bird Nation – a very happy, healthy and prosperous new year!
Look, I've said it many times before and I will continue to write it here – this space is all about you, the fans. Sure, it's also filled with my opinions and insights, but your questions and comments are what fuels me – and Straight from the Beek.
This daily series started back in August of 2017 and continues to grow because of you and your passion. I may have not gotten to all of your questions last season, but one of my goals in 2020 is to expand SFTB and double the number of questions I'm answering on a daily basis, especially during the regular season. That way more voices – your voices – are heard from. And that, I believe, is what counts most.
This series – heck, this website – exists for one reason: Y-O-U, the Atlanta Falcons fans.
Alright, I took some time off during the holidays to spend some time with my kids and I'm back and ready for your questions and comments. So, let's get to them now. Just remember that all opinions here are mine unless otherwise noted.
Hello, 2020, here come the Beekers. And we're off.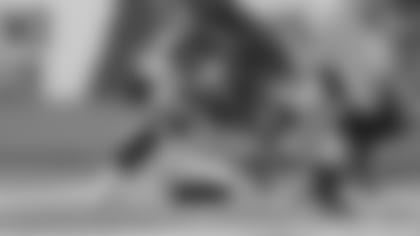 Chris from Oceanside, CA
Beek, great win against the Bucs for our Dirty Birdz! Exactly the momentum that we need heading into next season. Couple of points of concern. First, it was extremely frustrating watching Matty Ice seemingly scrambling for his life all game. We invested a lot into the offensive line this past offseason, and it feels as if the O-line hasn't performed to its full potential. Second, we NEED some pass-rush help. Do you think giving our mid-first rounder, along with the second-rounder that we got for Mohamed Sanu would be enough to move up to either No. 2 or No. 3 to select Chase Young? Lastly, I'm extremely nervous about our secondary improving next year. Should I have these feelings about that group, or remain optimistic because we'll get Keanu Neal and Desmond Trufant back healthy next year? Happy New Year Falcons Nation!!!!
Matt: Matt Ryan was sacked 48 times in 2019 and Falcons quarterbacks were sacked a total of 50 times for the year (Matt Schaub was sacked twice in his lone start). For some perspective, the most sacks ever given up in a season by a Falcons team was 51, and that was back in 1983 when Steve Bartkowski was behind center. Even worse was the fact that he only played 14 games that season. Still, 50 is way too many. Last year Ryan was sacked 42 times and we thought it was a major problem. Everyone likes to point to the Falcons' potent passing attack and the fact that they're among the top five in total passing yards, but I don't like that stat. If you're throwing that much it's usually because you have to – you're either way behind the chains (down and distance – and sacks will do that you) or you're behind on the scoreboard. "Not great, Bob." And I won't even get into the run-game woes in this response, but the offensive line must improve or it'll be another long season ahead – and no one wants that. As to your second question, I think having those two second-round picks gives you some ammo to move up, but I don't think into the top three picks. Here's a thought: With all of the needs the Falcons have at the moment – edge rusher, offensive line, cornerback, linebacker, running back and possibly tight end – is packaging draft picks and giving them away for one player a smart idea?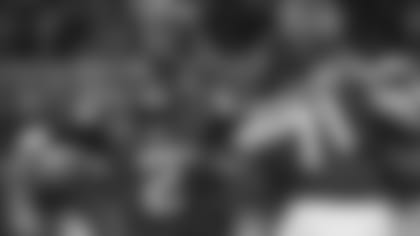 Rick from Macon, GA
Beek … Matt Ryan is a good QB if given protection. Against the Bucs he didn't have protection and he made A LOT of bad decisions. He looked worse than any rookie QB in the entire NFL. PERIOD! When he gets any pressure, he is a sissy. Just panics and he had about six pass deflections. You would think they would let him roll out more as he did a couple of years ago. He is not a good pocket passer, especially when it is third down or he suspects a blitz. You look at every play (vs. the Bucs) and you will see how he panics more than any other QB.
Matt: Rick, any quarterback playing behind a line that surrenders 50 sacks in a season is going to get a little antsy at times. Now, is Matt Ryan completely free of the blame when it comes to all 50 sacks? No, but given some time in the pocket, he's a fantastic quarterback back there. And give the Bucs some credit for those batted balls; they did a nice job getting their arms up and blocking some of those short-to-intermediate pass attempts. Regardless of how you slice it, the offensive line needs to improve (as noted in the above question and response).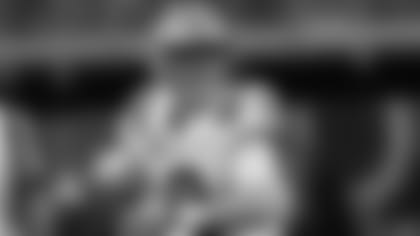 Hal from Gainesville, GA
Watch the Saints assemble a package to trade to the Bengals for the first overall pick. They want Joe Burrow, who already runs their offense at LSU, and they might be willing to include Michael Thomas from Ohio State as part of the package. He might save them one first rounder from a future year. That could be their reason for working out six wide receivers this week, including Antonio Brown. I would hate to see the Falcons have to face Burrow with his 78 percent completion rate twice per year for the next decade and a half.
Matt: Before anyone rolls their eyes at Hal's suggestion above, think about this: Drew Brees and Teddy Bridgewater are set to become unrestricted free agents at the end of the season. Taysom Hill, by the way, will be a restricted free agent. While Brees is still playing at a high level, he is 40 years old and I could see him retiring – especially if the Saints make a Super Bowl run. Point is, they could be in the market for a starting quarterback this offseason. We all know what kind of year Joe Burrow is having down there at LSU and, yes, they did change up the offense in Baton Rouge, too. The Tigers hired former Saints assistant Joe Brady to be their passing-game coordinator, and he brought a lot of Sean Payton's playbook (and verbiage) with him. So, yes, it's totally understandable to see why Burrow (who even wears the same number as Brees!) would be a nice fit in New Orleans. Burrow, however, will likely be the first overall pick and the team picking – the Cincinnati Bengals – are going to need a quarterback because they're about to turn the page on the Andy Dalton era. Do the Saints have enough ammo to make a deal with the Bengals? Who knows, but I doubt it will happen.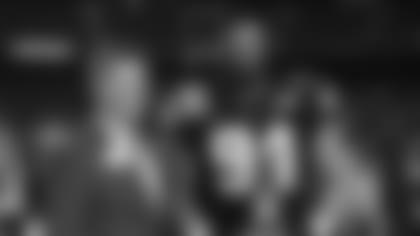 Ray from Asheville, NC
Beek, I am so proud of how our Falcons finished the season with four straight wins! Debo's pick-six sends the Falcons into the offseason on a high note! I applaud Arthur Blank in his decision to keep DQ and TD, who knows how to pick 'em and keep 'em! Speaking of picks, who do you think we will likely land in the draft since we're number 16 in the draft order? I've got this gut feeling that TD is going to pull some strings and get a higher draft pick? Thanks for all that you do to keep us abreast of the happenings with our beloved Falcons. May you have a great 2020!
Matt: Before we can speculate on what the Falcons might do in the NFL Draft, we'll have to evaluate what decisions they ultimately end up making with the current Falcons roster and how active they end up being in free agency first, Ray. Depending on what happens before the draft will dictate what holes they'll need to fill. One thing we do know is that productive edge rushers are hard to find and teams usually don't let them hit free agency. If they do, they're usually very expensive. So, if I had to guess, my money is on the Falcons drafting a defensive end in April (keep an eye on A.J. Epenesa, too). We all know that the offensive line is still a work in progress, too, and if they don't sign a lineman in free agency, they'll likely draft one. I just don't see the Falcons getting cute, packaging picks and moving up right now. They are going to need every single pick they can get their hands on – plus draft picks are cheaper than high-priced veterans. The Falcons are going to have to make some tough personnel decisions and I think they might end up parting ways with some players. Stay tuned.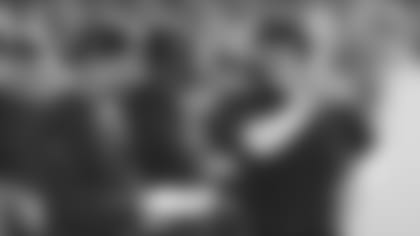 Robert from O'Fallon, MO
Beek, I am glad the Falcons are bringing DQ back. I think he is great at motivating players and getting them to play for him. However, he's not a great D-coordinator, even though that's how he got here. (We don't have the defensive talent he had in Seattle.) That being said I am looking at the offensive line. The Super Bowl team had Andy Levitre and Chris Chester at guard. Both decent but I wouldn't say they were incredibly better than what we currently have. I think the team is missing the presence and coaching experience Mike Tice brought to that position that year. Do you see a replacement at OL coach coming and, if so, who are some candidates?
Matt: I honestly do not know what sort of changes Dan Quinn will make with his coaching staff this offseason, Robert, but I can tell you that all football teams experience staff changes during the offseason – it's a normal part of the business. Some coaches are offered different jobs and some are let go. As noted above, the offensive line surrendered 50 sacks in 2019 and there were a lot of moving parts again due to injuries and, at times, inconsistent play. Regardless, I expect the Falcons to bolster the line with additional players – either via free agency, trades or through the draft – and it would not surprise me to see Quinn make some staff changes at a number of positions. He did it during the season and we all witnessed how that worked out. MAILBAG
Do you have a question about the Falcons that you want answered? Ask a question here and it could be posted on AtlantaFalcons.com.
Go ahead, ask the Beek
Do you have a question about the Atlanta Falcons (or anything football-related) you'd like to ask Matt Tabeek? If so, hit the link. Please remember to include your home state (or country if you live outside the U.S.). Thanks for reading SFTB!
Can Falcons carry momentum into 2020?
The Falcons capped 2019 with a 6-2 run and a four-game winning streak, but will it spill into the 2020 season? Matt Tabeek and Dave Archer break down the season-ending win over the Bucs and some of the positives heading into the offseason on the latest episode of Falcons Audible presented by AT&T.