The Falcons played their first game of the 2019 preseason on Thursday night – a 14-10 loss to the Denver Broncos in the Hall of Fame Game – and a number of players and performances stood out. You have plenty of questions about the game and this team, so let's get to them. Just remember that all opinions here are mine unless otherwise noted.
Beek, it's good to finally see some football and the Dirty Birds in action again. I know it's just preseason and the games don't matter in the standings, but who stood out to you?
Matt: Yes, it's great to have football back – and actual games to talk about. I think there were a handful of players, who made positive impressions on Thursday night. Running back Brian Hill, quarterback Kurt Benkert, defensive end John Cominsky, guard Chris Lindstrom and linebacker Jermaine Grace. And I'd even throw receiver Christian Blake into the mix. Hill, to me, is one of the feel-good stories unfolding with this team, especially if you go all the way back to his slow start as a rookie in 2017. He's worked really hard at getting better, especially in the passing game, and it's starting to pay off in a big way for third-year back out of Wyoming. He ran it 11 times for 57 yards and had the one touchdown catch. For more on Hill and four other players who have stood out in training camp so far, read my latest column here.
Benkert showed a lot of zip slingin' the ball downfield and put up some nice numbers despite some bad drops from Falcons receivers. Unfortunately, the second-year pro out of Virginia hurt his toe and we don't know the severity of his injury yet. Hopefully it doesn't derail his preseason – or his chances of competing for the backup job behind Matt Ryan. I need to go back and watch more video, but I liked what I saw from rookie guard Chris Lindstrom. The first-round pick was aggressive and looked dominant at times. John Cominsky had a nice homecoming of sorts, tallying five tackles, a sack and an fumble recovery. That's huge for his confidence and this defense moving forward. Linebacker Jermaine Grace was flying around and making tackles, showing off his range, instincts and strength. And Christian Blake continues to have an impressive camp and preseason. He led all receivers with five catches for 46 yards and keeps making plays.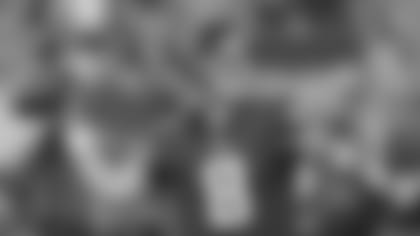 Ricky from Greensboro, NC
I understand that Matt Schaub has the knowledge and experience needed for a backup QB, but his age is truly showing on the field. He couldn't really perform. Do you still believe that we should keep him?
Matt: Yes, and you can't make that decision based on one preseason game. I get that for many Falcons fans, last night's game against the Broncos was the first time they've seen this team in 2019. While Matt Schaub had a dismal night completing just 4 of 14 passes for 10 yards and an interception, no one is going to make any snap judgments based off Thursday night's game. Virtually all of the starters sat out; Schaub was playing with a lot of young, unproven players – many of whom were seeing their first NFL action.
The coaches know what Schaub can do and see it every time he steps out onto the practice fields. That all said, Kurt Benkert played really well – definitely outplayed Schaub on Thursday night – and that is worth watching moving forward. Unfortunately, Benkert also injured his toe and we don't know the severity of the injury yet. The Falcons will have to sign another quarterback if he's going to miss time.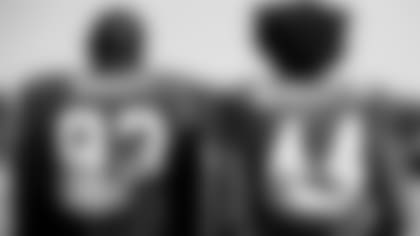 Jesse from Farmerville, LA
First, how do I know if you replied, do I get an email? But any who, I believe the Allen Bailey signing is huge. Six sacks from the 3-4 end position. Any 3-4 looks in camp? Vic Beasley and Takk McKinley at OLB?
Matt: Hey, Jesse. You'll know when you read SFTB – and here you are. I agree with you about the Allen Bailey acquisition. Bailey will play that "big end" position; he's got enough size to more than hold his own inside but he's also athletic enough to hold the edge and rush the passer. Falcons coach Dan Quinn values versatility because it allows him to use players (and their strengths) in different ways and in different formations.
Defenses often try to confuse quarterbacks with their pre-snap looks and with players who can rush the quarterback and also drop back in coverage, it opens things up for creative defensive coordinators like Quinn. I think we'll see a number of looks once the regular season begins, Jesse, but not a whole lot during the preseason. And, yes, I think you'll see Vic Beasley dropping back into coverage from time to time as well. He's fast and athletic enough to do it; and Quinn will take full advantage of that.
Matt: I appreciate that, Alan! Sometimes you just have to let people do their thing … I still wish he would've sent me an actual question. And, yes, being a sleeper sometimes is a good thing. Thanks for writing in.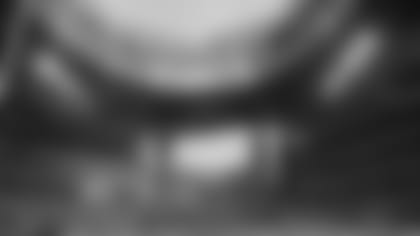 Michael from Tidewater, VA
Hi Matt, will we be seeing you around Mercedes-Benz Stadium before the games? Will you be doing any broadcasts? BTW, I appreciate your, "Football IQ!" and your keen insights. Keep up the fine work!
Matt: I appreciate that, Michael! And you guys are making me blush a little here this morning while I go through my inbox and sip on this (extra strong) coffee. Right now it doesn't appear I'll be doing a pregame show, but I'll definitely be around Mercedes-Benz Stadium. You guys should stop me and say hello – I'm easy to spot, especially with this head of hair! MAILBAG
Do you have a question about the Falcons that you want answered? Ask a question here and it could be posted on AtlantaFalcons.com.