It's time to forget about the first three games and focus in on the Packers game. Maybe that's hard to do for most fans, but that's exactly what the Falcons players and coaches are doing right now. I said it once already this week and I'll say it again: This a huge opportunity for the Falcons. If they can go up there and play well against what looks like the best team in the NFC team, that will be encouraging. Of course, this team needs a win, not a moral victory. Who knows, maybe they'll come away with one and get this season on track. In the meantime, you've got plenty of questions, so let's get to them now. Just remember that all opinions here are mine unless noted otherwise.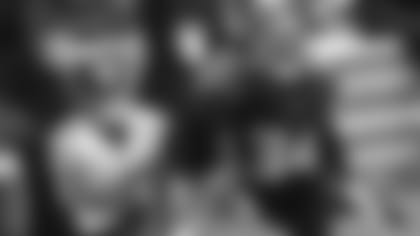 Keith from Ten Mile, TN
To all the talk about firing DQ, let me make a comparison. I was all in favor for firing UT head coach Phillip Fulmer several years ago when they had the second-best draft class but still could not put together a winning season. They eventually did fire Fulmer ... that year. And look at what has happened to the Volunteers since. Never a contender for over a decade. So, cool your heels folks! DQ isn't the problem. The problem is the players having the heart to finish the game. That's what we are not seeing. Injury bug has hit ... OK. But there are way too many mistakes by the guys that made the roster with the expectation to step up if needed. Point in fact, Mykal Walker's personal foul in the 4th quarter that resulted in yet another Bears score. Beek, what are your thoughts?
Matt: I think there were a number of times against the Bears where players were in position to make plays and didn't. To me, that's an example of not getting it done on the field – execution. And the players must be held accountable for that. The last two games have come down to a few plays. Someone needs to stand up and make a play. Make. A. Play. If the Falcons are sitting at 2-1 or even 1-2 right now, the narrative is completely different. Is everything perfect? Heck no, especially on the defensive side of the ball. But mistakes were made on offense, defense and special teams. Injuries are a part of the game, so I'm not even going there.
Dan from Atlanta, GA
Hi Beek, this is my first time writing in. As an Atlantan, these 4th quarter crumbling can drive a man to drink. This team plays well for three quarters and then dies. Yes, you can look at the secondary and something needs to be done there but I'm thinking these players are not conditioned well enough to play 100 percent for four quarters. They have their hands on their hips and are breathing hard. Hard to give your all when you are gasping for air. Your thoughts?
Matt: I honestly don't think conditioning is an issue, Dan. If you re-watch the play above, two Falcons players – Isaiah Oliver and Blidi Wreh-Wilson – were in position to tackle Allen Robinson before he trotted in for a 37-yard touchdown late in the fourth quarter. That's not poor conditioning; it's poor technique.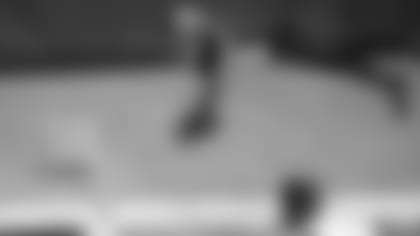 Alexander from Amstetten, Austria
Hello Beek, greetings from Austria! In your article: "Falcons need to roll the dice, now" you describe the situation about our Falcons pretty well. In my little football-family I am the only Falcons-Fan, so you can imagine how hard it is for me now after these two disgusting losses. In German we say: Once a fan always a fan of Falcons. So, I will always vote for the Falcons, but should I? The Falcons are the choke team of the NFL. In Germany and Austria, I always hear Atlanta makes Atlanta things ... Do you know which franchise this saying actually comes from? From the Browns! This is the most embarrassing thing for me to be compared with this franchise or to be put on the same level. It is really hard for me to understand why Quinn has still a seat. Thanks for your thoughts.
Matt: Alexander, are you asking me if you should remain a Falcons fan? A true fans sticks with his or her team through the good times and the bad – and the more invested you are, the better (as long as you can keep it all in perspective, of course). Look, we're in the midst of a pandemic and I've personally lost loved ones through this ordeal, so I don't have a problem keeping things in check and not overreacting to some tough losses. I think the Falcons have talent and have proven that they're capable of winning games – they just need to finish these games. All it takes is for someone – anyone – to stand up and make a play.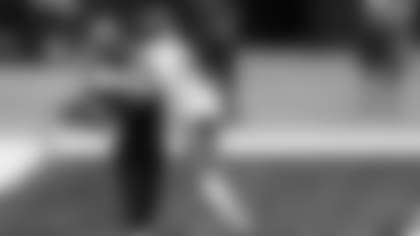 Robert from Union Springs, GA
Hey Beek. You hit the nail on the head with your latest tough-loss comments. It is past time to see who wants to be a player and not just a number. These guys are well-paid professionals who should not have to be motivated by someone else. As you said, DQ has not blown a coverage, missed numerous tackles, or dropped a pass. Pride seems to be lacking from the ground up. I know it hurts the guys to be laughed at, and that is happening right now. It is time to rattle the cage and see who wants to play ball with the big boys. Suggestions may also include a new play caller. The birds are so predictable on offense. As you prompted me last time we spoke, I will call out the defense, or more appropriately, the lack thereof. The middle of the field is always open.
Matt: You're right; these guys are professionals and watching the tape after these tough losses probably hurts. I'm sure some guys are embarrassed, too. But they've made this far for a reason. The Falcons are heading into Lambeau Field as big underdogs for that Monday night game. But, as we all know, any team is capable of winning on given Sunday … or Monday … or Thursday. There's a lot riding on this game for Atlanta, the players and the coaches. I expect to see a team that's dialed-in and ready to play, regardless of who is healthy and in uniform.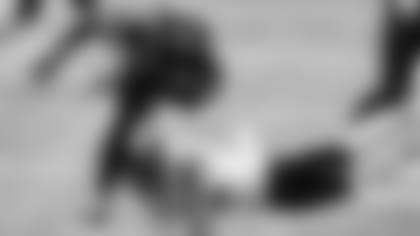 Joy from Powder Springs, GA
Hi Matt, I appreciate you always giving us a place to go and vent. In the Bears game, our run-game was going great with Todd Gurley. Why not keep him running in the game and eat the clock! I think he could've gotten at least 1 more TD out of it! Then we wouldn't have even really needed our kicker! That was easy to do, right? Offense could stay on the field, and we wouldn't have to worry so much about the absence of Grady Jarrett when he got hurt! They killed us up the middle with those 3 TDs! I believe you said the players need to step up, and I agree! Where is the heart and the hunger! It would be nice to be able to be proud of them, even in a loss, because they gave it their all! It felt like when the chips were down, they just gave up! Show us the heart FALCONS! We love you guys!
Matt: I think a lot of Falcons fans are feeling the same sort of frustrations you are, Joy. There's a lot of second-guessing and Monday morning quarterbacking going on right now. For me, as I've stated a number of times now, it's really simple. Someone stand up and make a play. Make a tackle. Make that extra block. Don't commit the unsportsmanlike conduct penalty – keep your cool. Make the right read. It's easy to blame one person (i.e., the coach), but this is a collective effort. The players need to be held accountable in my eyes. We praise them for their records and touchdowns … but it's the little things that are hurting this team right now.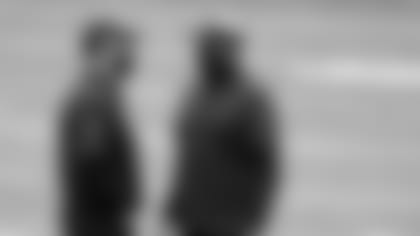 Ricky from Atlanta, GA
Beek, thanks for taking this thought/question. First and foremost, Ryan is our QB and will retire a Falcon ... FULL STOP. Same for Julio. Here is my thought process. When we make changes, I hope to go with an Eric Bieniemy or Lincoln Riley or someone that knows the game is changing on offense. The time is NOW to draft Ryan's replacement. We probably can't get lucky and get Trevor Lawerence, but the way this team looks we can get Fields. Change GM's as well (beg and plead Tony Dungy to be the GM). This does not mean Ryan is not our QB, it just means we are prepping for the future. Every early draft pick since Ryan has been here has been predicated on ensuring he is surrounded by offense talent. Even Koetter said it best ... this is not my offense. Time to think future!! Stop waiting for something different!
Matt: Look, Matt Ryan is the best quarterback in franchise history, Julio Jones is the best receiver in the game, and Dan Quinn is the head coach. I'm thinking about the Packers game. When this schedule came out, everyone knew it would be a challenge. The fact that the Falcons were in position to win the last two games should say something. But a lot of fans don't want any part of that discussion. I get it. But I'm not going to start speculating about names of coaches and players after 12 quarters of football. We'll find out a lot about these Falcons when they go into Green Bay on Monday night.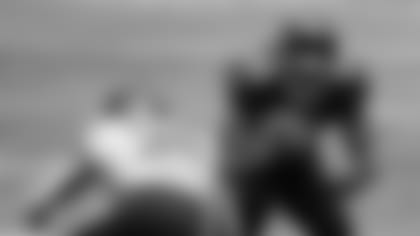 Rasheen from Meriden, CT
Beek, hope all is well. Straight from the Beek ... straight to the point. I was not happy with that loss. Or any for that matter. DQ is getting targeted right now for one reason and one reason only. DEFENSE. His specialty has been the weakest part of this team. Offense has led this team, but there's a serious issue with play selection in the second half. Did we not learn what abandoning the run does to leads by now???? We shouldn't it's the same result. Plenty of time to turn it around ... so let me ask my question ... We have a versatile RB group … why haven't we seen more of Ito Smith or Qadree Ollison?
Matt: Rasheen, the Falcons have been running the ball more in each game, and that's a good thing, in my opinion.
vs. Seahawks: 21 attempts for 72 yards
at Cowboys: 34 attempts for 113 yards
vs. Bears: 25 attempts for 144 yards
Against Chicago, Todd Gurley carried the ball 14 times for 80 yards and a touchdown. Brian Hill added nine carries for 58 yards and a 35-yard touchdown, the longest of his career and the longest by a Falcons runner since Tevin Coleman had a 43-yard touchdown in Week 15 in 2018. Hill also had a 22-yard reception while Gurley had one catch for 2 yards, marking the first time the Falcons have had two running backs with at least 75 yards from scrimmage and a rushing touchdown in the same game since Devonta Freeman and Terron Ward did it in Week 4 of 2015. Who knows, maybe they'll find more ways to work Ito Smith and Qadree Ollison in, but for now I have no problem riding Gurley and Hill. MAILBAG
Do you have a question about the Falcons that you want answered? Ask a question here and it could be posted on AtlantaFalcons.com.
Go ahead, ask the Beek
Do you have a question about the Atlanta Falcons (or anything football-related) you'd like to ask Matt Tabeek? If so, hit the link. Please remember to include your home state (or country if you live outside the U.S.). Thanks for reading SFTB!