The Falcons have some big decisions to make soon about their roster and the future of this team – and with the new league year about to kick off on March 18 (free agency) and the NFL Draft in late April, a lot is about to go down. In the meantime, you've got plenty of questions and comments, so let's get to them now. Just remember that all opinions here are mine unless otherwise noted.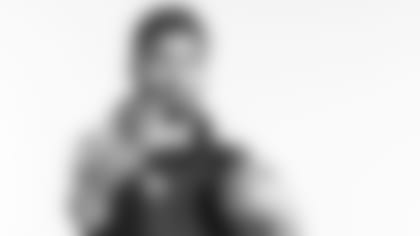 Tom from Lovejoy, GA
Hey, Beek. Always great to read your column. I just think we need to get a bigger defensive end. Vic Beasley was quick but too light to handle these athletic tackles. I would like to see A.J. Epenesa in a Falcons uniform.
Matt: I don't think you can have enough guys who can get after the quarterback, Tom. I certainly wouldn't mind seeing A.J. Epenesa in a (new) Falcons uniforms, either. I wouldn't mind seeing the Falcons sign or draft two or three pass rushers, to be honest. The more the merrier.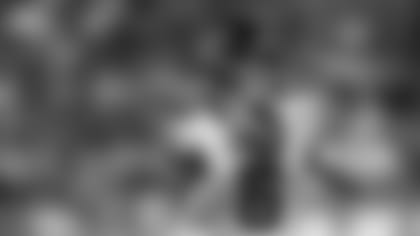 Paul from Salina, KS
Hey, Beek, why does everyone say we need a QB? Did they forget Matt Schaub, Danny Etling, and Kurt Benkert? Wish they would move on to more pressing matters, like keeping the QB standing upright so they can pass the ball or provide a DE to knock the other team's QB into the dirt and CB to intercept the ball. Who from the combine stood out in helping the Falcons into postseason next year?
Matt: I have no idea, Paul. It's amazing. Why on earth would ANYONE worry about the backup quarterback when you already have a proven starting quarterback (and three backups on the roster) and so many more pressing needs? It's mind-boggling! You know what else makes me want to scream from the roof tops? When someone suggests that the Falcons should draft a receiver at 16. Why? The Falcons had a top-five passing offense last year and what did it get them? Yes, the defense played better down the stretch, but I think they need to address that side of the ball in a big way. They've already said that the player who led them in sacks isn't going to be back. They must improve the pass rush and need an edge rusher (or two, see above response) – not another quarterback. And, yes, in today's pass-happy NFL, I'd say you'd need to have at least six cornerbacks on your roster. Look, the most important part of the combine is the medical reports and interviews. The rest, as they say, is what I sometimes refer to as the "Underwear Olympics." A player's body of work – the tape – matters much more than some drills at the combine. That all said, Paul, several players reinforced what we already knew about them – guys like Isaiah Simmons and Henry Ruggs. There were some others were certainly created a buzz after showing off their athleticism – Tristan Wirfs and Mekhi Becton come to mind.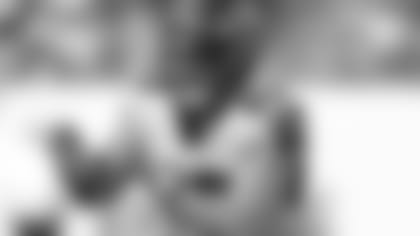 Warren from Riverdale, GA
Straight up talk!! Needing to blitz more than 80% of the time. Two guys 350-400 pounds to be placed in the middle. On the outside, 2 veteran pass rushers beef it up. CB much needed – taller guy. Trufant is not it, too small. Get rid of him. LB questionable, but I'm kool with that. Neal is the deal, but we need a safety with a mean bad-ass attitude. Meaning, if you come across the middle you will be punished. On offense bring in Le'Veon Bell to improve ground game. Other defenses will respect it and open up for the receivers. We will win 3 championships, no lie. This is our time to act now. I was born in the same year as the Falcons plus I am tired of other people talking trash, saying that we will never be nothing. Periodically we need to be really nasty and mean.
Matt: I love your passion, Warren, but … I don't necessarily agree with all of your suggestions or criticisms. Instead of picking everything you wrote apart, let me just say this much: The Falcons must get better on defense and in the trenches (on both sides of the ball). I've been saying that since I got here in 2017 it feels like. I think they took some steps in that direction last year with the additions of Chris Lindstrom and Kaleb McGary, even though the stats/results (50 sacks surrendered in 2019, for example) don't necessarily back it up. The Falcons need more talent – and leaders – on the defensive side of the ball. They need a pair of edge rushers who can consistently wreak havoc on opposing quarterbacks, another cornerback (or two), and possibly another linebacker, depending on what happens in free agency. On offense, they need someone – anyone – to step up at left guard and, quite possibly, a starting-caliber tight end (if they cannot keep Austin Hooper in the fold). And I think they'll bring in another running back, but it won't be a big name. I don't care where they find 'em or how they get 'em. Warren, you do score points for not suggesting that we need to draft or sign a quarterback and receiver at least.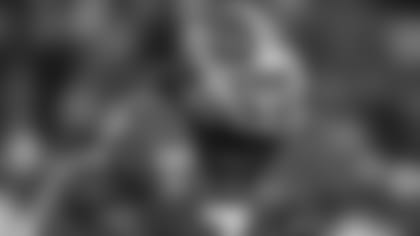 Leon from Cartersville, GA
Beek, you have made some good points and I enjoy your views. That being said I still think getting D'Andre Swift with the 16th pick would be a great move for the Falcons. They have not hit on any of the edge rushers (WHICH WE DO NEED) they have picked over what, the past 10 years or so in the first round. We know that Devonta Freeman is injury-prone so replacing him with a three-down back might be the right choice. They Falcons have hit on latter-round picks like Grady Jarret, so why not try to find that diamond in the rough. As far as the CB/DB positions that you have brought up on several occasions … Personally I feel like if our DL does their job our DBs will be fine, so no reason to worry about them. What are your thoughts?
Matt: Look, I love D'Andre Swift. Great back. But until that offensive line improves, I think any back not named Barry Sanders is going to struggle to consistently run the football with any efficiency. And I think the Falcons have to go defense with that first pick. They need to start stealing more possessions and wreaking havoc in opposing backfields. They need a defense that scares the living daylights out of people, not one that gets by. I think the Falcons can find some quality running backs on Day 2 or Day 3 of the draft, Leon. I really do. And, who knows, maybe Swift will be there in the second round (I doubt it, but you never know).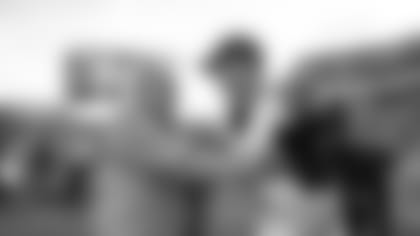 Ryan from Georgia
Hey Beek! Love this column. Who are we planning to draft with our other picks? Also, is there a site where you could see all the free agents because that would be really cool. Lastly, what do you think about our schedule and a prediction of our score of winning games? (What is that called?) I think we will go 9-7 or even 10-6. Thanks, and keep up the good work!
Matt: It's waaaaay too early to start making predictions, Ryan. We don't even know what this team is going to look like yet. A lot is about to change in the coming weeks and months. Ask me again in August. As far as your prediction goes, I'll say this: 9-7 or 10-6 will only cut it if it includes a postseason berth and a playoff run. Falcons owner Arthur Blank has made that very clear – the bar is higher and the expectations are greater.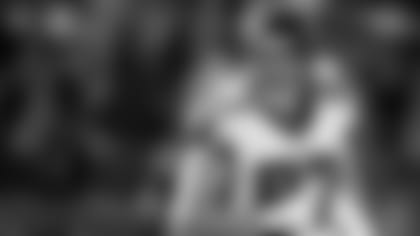 Dave from Burbank, CA
Hey Beek! I don't want to fathom the thought of Hoop playing in a different uniform next season but if that happens, what's your assessment of Jaeden Graham? In the small sample size I've seen, he seems to have a ton of energy and talent. I'd like to see him become the starter so we don't spend money in free agency or use a draft pick on the TE position. What say you?
Matt: I like Jaeden Graham and the team has stuck with him for a reason – they like him, too. I think he's come a long way and will continue to get better, Dave. Do I think that he can step in, replace Austin Hooper's production and the offense won't miss a beat? I'm not convinced of that, but I think he's getting there. When it comes to draft picks, Dave, all you (should) want in return is a starter or at least an impact player. If you can draft an eventual starter in the first round or the sixth round, that's a win. If you can trade a draft pick and get a starter in return, that's also a win in my book. I'll be honest with you here … I think it's going to be very difficult for the Falcons to keep Hooper in the fold. The more I read about the market for him in free agency, the more I think he's going to be offered a big-money deal – and he's earned every cent of it. The Falcons have a number of positions they want to address as well as trying to keep Hooper in Atlanta. You can't keep and sign everyone. That's just how it goes. Stay tuned.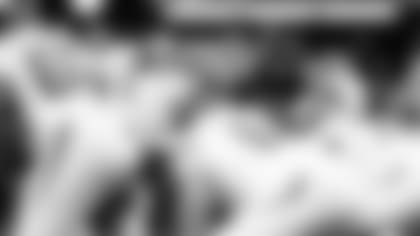 Doug from New York
What's up, Beek. I've always been really interested in the idea of putting Keanu Neal at linebacker, and I know it was brought up on SFTB back in February. I wanted to know if you've given this idea any more thought or if you've heard anything behind the scenes. Hope he's recovering well, he's an irreplaceable energy on our D-unit.
Matt: As NFL offenses continue to change, so do the defenses. That said, I think the best teams find ways to get the most out of their talent – and put players in a position to succeed. The Falcons have moved Keanu Neal around in the past. He's lined up in the box and up on the line of scrimmage at times. Neal is bigger than some linebackers and as fast as some cornerbacks – he's a physical freak of nature. The unfortunate part of the equation for him right now is that he's endured season-ending injuries the past two seasons. Neal is in the final year of his deal and 2020 is huge for him. Right now, to be very honest, everyone just wants him to return healthy and stay on the field for a full 16-game season at safety. I think Dan Quinn, Raheem Morris and Jeff Ulbrich will continue to find creative ways to use him and take advantage of his talents and abilities though, Doug.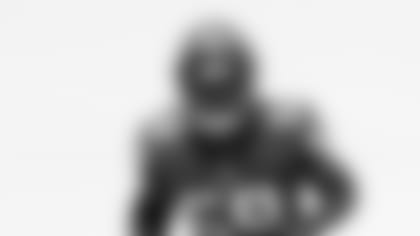 Jared from Arizona
Hey Beek, I believe this is a do-or-die year for Thomas Dimitroff and Dan Quinn. With that being said, do you think they would try and pull something aggressive to move up? Or do you seem them going with "the more the merrier" tactic and trading back? Also, in order to create cap space, Devonta Freeman looks like he will be cut. Any eyes on a running back? I like Eno Benjamin out of ASU and he should still be there in Round 3 or 4. De'Vondre Campbell looks like he wants to stay in Atlanta. Do you see the Falcons making a way to pay him and what would the open market pay a player like him?
Matt: Lots to unpack here. The bar has been set for this team by Falcons owner Arthur Blank, and that is the playoffs (and, preferably, some postseason success). I think the Falcons will use those draft picks in any way possible to improve the team, Jared. If that means trading up, trading down or trading them for another player, I think it's all on the table. I think the Falcons will bring in some running backs by the time training camp starts, and that's not unusual at all. Will they draft another back? Maybe. I could see that happening. And we'll find out in less than week what the market will be like for a linebacker like De'Vondre Campbell. It's hard to say at this point. Do I think the Falcons would like to keep him in the fold? Absolutely. They will certainly try to, that's for sure.
Bird Noises: Jeff Ulbrich's unlikely path to the NFL
Jeff Ulbrich talks about growing up in California, how he almost left football for good, playing for the 49ers and what it will take for the Falcons to win in 2020. MAILBAG
Do you have a question about the Falcons that you want answered? Ask a question here and it could be posted on AtlantaFalcons.com.
Go ahead, ask the Beek
Do you have a question about the Atlanta Falcons (or anything football-related) you'd like to ask Matt Tabeek? If so, hit the link. Please remember to include your home state (or country if you live outside the U.S.). Thanks for reading SFTB! 2020 Falcons Tickets
See the Falcons battle divisional foes along with the Bears, Lions, Broncos, Raiders, & Seahawks at the best venue in sports.