FLOWERY BRANCH, Ga. – When Michael Vick arrived in Flowery Branch Wednesday morning, nostalgia swiftly started coming back to him.
Suddenly, it was like 2004.
"Just pulling up man, it just reminds me of when I used to pull up every day to come grind and lay it out all on the line for my teammates, which was important," Vick said, smiling, in an interview with AtlantaFalcons.com. "It meant a lot to me, so when I come through that gate, it was all business. But now when I come through it's not as much pressure, but definitely great memories."
For the Falcons luminary, coming back to Atlanta is always love. To this day, men, women and kids alike still rock their Vick No. 7 jerseys everywhere in the city, at training camp, and games throughout the season. Seeing that support 14 years later – there's no greater feeling for him.
"A lot of people wear that jersey for a reason, because I did my part and did what I was supposed to do in the moment of truth." Vick said. "When I came through these gates I prepared for that, and it was shown on the field that I was one of the best. That's all I wanted. I wanted to be in the same echelon as Tom Brady and Peyton Manning. That's who I was always chasing, and I felt like I was there."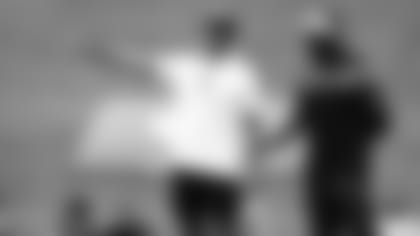 The imprint he left on football has transcended not only the quarterback position but the game itself. With so much versatility and strong instinct that Vick displayed during his time in league, you see those same traits in players like Lamar Jackson, Kyler Murray and Marcus Mariota.
And now with Mariota at QB1 for the Falcons, Vick is confident in the type of quarterback he is and what he'll bring to this franchise.
"You got a different style of play in Marcus," Vick said. "Marcus is going to be multidimensional, and a dual threat. He's going to do it in the air, he's going to do it on the ground, and I think that gives the offense more options. You just got to wait and see how it works. I mean, obviously big shoes to fill. You know Matt [Ryan had a] Super Bowl appearance, a lot of playoff appearances and a lot of success, so you don't want to go out and try to match that. You want to just play your own element."
With Vick drafted at No. 1 in 2001 and Mariota drafted No. 2 in 2015, he knows the expectations are high for any player of such draft status but understands that those expectations should already be set for oneself. At the quarterback position specifically, being able to compartmentalize and bring everything together quickly was the main message Vick left me with.
"You can't let the wires get crossed," Vick said. "If you just keep it all in perspective and eliminate all the negative, then you'll have a successful campaign for sure."
With the first regular season game less than a month away, Vick sees that the Falcons are catered towards the run-game, play action and knows there are key pieces on defense which will ultimately get them over the hump.
"You got to put it all together," Vick said, "in the moment of truth." 2022 Season Tickets Now Available!
Our Longest & Most Flexible Ticket Payments
Instant Member Benefit Access
Best Available Seat Locations