We're two weeks through training camp! Woo!
There's always so much to talk about every day that I thought I would use this Saturday to update you on where certain position battles stand. We're talking standouts, depth pieces and - of course - the biggest question I still have about the position group.
So, let's focus in on five positions I know you're curious about.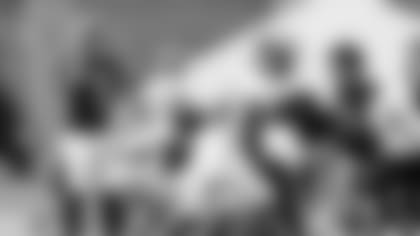 Offensive line
Standouts: Jake Matthews, Elijah Wilkinson, Drew Dalman, Matt Hennessy, Chris Lindstrom, Kaleb McGary
Depth pieces: Jalen Mayfield, Ryan Neuzil, Colby Gossett, Rick Leonard, Germain Ifedi, Justin Shaffer
Biggest question: Who will earn the starting center spot?
A consistent occurrence throughout camp has been the daily rotation of Dalman and Hennessy as the first-team center. One day, it's Dalman taking those would-be starting reps. The next? It's Hennessy's turn. Arthur Smith explained on the very first day of practice that the plan would be to rotate the centers daily in order for the coaching staff to get as fair an assessment as they possibly can before Week 1. That's exactly what's happening, and for the time being, it's the biggest question mark of the offensive line. McGary has established himself at right tackle, and with Mayfield working through a "lower back issue," Wilkinson has slid right in at left guard. How things work out between Dalman and Hennessy is where the position currently stands.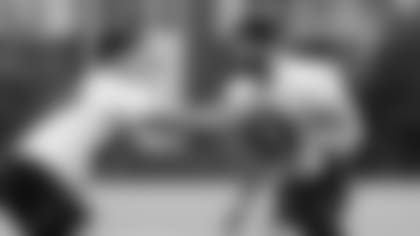 Quarterback
Depth pieces: Desmond Ridder
Biggest question: How much will we see Mariota in the preseason games?
Ever since Mariota was acquired and Ridder was drafted, it was never a question in my mind that Mariota would be QB1 at the start. (Notice I said "at the start" and not forever, because I do think it would be good to see Ridder in action a little bit in 2022). This has been the case through much of training camp. Mariota runs with the would-be first-team. He has experience not only in the league but in Arthur Smith's scheme. So, yeah, this seemed like a no-brainer development to me.
What I am curious about now is how much we'll actually see Mariota in action throughout the Falcons three preseason games with the Lions, Jets and Jaguars. Circumstances are different in Atlanta this preseason than they were last year. You didn't need to see how Matt Ryan operated in the preseason. You already knew. With Mariota, I think it would be good to see him in action. I think it also makes sense to play him a bit just for the simple fact that if he doesn't that leaves only Ridder. But what are we talking here? Mariota gets a half and Ridder gets a half? Are we switching things up by quarter? That's what I think I am most curious about when it comes to the quarterbacks at this point.
Defensive back
Standouts: A.J. Terrell, Casey Hayward, Jaylinn Hawkins, Richie Grant, Mike Ford
Depth pieces: Isaiah Oliver, Erik Harris, Darren Hall, Dean Marlowe, Cornell Armstrong
Biggest question: When will Oliver return to starting nickel?
Smith has been very honest that the Falcons are not wanting to rush Oliver back, and that's something they've really stuck to so far in camp. Oliver doesn't participate in defensive back vs. receiver one-on-ones, but his 11-on-11 reps have increased as the days have gone on. In fact, Friday's practice was the first time Oliver was working on the first-team field. Mike Ford continues to run as the "starting" nickel, but with Oliver working back, I'm curious how long it'll take to slot him back in.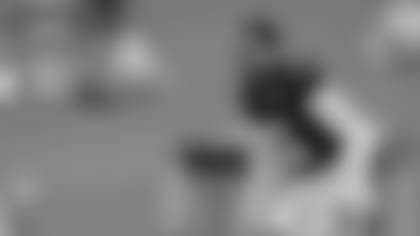 Wide receiver
Standouts: Drake London, Olamide Zaccheaus, Bryan Edwards, KhaDarel Hodge, Damiere Byrd
Depth pieces: Auden Tate, Frank Darby, Geronimo Allison, Stanley Berryhill
Biggest question: What does this coaching staff value at the position?
This position group, as much as any other, could go a number of different ways in terms of construction. Do the Falcons carry five receivers on the 53-man roster? Or six? If so, who are they? And why did they make the cut?
Right now, I'd say the locks are London, Zaccheaus and Edwards. Yes, Edwards is still working through a shoulder issue, but he's been practicing. He just hasn't been participating in contact drills. It's not something I am too worried about with him. But what of the other spots? Are the Falcons going to value height over everything else? Or do they want a few different body types in the room? That's where the position stands in my mind. I've really liked what I've seen from Hodge and Byrd through camp so far, but Allison and Tate are so long and tall that I feel like I can't overlook them, either. This will be a fun position to debate once we get into more 53-man cut-down talks.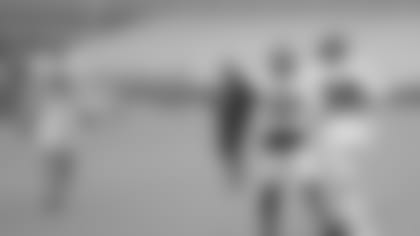 Outside linebacker
Standouts: Lorenzo Carter, Ade Ogundeji
Depth pieces: Arnold Ebiketie, DeAngelo Malone, Quinton Bell
Biggest question: How quickly can Ebiketie ascend?
The Falcons knew they wanted Ebiketie in the 2022 NFL Draft. They traded up to get him, after all. So, yes, they'd love to see him develop quickly and become an important piece of this defense. But how quickly can that happen? The Falcons grabbed Carter in free agency and Ogundeji returned from the 2021 squad. They're both the leaders of the room, and one would imagine the starters. But when it comes to this position, I don't think "starters" matter as much as the overall snap counts do. Even if Ebiketie or Malone are not your "starters" that doesn't mean their role is lacking. They're going to be an important part of this rotation. But how quickly can we see Ebiketie develop in his rookie year? That's what I'll be watching throughout the preseason and the beginning of the season, too, because I do believe that as Ebiketie gets more games under his belt, the more we'll see his game expand overall.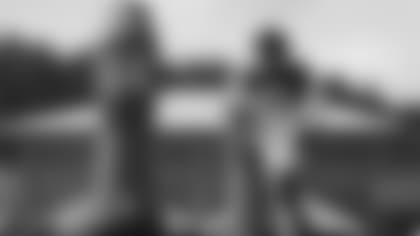 Interested in Falcons tickets?
Join us in 2022 for our biggest season yet! Find the best seats to watch the 2022 draft picks and your Dirty Birds in action!