ATLANTA – Tyler Allgeier delivered, yet, another masterful performance on Sunday in the Falcons 20-19 win against the Arizona Cardinals at Mercedes-Benz Stadium.
The rookie running back moved into the Falcons franchise record books becoming the fourth player to eclipse over 1,000 scrimmage yards joining the likes of Julio Jones, Kyle Pitts, and William Andrews.
He's the third rookie this season to accomplish this effort alongside Houston Texans running back Dameon Pierce, and New York Jets wide receiver Garrett Wilson.
"He's been an amazing spark for us man," veteran defensive lineman Grady Jarrett said. "Whenever we needed a play on offense, his number kept coming up. Whether it's in the screen game, run game or making stuff happen after contact. I think he just epitomizes what this team is about. Toughness. Grit. I know he'll have a really really bright future."
Allgeier rushed for 83 yards, one touchdown, while hauling in a 12-yard reception against the Cardinals. His growth and consistency this season have opened more options for Cordarrelle Patterson to use his versatility, whether it be at running back or wide receiver.
Patterson amassed 84 all-purpose yards, rushing for 42 yards, one touchdown, and catching six passes for 42 yards. Patterson also notched a season career-high with seven touchdowns this year.
Having two explosive players like Allgeier and Patterson in the backfield helps create more flexibility for the Falcons offense.
"A lot of it, the challenge, too, is that CP is such a versatile player, and you can use them together," head coach Arthur Smith said in his postgame press conference. "There are a lot of plays where you see CP as a wide out. You saw the one down in the red zone, some other plays. It's nice when you can mix and match."
Both Allgeier and Patterson played critical roles in the Falcons' 12 play, 72-yard drive that setup a Younghoe Koo game-winning field goal in the last two seconds of the game. Patterson had a key 22-yard run, up the right sideline on the second play of that drive; moving the Falcons closer into Cardinals' territory.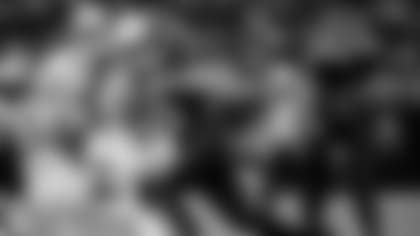 A few plays later, on third down-and-two with a minute and three seconds remaining, Allgeier exploded to his right, bulldozing his way through Cardinals' defenders for a three-yard gain that would ultimately help seal the Falcons victory.
"Tyler and the offense executing that situation right there and knowing when to go down. Smart football player," Smith said. "It allowed us to play that situation and to walk off with the field goal win."
Quarterback Desmond Ridder was impressed by Allgeier's performance against the Cardinals.
"Tyler's a workhorse," Ridder said. "His balance is wild. For him to be able to get the ball and then make one guy miss and then get hit by two or three guys but still be up, it's something that I haven't seen before. It's a credit to him and a credit to the guy's up front and moving their guys."
Needless to say, Allgeier and Patterson's production continues to provide hope on how versatile the Falcons' offense can be moving forward.