FLORHAM PARK, N.J. – Arthur Smith was recently asked about Kaleb McGary's performance this summer. The Falcons head coach replied with some kind words.
"He has come a long way."
"He's playing some pretty good football right now."
Ask offensive line coach Dwayne Ledford the same question and you'll get a similar response.
"I know this is only my second camp with him, but it's the best camp I know I've seen from him," Ledford said. "I know other people have said that as well."
That includes his teammates. And the fourth-year right tackle himself.
"I certainly feel like – honestly, since I've been in the league, this might be the best camp I've had," McGary said after Saturday's joint practice with the New York Jets. "All that being said, there are things I wish I would've done better early on. I wish I was way further along than I am right now. I feel like I have made some real strides and finally shown real progress. I'm doing very well, but I wish I was doing better."
All those answers lead to another question.
This time, Ledford sums it up best.
"He's just having fun out there."
I've talked to McGary twice this summer for decent lengths. I've walked away with the same impression both times.
"I'm a little heavier but I'm also a little leaner than I have been," McGary said. "And that has been good for me. Right now, I'm moving better than I have. I'm feeling better than I have. It has been a good year so far. I feel like I have just grown in a lot of good areas, physically and mentally."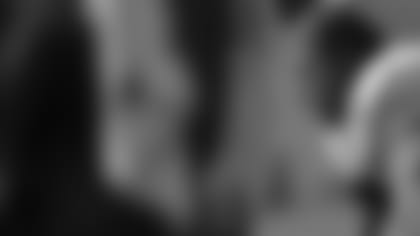 McGary is feeling great, playing well and excited about the season to come. In a contract year. After the Falcons didn't pick up his fifth-year option.
Part of it is because he refuses to let those two facts impact anything that's happening right now. That's often easier said than done. Not in this case.
"It's over and done with," McGary said on Aug. 2. "I'm not going to let that small thing the sabotage a year with my teammates, working and grinding and helping my team win. … I'm not going to let that ruin me or change me in any way."
McGary is enjoying himself, hellbent on maximizing the vast potential that made him a first-round draft pick in the first place.
"We all fell in love with the game because it is a game," Ledford said. "You have to keep that. You have to enjoy that aspect of it. All that outside stuff is going to be what it's going to be. Kaleb seems set on just going out and having fun."
McGary is having fun and taking the right approach to his craft. While his contract status may be, to borrow a phrase from Smith here, a surface-level narrative, there might be something deeper at play that has maintained a proper outlook on his work and the coming season.
It's something he's avoiding, called the "classic downfall of an o-lineman."
"The need and the desire to be flawless," McGary said. "Truth be told, we're the group that has to be as close to perfect as often as possible. It sucks when you're not, but you learn more from failures than successes, more from losing than you do winning. You just have maintain the right perspective and keep learning."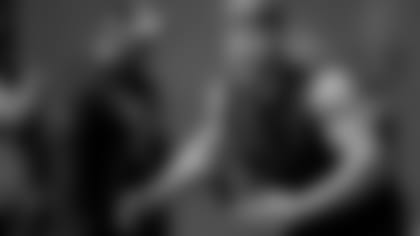 McGary's right about so much right there. An offensive lineman can win most every rep, only to have fingers pointed at him when one goes wrong. That's because a quarterback gets hit or a throw goes errant or a run goes nowhere when the front doesn't hold.
All that happens to the very best in his field. Moving on from it requires maturity and confidence and proper focus that McGary has.
"You have to be able to let it go," McGary said. "You have a certain amount of seconds, not minutes, between each play, barring a timeout or whatever, to learn from the last play and improve so you don't make that mistake again during the game. You have to continue to learn and improve. If you spend time worrying about the play you messed up or didn't fit right, you'll mess up again and it will tank you. You have to take it on the chin and keep going. Next play. Next play. Next play. You have to be able to move on, accept what happened and keep going. You can't let it get to you."
McGary isn't letting much get to him these days, and is focused on making progress moving forward. It has allowed him to develop, play well and have fun while he's doing it.
"You see him cutting it loose," Ledford said. "You don't see him play with any guessing or signs he's afraid to do this or that. He's just letting it loose, and you can see that in his play. You see him moving extremely well. You see the excitement on the field. The guys really feed off of that. It's fun to see." 2022 Season Tickets Now Available!
Our Longest & Most Flexible Ticket Payments
Instant Member Benefit Access
Best Available Seat Locations