ATLANTA -- The difference between a 2-3 record and 1-4 one doesn't seem too different in the grand scheme of a season. But for the Falcons to enter into their bye week next week with the former rather than the latter, it means a great deal to the overall feelings surrounding the team and where it is in the first year of this new regime.
Duron Harmon said it best after the Falcons' loss to Washington: There needs to be an uptick in urgency, and it needs to come sooner rather than later.
"I think the energy has been good, but we have to take it up a notch," Harmon said on Monday. "The sense of urgency has to rise because, at the end of the day, everybody keeps saying, 'You've got time. You've got time. You've got 13 games left.' The more you keep saying that you've got time, the more you're holding it off. The time is now. I'm going to make sure I do my part, as a leader on this team, to make sure the urgency level is as high as it has ever been here."
Team leaders like Harmon, Matt Ryan and Grady Jarrett have said the Falcons' energy has been good through the last week of practice, but it's a week that saw many unexpected situations arise. In order to get a better picture of this game in London, let's take a look at five of the most important things to watch on Sunday morning.
1. No Calvin. No Russ.
Calvin Ridley didn't travel to London this week as he deals with a personal matter. Russell Gage didn't travel to London as he continues to recover from an ankle injury that has kept him sidelined throughout the last two weeks.
How this trio performs and the timing they have with Ryan will be something to keep an eye on.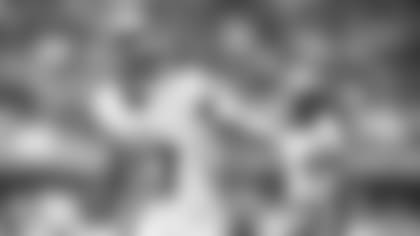 2. What are the Falcons doing in the secondary?
This is one of the biggest questions the Falcons have to answer before Sunday. Isaiah Oliver suffered a season-ending knee injury against Washington on Sunday, sending the Falcons into a contingency plan they were still trying to figure out throughout this week.
Avery Williams played inside when Oliver went out of the game, but Williams was limited in practice on Thursday and did not participate on Friday with a hamstring injury. He and Erik Harris (calf) are doubtful for Sunday's game.
So, where does that leave the secondary?
If Williams and Harris cannot get the green light, it's very likely that Jaylinn Hawkins would start in Harris' place alongside Harmon. However, what the Falcons do at nickel without Oliver or (potentially) Williams, too, is up in the air. There is a chance the Falcons could move a number of players inside. One could assume Fabian Moreau or TJ Green are the leading candidates to do so. We'll also be likely to see more of Richie Grant, too, as the Falcons need depth pieces in rotation.
But with a day to go until Atlanta hits the field in London, there are more questions than answers when it comes to the plan for the secondary.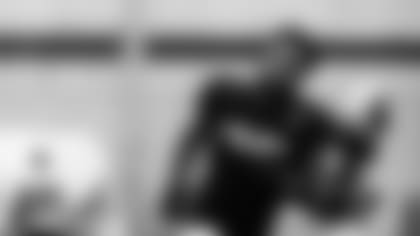 3. Accounting for the Jets coordinated rush
Arthur Smith was exceptionally complimentary of the Jets defense throughout the week.
"Those guys are freaking humming up front," Smith said. "They had seven sacks last week. They play freaking hard, so we got our work cut out up front."
Smith went into more depth saying the Jets have as good a coordinated rush attack as he's seen so far in 2021. This puts pressure on the offensive line.
This group has taken steps in the right direction since a lackluster start against the Eagles in Week 1. Ryan was only sacked one time against a Washington defensive front that many viewed as one of the better in the league. And between facing the Eagles, Buccaneers and Washington Football Team in the first four weeks of the season, this offensive line is no stranger to facing top tier defensive lines.
But with the way the Jets defensive front is playing recently, there's no doubt this group has its work cut out for it. Ryan broke it down best, saying the Falcons have to be solid in their sets, and having the expectation that when they're in their slide protection that a defender is always coming back to them.
"It's certainly something we stress every week but when you're going against a team that does it really well, you have to be on point," Ryan said.
4. Containing Zach Wilson
As Smith was complimentary of the Jets defense, he was also complimentary of their No. 2 overall draft pick. And he particularly noted that it's not just Wilson's arm strength you worry about, but the Tennessee game showed him there is a lot to be said about the different ways Wilson can burn a defense.
"You go back and you look at the Titans game when he got outside the pocket, he made them pay," Smith said. "He's deadly accurate off schedule. So, we know it's going to be a tremendous challenge."
And keeping a quarterback contained in the pocket is an area in which, Smith said, the Falcons have to improve.
It's something defensive coordinator Dean Pees has spoken about at length, saying he's been pleased with the pressure applied to get a quarterback off his spot, but not pleased with the opposite side of the pressure not keeping the quarterback from making an escape.
If the Falcons do not contain Wilson in the pocket it could be a long day for a defense still trying to fill holes in the secondary.
5. Getting Mike Davis to the second level of the defense
The Falcons need to be more consistent in the run game. That is no secret and it's something Smith has spoken about throughout the week. When asked if he would consider giving Patterson more RB1 reps than Davis, Smith was forward in saying that he didn't put the deficiencies in the run game on Davis' shoulders alone.
It's something Ryan went into more depth on.
"I think in the running game we've got to do a better job of getting our backs into the second level," Ryan said. "I've always thought that you kind of pound away and you get your three- and four-yard runs and then all of a sudden if you continue to get to that second level, the big ones hit. But all 11 of us have to do our part."
Ryan said putting hats on hats and giving the running backs one or two guys to run off of is the key here.
"If we can continue to get our backs to the second level and finish on the outsides and on the backsides of plays," Ryan said, "I think that's going to help us out."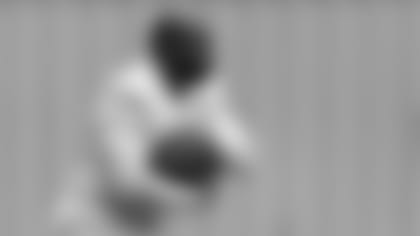 Falcons Final Whistle | A Postgame Podcast
Break down the hottest topics surrounding the Atlanta Falcons and how they can impact the team's success with Falcons Insiders Scott Bair, Tori McElhaney and Terrin Waack. Like and subscribe to join us for the lively debate on Falcons Final Whistle.
Welcome to Falcons Final Whistle – an Atlanta Falcons football postgame podcast during the season that shifts gears in the offseason to answer a pressing question about the team's future each week through free agency, the NFL Draft and the offseason program.