It was a major topic of conversation throughout the offseason. Compared to other teams in the league, the Falcons had one of the smallest groups of contract players when free agency opened up in March. Acquiring depth through free agency and the draft was always a top priority for this front office this offseason.
Now, that acquired depth will be tested.
If neither get the green light, the Falcons have to do quite a bit of shuffling in the secondary to account for the potential holes Williams and Harris leave.
Questioning depth isn't a new issue for Atlanta. The Falcons even starting Mayfield at left guard in the first place was a contingency plan enacted when Josh Andrews landed on IR. The difference now is the scale to which this Falcons team will have to rely on it's depth.
One of Smith's go-to phrases to use when it comes to the notion of building in contingency plans to account for depth is that "it's life in the NFL."
"You always have contingency plans because things come up, and you have to be ready to go, and you can't waste energy," Smith said. "... We have a lot of faith in our guys and our guys have had a good week of preparation."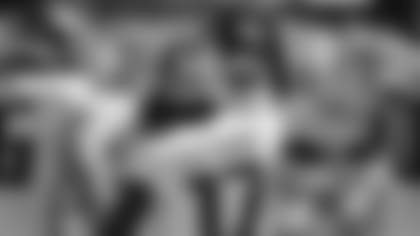 Smith said the Falcons feel as though they "have good depth," and while the coaching staff does "feel confident" in their abilities, it's now time to prove that by stepping up against the Jets on Sunday. And this game does beg the question: How much loss is too much loss when it comes to starters being out? Are the Falcons to that point with key members like Ridley, Gage, Oliver and even potentially Harris out? We'll be able to evaluate that more extensively after Sunday.
What the Falcons have to lean on now, though, is their preparation. It's something Smith finished his London press conference with, saying blatantly that if the Falcons are anything, they're prepped.
"We want to put on a good show," Smith said. "And that's what you'll see: You'll see a team that's coming in here prepared." Falcons Final Whistle | A Postgame Podcast
Break down the hottest topics surrounding the Atlanta Falcons and how they can impact the team's success with Falcons Insiders Scott Bair, Tori McElhaney and Terrin Waack. Like and subscribe to join us for the lively debate on Falcons Final Whistle.
Welcome to Falcons Final Whistle – an Atlanta Falcons football postgame podcast during the season that shifts gears in the offseason to answer a pressing question about the team's future each week through free agency, the NFL Draft and the offseason program.