FLOWERY BRANCH, Ga. -- Isaiah Oliver's injury is disappointing for a number of reasons, but the reason that hurts the most is knowing the Falcons are losing the best version of Oliver they have seen up until this point.
Oliver's first couple years in the league weren't the things dreams are made of. He struggled at cornerback. In 2020, quarterbacks had a 75.6 percent completion rate against him, and receivers averaged more than 12 yards per catch when he was in coverage. But Oliver's story started to change about halfway through the season when the previous coaching staff saw an opportunity to move Oliver inside to nickel when Darqueze Dennard was placed on injured reserve.
Oliver said those first few weeks in the role were true "learning on the fly" moments. But through the back half of the 2020 season and then as a new coaching staff came in, Oliver started to find his way and come into his own at the position.
"I feel like it's something that I can understand," Oliver said two weeks ago, "and something that I am growing into, especially in this defense."
The coaching staff was consistently pleased with Oliver and his ability playing inside in this defensive scheme. Dean Pees said Oliver had the traits he looks for in a productive nickel. Arthur Smith commended Oliver's coverage a couple times over the first few weeks of the season.
Oliver's journey to this point and his productivity so far this year makes the knee injury he suffered in the second quarter of Sunday's game a hard pill to swallow.
"You always play for a 'why' and him going down like that – we worked hard together all offseason, so he's someone I'll be playing for the rest of the year," linebacker Foye Oluokun said. "It was tough to see him go down."
Though the full extent of Oliver's injury has yet to be announced, the defensive back's placement on IR doesn't bode well for a speedy recovery. So, the Falcons have to find a way to replace Oliver. That responsibility falls to Avery Williams.
Through the first four games of the season, Williams has been a primary contributor on special teams. He's been returning punts for the Falcons this season. When Oliver had to be carted off the field on Sunday, it was Williams who slid into the slot to fill his shoes.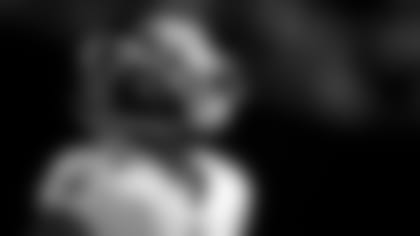 This means that yet another 2021 draftee will get some live game reps a little sooner than originally planned. Kyle Pitts was a no-brainer to start at tight end, but Jalen Mayfield has had to step into a starting role at left guard because of an injury to Josh Andrews. The Falcons coaches are pleased with the contributions Richie Grant has made in special teams, but Pees said last week Grant needs to learn the defense a bit more before really contributing on defense.
Along with Oliver, Erik Harris also left Sunday's game, so there is a chance we'll see more of Jaylinn Hawkins and Grant come this weekend's trip to London if Harris is sidelined throughout the week.
As for the nickel position, though, it seems to be Williams' spot for now. The defensive staff does have options though if Williams needs more time to develop. Fabian Moreau or TJ Green have the versatility to move inside if need be. Green has cross trained at both safety and cornerback, and Moreau has displayed a few open-field tackles early in the season that could translate well.
The Falcons have options when it comes to filling Oliver's role. But when someone is coming into his own the way Oliver was, it hurts to see the contingency plan enacted. Falcons Final Whistle | A Postgame Podcast
Break down the hottest topics surrounding the Atlanta Falcons and how they can impact the team's success with Atlanta Falcons Insiders Scott Bair, Tori McElhaney and Kris Rhim. Like and subscribe to join us for the lively debate on Falcons Final Whistle.
Welcome to Falcons Final Whistle – an Atlanta Falcons football postgame podcast during the season that shifts gears in the offseason to answer a pressing question about the team's future each week through free agency, the NFL Draft and the offseason program.