ATLANTA -- Let's get one thing straight here: Just because I was not in New York for the Falcons first win does not mean I am the reason the Falcons lost their first two games when I was there for said games. As luck would have it, I would be in a wedding the weekend that features Atlanta getting it's first win of the Arthur Smith era. I'll say it again, though: The two losses were not my fault!
But even though I didn't make the trip to New York, I did watch the game from home. And I took notes. Granted, they were not as detailed as they normally are. (Look, I was technically off). However, they still paint a picture of this game in a nutshell, and going through the game in review only furthers these initial thoughts.
If you've followed along with my notebook up until this point, let's dive into it. If not, here are my last two notebooks if you're new here and need help understanding the format. And with that, we're off.
Keeping things in front
Giving credit where credit is due here: I thought the Giants had a pretty good game plan when it came to the play of it's secondary against Atlanta. On Monday, Ridley agreed.
"They definitely had a good game plan," He said. "They didn't let us get too far behind them. They kept everything in front of them."
Smith spoke at length about the Giants strategy of playing really soft zone coverage to take away the deep passes Atlanta wanted. Smith called the "grind" of the offense on Sunday "a true test of mental toughness."
"They don't think you have the will to grind out those drives," Smith said of teams playing in soft zone coverage. "They say you won't be patient and at some point you'll get greedy."
Smith would be the first to say the Falcons overall offensive performance against the Giants was frustrating. The Falcons still showed inconsistency in certain areas, and still had trouble converting on third down (they were 5-13) and earning first downs via the run (the Falcons only had three rushing first downs). Outside of these inconsistencies, though, Smith was proud 1) of the defense for keeping this group in the game and 2) the patience this offensive unit displayed.
He especially pointed to his quarterback's patience as an example, saying it's an underrated quality of Ryan.
"He will grind through it," Smith said of Ryan. "He will make the right play. He doesn't panic and tries to force one that's just not there. That's an underrated approach."
Good looking out, Isaiah
I was hesitant to publish a story last week with the headline: "Why you may owe Isaiah Oliver an apology." Oliver is kind of a button for many Falcons fans, and they have been very vocal in voicing their frustrations with the defensive back. To a certain degree, the frustrations were warranted when Oliver would get burned on the outside in coverage. However, now that Oliver has moved inside to play nickel full time, he's thriving.
And against the Giants, he played - arguably - the best game he's ever played in a Falcons uniform.
"Isaiah Oliver is playing really strong, and really sound in the scheme," Smith said. "He's reliable, and I think he's taken the role there at nickel well."
Sometimes PFF grades don't tell the whole story, but one can't overlook Oliver's 90.2 grade. You just can't. And now I am glad my headline won't be something I have to walk back on.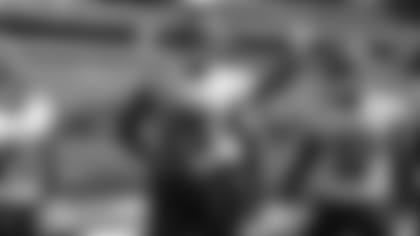 It wasn't perfect, but it was enough
The Falcons needed this win. They really did. It gives this team some confidence going into a stretch of two more winnable games against Washington this coming Sunday and the Jets in London the next.
This game against the Giants wasn't particularly pretty, especially offensively (of which we have already discussed). But the Falcons did enough to earn a win.
Asked what changed for the offense in the final drives of the game, Ridley said it wasn't that the Falcons were scheming up anything incredibly different than what they were before. From Ridley's perspective, he saw how much this team wanted - or needed - this win.
"I think it was us just wanting to get that win to be honest with you," Ridley said "… We were inconsistent. Some plays we were good. Some plays we were not. We had some good plays out in that drive. We knew we needed to score some points to put us in that position."
Ridley spoke on the importance of consistency a lot on Monday. He said the Falcons are still too inconsistent. However, he did say that he feels this offense is "close" to a breakthrough. For Ridley, he believes this offense looks completely different when there is consistency involved, something this unit hasn't shown quite yet.
"We're still figuring it out: how to move the ball, how teams are going to play us. We're still in that phase of getting better," Ridley said. And later: "We're really close. We're just up and down. We'll have a good play and then we'll have a bad play… We're really close. We just have to be more consistent." Falcons Final Whistle | A Postgame Podcast
Break down the hottest topics surrounding the Atlanta Falcons and how they can impact the team's success with Atlanta Falcons Insiders Scott Bair, Tori McElhaney and Kris Rhim. Like and subscribe to join us for the lively debate on Falcons Final Whistle.
Welcome to Falcons Final Whistle – an Atlanta Falcons football postgame podcast during the season that shifts gears in the offseason to answer a pressing question about the team's future each week through free agency, the NFL Draft and the offseason program.