FLOWERY BRANCH, Ga. -- If you're back again for another not-so-serious postmortem of a Falcons game, welcome. We're not getting any less sarcastic around here.
However, if you're new here, this is the gist: Every Monday I will publish this specific look inside my notebook. It's a writing exercise I started a few years back. I take real sentences - or weird doodles, you never really know - that I wrote down during the game in the margins of my notebook, and I expound upon them. I take them from abstract thoughts to concrete analysis.
At least... that's the goal. So, let's dive into a notebook that still doesn't take itself too seriously.
Balance. There needs to be more balance.
The Falcons did have some productive run plays on Sunday. My personal favorite was the 10-yard touchdown run by Cordarrelle Patterson. Nothing is picture perfect, but it was a solid play design and execution in the moment with Kaleb McGary and Matt Hennessy's downfield run blocking taking center stage in review.
However, you'd be hard pressed to find any runs that could stand next to this one in terms of both production and execution. Though the Falcons totaled 348 yards on Sunday, only 55 of said yards were earned on the ground. And there were only two rushing first downs throughout the entire game for Atlanta. The problem in that is there shoulda, woulda, coulda been more than two if the Falcons executed more frequently in short yardage situations.
On Monday, Arthur Smith said to give the Buccaneers credit: "They packed it in there." But he noted in the same breath that there were things the Falcons run game could have done better to support the offensive attack overall. The biggest missing piece came with just one or two yards standing between the Falcons and a first down.
That's why the best examples came when the Falcons needed to convert the most. There was the "third-and-inches" at the end of the third quarter that saw Patterson dropped for a loss of three. There was the coming-up-short-at-midfield on a fourth-and-one moment. The Falcons showed they could move the ball effectively on Sunday, but majority of that movement came by way of open receivers, not three or four or even two yards on the ground.
And it was very obvious in review that the running game didn't come through in the must-have, short-yardage situations when it needed to.
"When you don't convert third-and-one, third-and-one, fourth-and-one, it keeps you up at night," Smith said.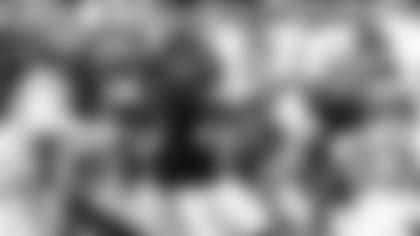 For both shanked punts, I had this note written in the margins. It was written in big letters after the "third-and-inches" Smith referred to in the previous section. If you need a refresher on modern slang, this essentially means "yikes."
I am sure I wasn't the only one who felt this way on Sunday. Smith alluded to the fact that the punter himself - Cameron Nizialek - probably felt that way, too.
"Cam would probably be the first to tell you that there are a couple kicks he'd like to have back," Smith said.
The Falcons gave Mayfield another opportunity this weekend, and Smith said it's absolutely in the realm of possibilities that Nizialek is still the Falcons punter in New York next weekend. But he didn't refute Sunday night's report either. He said simply that everything is on the table, but he wasn't going to "jerk the wheel" on Nizialek just yet. But the door is open for that to change at any point in time this week.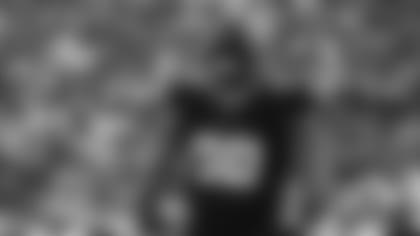 There was one moment that - to me - stood out as much as any other as a marker of what this team - this defense, specifically - can be. I wrote about it in my postgame takeaways, but I feel as though it earns another mention.
It was the moment that I thought shifted momentum the Falcons way on Sunday night.
Atlanta had just scored and Tampa Bay was taking over at its own 23 yard line. And with one dynamic stop after another, the defense put the ball back in the offense's hands to make it a one-score game.
On first down, Foye Oluokun punched the ball out of Leonard Fournette's hands. It's unfortunate it rolled too far to the sideline. If the Falcons jump on that fumble it's a superb example of perhaps the perfect punch out. On the very next play, AJ Terrell flew through the air to break up a long pass. With Terrell having to leave the game immediately after this play to be evaluated for a head injury, it took the cliche about putting one's body on the line to a whole new level. It was a play to be commended (and Smith added on Monday that you shouldn't overlook Isaiah Oliver's position on that long ball, either. They both were showing out in that moment, per Smith).
Then, on third-and-eight, Marlon Davidson and Grady Jarrett put the pressure on Tom Brady. Davidson was awarded the sack, but it was a tandem effort by the two Falcons defensive linemen to bring him down.
It was a series that saw every level of the Falcons defense show up.
Smith was quick to say postgame that the reason the score got out of hand in the fourth quarter was because of the offense, not the defense. He doubled-down on that statement 24 hours later, saying the Falcons gave the Buccaneers 21 points off of turnovers. Say what you want to about the defense's first half, but the unit showed a bit more poise and disruption when it finally settled in in the back half of the game.
It could be argued the score doesn't depict the play of the Falcons defense as the unit that held Brady's offense in check when it matter in the second half.
That hurts... in more ways than one
Terrell was having himself quite the day. He had already broken up a potential touchdown pass earlier, and he was going up to stop Brady from adding another big-chunk play to his arsenal on Sunday night. Terrell got a hand on the ball, breaking up the pass, but he landed hard. Really hard.
He was slow to get up, and when he did he was taken to the locker room to be evaluated for a head injury. He was later ruled out with a concussion.
On Monday, Smith said Terrell is still being evaluated and he will have more information on Terrell's status later in the week. There is still plenty of time between now and the Falcons next game to get Terrell back if it's a mild case. So, it's not out of the question that Terrell could return sooner rather than later. But if the Falcons do have to go without Terrell, they have options.
TJ Green was the primary replacement for Terrell on Sunday. He started training camp as a safety but when Kendall Sheffield was injured, the coaches moved him to cornerback. That's where he's been since the early days of camp, and that's where he earned a roster spot. Outside of giving up a one-yard touchdown to Mike Evans on Sunday, Green held his own in his limited reps.
There are other options, too. The Falcons could give Darren Hall a shot. The rookie has been a healthy scratch the last two week so perhaps they call him up as a depth piece. Then, there's Oliver to consider as well. Though this coaching staff likes Oliver inside, if they need a certain look, matchup or experience level, Oliver could easily move outside. It wouldn't be ideal as Oliver is playing as consistent as ever at nickel, but it is something to consider if Terrell can't get the green light for the upcoming Week 3 matchup. Falcons Final Whistle | A Postgame Podcast
Break down the hottest topics surrounding the Atlanta Falcons and how they can impact the team's success with Atlanta Falcons Insiders Scott Bair, Tori McElhaney and Kris Rhim. Like and subscribe to join us for the lively debate on Falcons Final Whistle.
Welcome to Falcons Final Whistle – an Atlanta Falcons football postgame podcast during the season that shifts gears in the offseason to answer a pressing question about the team's future each week through free agency, the NFL Draft and the offseason program.