FLOWERY BRANCH, Ga. -- Let's get one thing straight about this weekly series before we ever really get into the weeds of it: It doesn't take itself too seriously.
The whole gist of this series (which - mark your calendars - will run every single Monday during the season) is to break down this game through notes that I take in my notebook. I carry this notebook with me everywhere, and because I tend to forget things that I don't write out, I have to jot down my exact thoughts as they happen. Some are serious. Some are sarcastic. Some times I note something to remind myself to go back to it when I review the game.
A couple years ago, I started publishing these notes and relatively random thoughts. I think it caught on the way it did because a lot of readers saw themselves in what I was writing and noting. Not everything is football jargon. Not everything is black and white. We don't always have to get into the weeds to know what went wrong (or right) in a game. Sometimes it's good to just take the game for what it was, and to look back at it in a way that's more casual. I wanted to make sure I brought this series with me to AtlantaFalcons.com.
So, without further ado, let's dive into this 32-6 loss to the Eagles.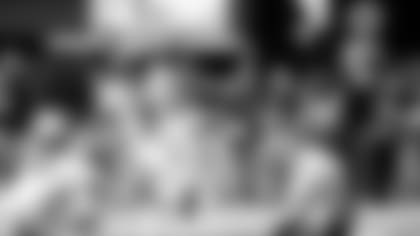 "What mysticism..."
You know in the Marvel Cinematic Universe how Dr. Strange can just open up portals and drop people into said portals to transport them somewhere else? Or in the case of Loki in Thor: Ragnarok, just opening up a portal to get him out of sight and out of mind? "I've been falling... for thirty minutes!" is one of my favorite lines of the entire movie.
I can't help but think this is what happens when the Falcons get into the red zone. Some mystical portal opens up inside the 20 yard line. It causes the team to go from a moving machine to a stalling offense.
It happened in 2020, and it happened on Sunday. The Falcons were 0-for-2 in the red zone, and they didn't even make it back to the red area in the second half at all. This aligns with what they were in 2020. It's why Younghoe Koo was the NFL's leader in points scored for a chunk of time during the season. The Falcons couldn't break the goal line, and had to settle for field goals.
Both drives the Falcons had in the first half that got them to the red zone were examples of exactly what you want this offense to look like. There was creativity in formations and packages. Things were moving and flowing on schedule. There was a nice balance between the rushing and passing attacks. But soon sparkling circles appeared, and old portals popped up inside the 20.
What's it going to take to get the Falcons productive in the red zone? How much of this stalling is a mental game? Carry over from a 2020 identity to a 2021 reality? How quickly can red zone efficiencies be fixed? That's what Arthur Smith will have to figure out.
"Hello run game. How nice of you to show up. I don't think I've seen you in a while."
I have to say it: I ate my words on Sunday when it came to Cordarrelle Patterson. I can admit it when I'm wrong. I am not above it. And Patterson proved me wrong, even in the loss.
I would be the first to say that when the Falcons brought Patterson in this offseason I assumed he would be a gadget guy even though he was listed as a running back. I thought he was brought in to change the Falcons kick return production, perhaps play a role in the passing game. Establishing himself as a true rushing threat was not very high on my list.
Even when offensive coordinator Dave Ragone said in the week leading up to the home opener that Patterson was a running back in this coaching staff's eyes, I can't say I wholeheartedly believed him until I saw it with my own eyes on Sunday.
If there is one bright spot to be noted in the loss, it was Patterson. He finished the afternoon with seven carries for 54 yards. If the Falcons would have been able to keep the run established in the second half, I imagine that number would have risen. Looking back, I thought Patterson ran with a physicality that greatly benefitted him. He took on tackles. His yards after initial contact on a few runs impressed me. And his quickness was evident, too. When he got to his fourth step, he was moving. He looked difficult to bring down at times. The issue in the second half was that he never really had much of an opportunity to get to that fourth step as the Eagles defensive line took over the game.
Patterson running the ball worked for a portion of Sunday's matchup. It worked better than I thought it was going to. It worked to the point where Smith said on Monday that when asking the question of what does a balanced Falcons offense look like? You point to those first couple drives being a version of that balance. The key moving forward is to make it into something that is equally effective throughout all four quarters.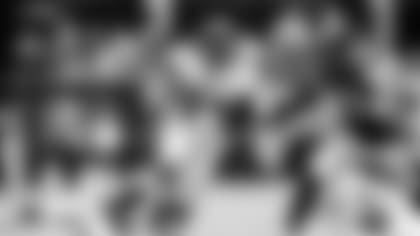 *slaps hand to forehead* "My God, the penalties"
You knew I would bring this up, didn't you? I can't let 12 penalties for a loss of 99 yards slide. There's no sugar-coating that, especially in a game that saw limited offensive production to make up for the yards lost.
I think what stuck out to me the most was just the timeliness of these penalties. Penalized with an illegal formation on the two yard line? Not one but two offensive pass interference calls in the same drive that brought back important first downs? A false start? And another? And another?
(A note on the two offensive pass interference calls: Smith said on Monday that those plays are not "schematically" picks, but when moving at real speed and in the view point of the officials, bodies hitting one another tend to look like interferences. "I am not criticizing the officials. I am just saying schematically those aren't pick plays.")
But you know what the worst part of this note is? I wrote it in the second quarter.
I hadn't even seen the penalties that awaited the Falcons in the second half.
I made note of the penalties when Atlanta started on their own eight yard line and Jalen Mayfield jumped on second down. It was the third false start at the left guard position (Mayfield and Drew Dalman had both already been penalized earlier in the half). Little did I know that more penalties would be tallied before the end of the game.
Smith fell on the sword after the game for a lot of these pre-snap penalties. Many of the most costly pre-snap penalties came from rookies: Mayfield, Dalman and then that illegal formation call on Kyle Pitts when he lined up behind Lee Smith. There's learning to be done here. That is evident from what we saw on Sunday and what Smith has said about the penalties in the last 24 hours.
"If you make the mistakes we made, you deserve to lose," Smith said on Monday.
"Where is Kyle? Where is Russ?"
I'll tell you exactly when I wrote this: It was at the start of the fourth quarter when Atlanta - again - started a drive from their own eight yard line. Matt Ryan connected with Keith Smith on first and second down. This is nothing against Keith Smith at all. In all honesty, at that point, it was just good to see the Falcons earn a first down. But it was in this moment that Keith Smith surpassed both Pitts' and Russell Gage's receiving yards.
For context, Pitts did end the game with four catches for 31 yards, so he did move past Keith Smith in receiving yards (and he was targeted eight times, so it was going to be inevitable), but it was still interesting to see Gage with a zero beside his name on the stat line at the end of the day. He was targeted twice, but didn't have a catch.
Whereas I questioned not seeing Pitts in some of those early red zone looks, I questioned Gage's lack of targets the entire game. I have been pretty high on Gage having a good season in 2021, and while I don't think one game is the maker of an entire season it did make me wonder if Gage will play a more limited role than I originally thought.
That was my thought in-game, though. My thought after going back through and watching the replay was that in most circumstances, Ryan didn't have enough time in the pocket to get the ball to Gage. There were a few times where Ryan couldn't get through his route progressions. He just didn't have time. It was as simple as that. For that, I don't blame Gage or Ryan or even the play design. Ryan needed more than an second or two in the pocket to get Gage or Pitts or even Calvin Ridley the ball. If better protected, Ryan has that time to allow his receivers' routes to progress. If under duress, he can't. It's not difficult to explain.
The other caveat to this is Smith saying point blank on Monday that he needs to do a better job of getting Gage involved earlier in the game. Of course, defenses are going to dictate just who can be involved, but Smith said early, focused targets can go a long way in that, too.
"My challenge is to get everyone involved earlier," Smith said. "... Some things happened where the ball didn't go (Gage's) way."
"I'm done taking notes."
I'm not saying I gave up on my notetaking with seven minutes left to go in the game, but that's also not... not... what I'm saying, ya feel?
I guess I just got to the point where I was writing the same things over and over again: penalties, inefficiencies on first and second down to put the Falcons in too many third and long situations, protection. It was all the same. And it was all the same when I looked back in my notebook at some of the notes I took last season. New faces, same problems: That was the conclusion I came to.
That's why I felt the need to write what I did post game. Call it optimism for optimism's sake, but there is a chance for things to be different under Smith. There's now an accountability that wasn't there before. The key for the next two weeks is to see that accountability in action. Maybe it doesn't mean going down and beating the reigning Super Bowl champion. Maybe it means something as small as limiting those pre-snap penalties. After Sunday, that should be improvement No. 1. We can't agree on everything, but surely we can relatively agree on that? Falcons Final Whistle | A Postgame Podcast
Break down the hottest topics surrounding the Atlanta Falcons and how they can impact the team's success with Falcons Insiders Scott Bair, Tori McElhaney and Terrin Waack. Like and subscribe to join us for the lively debate on Falcons Final Whistle.
Welcome to Falcons Final Whistle – an Atlanta Falcons football postgame podcast during the season that shifts gears in the offseason to answer a pressing question about the team's future each week through free agency, the NFL Draft and the offseason program.