Arthur Smith stood in MetLife Stadium's northeast tunnel, congratulating each passing Falcon on a job well done. The team earned the season's first win with a dramatic 17-14 win over the New York Giants where so many came through in the clutch.
Quarterback Matt Ryan got more than a bro hug and a strong pat on the back. He got a jarring thud he tried to return in kind.
"He hit me kinda hard, so I tried to give it back," Ryan said with a smile. "We were both fired up. That's why you work as hard as you do. You want to win football games and celebrate with the guys afterward. Hopefully we can do a lot more of that."
The preceded a makeshift party in the Falcons locker room.
"It was crazy," receiver Olamide Zaccheaus said. "People were dancing. It was a great energy."
Smith didn't bust a move. Neither did owner Arthur Blank, who walked away with a game ball. So did several others working behind the scenes to make Falcons football happen.
Then Ryan brought out another one and handed it to Smith in honor of his first win as a head coach.
"It tough to win in this league and doing for the first time as a head coach is a special moment," Ryan said after Sunday's game. "Hopefully that's something he'll always remember this game, the way we won and how we did it. Game balls sometimes a nice thing to have to remind you of that. He was fired up. It was cool to see."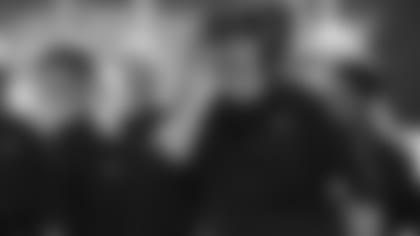 Smith was subdued the day after, focused far more on the upcoming game against Washington than anything else. This win wasn't about a milestone. It was about Smith's quest for steady ascent.
Smith made that clear when asked during his Monday press conference to look back and pinpoint his favorite moment from his first win, he didn't go with anything sentimental. Didn't even mention the game ball that will surely hold a prominent place around the house.
Instead Smith went on for 2 minutes, 35 seconds about the key plays and players that both helped the Falcons win a game and showed that the Falcons are taking the next step. He got specific about those encouraging moments and clear signs of progress.
"It's not about me. It's about the guys in [the locker room] and everybody who's a part of this thing. We're trying to build something here. There's a way we want to run things culturally. We did some good things, but the trick is: can we take another step?
"I don't have any nostalgia about it. I'm focused on the practicality of what we can do to improve. Let's do that and get ready to go play Washington."
Smith was incredibly candid, as he is known to be, right after the Giants game and the following day, about the Falcons need for improvement. They didn't play four quarters of great football but found a way to win at the end.
After two straight losses where the Falcons didn't play well at the end, where they made far too many mistakes. The grinded out this win, weathered struggles and set themselves up for a big fourth-quarter moment.
That seems to be a sign of what matters to him, and that his message is getting through.
"Keep fighting. Clean up what we need to and keep battling," Ryan said. "Arthur and the assistant coaches did a great job sustaining that message. We believed that, even though it was tough going, we were going to make the plays we needed when we needed it. That's a good thing for us moving forward. You need that belief, as a team, in those tough situations."
The Falcons have it and can fall back on the Giants experience when things get tough. It doesn't mean they'll win every close game. They're going to lose some tough ones against superior talent. But Smith is creating a team that scraps. That's a badge of honor for him and his charges, especially as they continue to improve.
"We believed in ourselves and knew that we would improve and continue to push," defensive tackle Grady Jarrett said. "Getting this first win is a step in the right direction, but we want to go a long way. We want to continue to get better as we go back to work." Falcons Final Whistle | A Postgame Podcast
Break down the hottest topics surrounding the Atlanta Falcons and how they can impact the team's success with Atlanta Falcons Insiders Scott Bair, Tori McElhaney and Kris Rhim. Like and subscribe to join us for the lively debate on Falcons Final Whistle.
Welcome to Falcons Final Whistle – an Atlanta Falcons football postgame podcast during the season that shifts gears in the offseason to answer a pressing question about the team's future each week through free agency, the NFL Draft and the offseason program.