FLOWERY BRANCH, Ga. – In the midst of an insistent downpour, the Falcons took the field for their sixth practice of 2018 AT&T Training Camp.
It was the second straight day the Falcons practiced in the rain, but the team looked relatively sharp considering the conditions and head coach Dan Quinn was once again glad for the opportunity to practice in some adverse weather.
"What an awesome opportunity for us over the last two days to be out in the weather," Quinn said. "It's totally going to happen in that way during a game this year. So, to have the chance to come out and do that in [practicing] game-winning situations. Today we worked four-minute [drill] at the end of the game, we worked two-minute [drill]… all sorts of scenarios that came up today.
"I was glad to see the guys in terms of them battling. And in these kinds of environments, there are some adjustments that you have to make, whether it be footing or how to catch or even some plays to call. I don't think you can underappreciate how much I was glad that we had the weather to deal with today."
Good day for the running backs in the rain
Teams often turn to their running game in inclement weather and the Falcons would have been right to do so had they played a game today. Atlanta's running backs looked comfortable in the rain both catching a running the ball.
Tevin Coleman and Devonta Freeman each made some notable catches while running vertical routes early in practice, and there appeared to be minimal drops from the group as a whole on the afternoon. Fourth-round pick Ito Smith returned to practice on Wednesday with fresh legs and on Thursday, he looked comfortable running, made strong cuts and caught the ball well.
Malik Williams did fumble the ball once, but he bounced back to have a long run several plays later. Justin Crawford also had a nice jump-cut that led to a big gain during the 11-on-11 period, showcasing his vision and acceleration.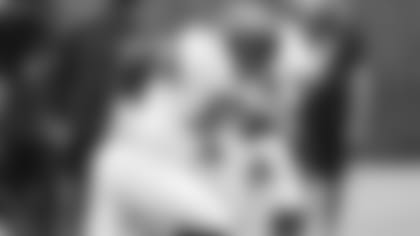 1-on-1 work down in the trenches
Following a mid-practice water break, the offensive and defensive lines got together to do some 1-on-1 drills with a coach acting as the quarterback in the pocket. Here are some observations:
Rookie defensive tackle Deadrin Senat got past guard Ben Garland early on with a surprisingly quick spin move.
Defensive tackle Justin Zimmer demonstrated a press and shed technique against one offensive lineman that certainly looked effective.
Rookie linebacker Richard Jarvis, who has shown nice speed thus far in camp, demonstrated his power on a bull rush that collapsed the pocket.
Offensively, second-year guard Sean Harlow appeared to win his battle against defensive end Derrick Shelby by stopping his momentum.
Other notes and observations from a soggy Day 6
The linebackers worked on shedding blocks early in practice against both single and double teams before practicing proper angle tackling.
Cornerback Brian Poole had an off-balance one-handed interception in the first half of practice that was all the more impressive considering the weather.
Brandon Fusco was back with first team at right guard after Wes Schweitzer ran with the first group in Wednesday's practice.
Rookie linebacker Foyesade Oluokun was one of the first players to rotate in on defense during the first 11-on-11 period, taking the spot of Duke Riley at WILL. Among the other players to get some time working with a few of the first-team defenders were Isaiah Oliver, Damontae Kazee, Justin Bethel and Senat.
Speaking of Bethel, he had a nice pass breakup on a pass that was intended for rookie receiver Russell Gage, although it was slightly behind him.
Grady Jarrett made a good play to penetrate into the backfield for what was likely a tackle for a loss in a game.
First-round pick Calvin Ridley did this:
There were a pair of fumbled snaps during the wet practice, one while Matt Schaub was under center – it's not clear who the center was – and the other while Matt Ryan was in shotgun and Garland was at center.
The Falcons came out in a three-tight end formation at one point with Austin Hooper, Logan Paulsen and Eric Saubert on the field at the same time.
Over the last few days of practice, the Falcons' defense has been stout in containing the outside run lanes and funneling everything back inside.
Both Jack Crawford and Vic Beasley had sacks; Beasley knocked the ball loose from Schaub on his sack.
During a four-minute drill at the end of practice, the Falcons scored a touchdown on a Ryan pass to either Mohamed Sanu or Ridley (that part of the field was obscured by players). During the subsequent two-point conversion, Ryan hit Sanu on a quick out in the end zone but the play was negated by a penalty.
The second team appeared to score on a 17-yard pass from Schaub to Saubert during their two-minute drill, but that touchdown was also called back due to a penalty.