FLOWERY BRANCH, Ga. – The Falcons ended their opening stretch of 2018 AT&T Training Camp in a competitive fashion.
Atlanta held a 30-minute scrimmage period during its fourth practice of camp giving the coaching staff plenty of useful film to evaluate on Tuesday while the players have the day off.
"The goal behind the whole thing was to kind of create some game-like stressful situations to really evaluate the players in that environment," head coach Dan Quinn said after practice. "The more that we stress them, the more that we get better evaluation."
The Red Team, which consisted of much of the starting defense and featured Matt Schaub, Julio Jones, Tevin Coleman and Austin Hooper on offense, defeated the White Team, 14-0. The two touchdowns came courtesy of rookie receiver Devin Gray, who scored on a deep pass from Schaub, and safety Damontae Kazee, who snagged a pick-six off of quarterback Garrett Grayson.
Falcons opt for intra-squad scrimmages instead of facing other teams
Some NFL teams choose to scrimmage against one another during one training camp practice, giving coaches a chance to see how their team looks against live competition. Quinn, however, prefers to have his players compete against one another instead of playing against an outside team.
"I got a good chance to see what guys look like," Quinn said of holding the scrimmage. "In a lot of regards, for me – I've done this for a couple of years now – this takes the place of scrimmaging another club.
"I was pleased with the effort, the communication that took place. And to put a team in those kinds of environments that quickly in, that's pretty good. I don't think before I would have thought about doing that to those rookies, but they responded."
Part of the environments Quinn referenced was the Falcons' open practice at Mercedes-Benz Stadium Sunday in front of a record-setting crowd of 60,000 fans. He said prior to practice that he would be looking to see how the team's rookies responded with the extra fans in the seats, and he seemed pleased with what he saw.
The run game is what 'needs the most attention' at this point in camp
It shouldn't come as a great shock that Quinn said the run offense and run defense are what need the most work at this time, given that the team practiced in full pads for the first time on Sunday. With more fully-padded practices, those aspects of the Falcons' offense and defense will likely round into form, but as it stands right now, Quinn said the passing game is a bit ahead of the run game.
"I think still, it's been my experience, the run game, we still need work with that because on both sides that's the stuff that you don't really get the same contact during the spring," Quinn said. "I think the passing game is probably a little bit ahead at this time of year on both side – pass defense and pass [offense]. It's the running game on both sides is what needs the extra emphasis, as you guys could imagine.
"Looking at it today, neither of those sides felt [like] where we'd like to go. That seems to be expected, but it needs the most attention."
As Falcons coordinators enter their second year 'the communication improves'
One of the talking points in the takeaways after Sunday's practice was about how quarterback Matt Ryan and receiver Mohamed Sanu can feel a difference working with Steve Sarkisian as the Falcons' offensive coordinator is now in his second season. Quinn was asked about how that familiarity between Sarkisian and Ryan will help the offense, but he was quick to point out that there should be greater comfort on both sides of the ball.
"Like most relationships, there's probably some situations that you need to go through together [and ask] 'OK, how did that person respond, how did we go through,'" Quinn said. "Generally, as it goes, the communication improves as you get into those spaces. Not just at quarterback and play-caller, which is an important one, but same thing on the defensive side too as Marquand [Manuel] goes into some of this in his second year… One to two years in anything I think is pretty significant."
In his first season as the Falcons' defensive coordinator Manuel, who is a fiery figure on the practice field, helped the defense finish as a top-10 unit in both scoring and total defense for the first time since 1998.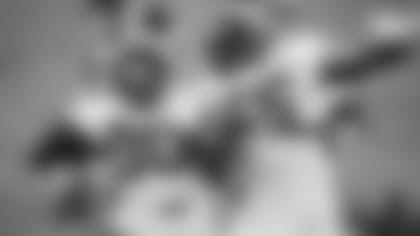 The emphasis on creating turnovers and converting in the red zone continues
Quinn has not been shy about expressing his desire to see the Falcons create more turnovers and have a better success rate offensively in the red zone. Monday marked the first chance for him to see how the team is progressing in those two areas in a simulated game situation.
"Well, from a turnover spot, as a coach I get happy and then I get pissed," Quinn said. "I get happy for the guys that did it and then I get pissed for what happened on the other side. We were really intentional on the red zone work. I've been pleased up to this point with the ball offensively, I thought they've done a nice job through this four-day block. Defense was going after it, they weren't backing down, and they just did a good job of securing it.
"As far as the red-zone work, we're really intentional about the work that we're doing. It has been that way through the spring. We got an emphasis of that yesterday, just [the way practice was] designed – go play ball down in the red zone."
The Falcons' defense forced a number of turnovers during the scrimmage session, including Kazee's pick-six and a couple of fumbles.