ATLANTA – The Falcons held their first ever open practice in Mercedes-Benz Stadium Sunday and having 60,000 fans in attendance created a different atmosphere and a new lens through which the coaches could evaluate their players.
There was an added focus on reps inside of the red zone during Sunday's practice, as the Falcons seek to improve their performance at that critical area of the field.
Prior to the start of practice head coach Dan Quinn explained how special it was to see the fans turn out in big numbers to show their support of the team. The fans in attendance brought some tangible benefits as well, especially for some of the newer players on the team.
Quinn was eager to see how the rookies performed with 60,000 spectators
For the Falcons' rookies, Sunday was their first opportunity to suit up and play at Mercedes-Benz Stadium in front of a decent sized crowd. With the added energy inside of the building, Quinn said prior to practice that he was looking to see how the rookies responded.
"Every time I'm on the field with the rookies I'm always watching them, because there's always something to evaluate," Quinn said. "To have under, let's call it, the watchful eye of 60,000 and see how they perform, yeah, I'm definitely looking for that. Are they going to stay within the system and true to what we're saying or will the external forces have an impact?"
Three players sat out Sunday's practice but Ridley was not among them
Defensive end Takkarist McKinley and wide receiver Calvin Ridley left practice late on Saturday, but Quinn said afterwards he didn't believe the injuries to be too serious. Prior to practice Sunday, Quinn offered updates on those injuries, revealing that McKinley would be held out but Ridley would be able to practice.
He also revealed that two other players, offensive lineman Ty Sambrailo and running back Ito Smith, would not participate in practice.
"We'll hold three guys today, nothing too serious from that end," Quinn said. "Takk [McKinley], his shoulder is sore, he'll be kind of day to day but hopefully soon. We knew we weren't going to give him all of the contact work early, so we'll see what it looks like for tomorrow. Ty Sambrailo had a hand [injury], we're going to hold him out. Ito Smith has foot contusion. All three of those are day to day."
Falcons players noticing a difference in Year 2 with Sarkisian
A big storyline in camp and for this upcoming season is the evolution of the offense in Steve Sarkisian's second year with the team. Thus far, a number of players, including quarterback Matt Ryan and wide receiver Mohamed Sanu have already noticed a big difference.
"Sark is a lot more comfortable with the personnel, knowing what guys to use in certain situations and I think that just comes with experience," Ryan said. "He did a great job with us last year and he'll continue to do a great job with us this year."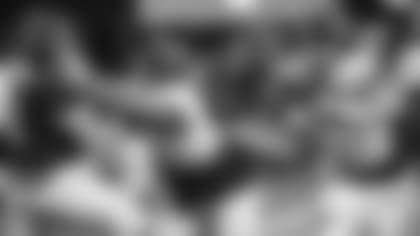 First day in pads offers better evaluation in the trenches
The rookies weren't the only players Quinn was watching closely. Sunday marked the first fully padded practice for the team, which allowed for much better evaluation of the offensive and defensive linemen.
"Their game changes," Quinn said of the linemen putting on pads. "The offensive line, the defensive line, they're the ones that probably need it more than most. You probably don't hear too many receivers and corners that say, 'Hey man, I can't wait; we're in pads today.' The other guys are like, 'Hey man, this is part of my game.'
"This is an important part – obviously it's not going to be a live scrimmage – but this is a better evaluation tool for the big guys."
Other notes and observations
The red zone was a major emphasis for the Falcons on Sunday. It's one area where Quinn wants his team to improve this season, and he's tapped several training camp practices as days where the team will have added work in the red zone.
There were a few nice plays from the Falcons' secondary on Sunday. Safety Keanu Neal had an interception in the 7-on-7 portion of practice and nickel corner Brian Poole had a pick during one of the 11-on-11 period. Cornerback Leon McFadden also had a good pass breakup on a long crossing pattern where he showed off his speed to catch up to receiver Christian Blake and knock the ball away.
Speaking of Blake, the rookie receiver had one of the most impressive plays of the afternoon. During the first 11-on-11 period, Blake ran a crisp post route, caught a well-thrown pass in a tight window and broke away from his defender for what could have been a touchdown in live action.
There were a number of players who looked sharp in practice. Defensive tackle Grady Jarrett got into the backfield on multiple occasions, shutting down running lanes and getting to the quarterback for would-be sacks. Defensive end Brooks Reed was stout in his run defense early on, while running back Terrence Magee ran the ball well and tough. Wide receiver Mohamed Sanu ended the practice with a touchdown in the red zone after a scramble by Matt Ryan to keep the play alive.
Much has been discussed about how Steve Sarkisian will fare in his second season as the Falcons' offensive coordinator, and it appeared as though the offense ran a few more pre-snap motions and shifts than they did last year.