ATLANTA – Back in early June, Falcons offensive coordinator Steve Sarkisian said that one of the biggest changes for him heading into the 2018 season, compared to last year, was his comfort level.
The difference, Sarkisian says, is "night and day."
And while we're only three practices into the Falcons 2018 AT&T Training Camp, some of the players have noticed a difference already on the field.
Following their first ever open practice at Mercedes-Benz Stadium in front of 60,000 fans on Sunday, quarterback Matt Ryan was asked about a number of things, including having Julio Jones back, the red zone offense – which was a point of emphasis during this practice – and the offense in Year 2 under Sarkisian.
"I thought it was good work here for us today," Ryan said. "That's just the start of it; we have a long way to go. It's been a good start."
Ryan also said that he has a lot of confidence in the Falcons' offense right now and noted Sarkisian's level of comfort with the personnel groups and willingness to change some things around.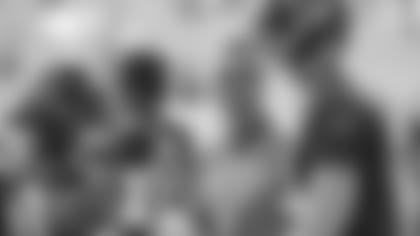 "Sark is a lot more comfortable with the personnel, knowing what guys to use in certain situations and I think that just comes with experience," Ryan said. "He did a great job with us last year and he'll continue to do a great job with us this year."
Sarkisian said that he feels comfortable now making some of the tweaks that he feels are needed for this offense to continue to grow. He noted that he also has a much better understanding of every player on the offense – their strengths, the areas in which they need improve, and the situations he needs to avoid putting them in.
"I think all of those things just puts me at a much different level of comfort, where you just feel good every day walking in like, 'OK, this is what we're going to work on today because I think we can get better at it. And if we really want to run this play, X player needs to run this play, not this player because X player runs it better.' And that goes a long, long way when you think about it," Sarkisian said.
Mohamed Sanu, when talking about how he's learned to develop into one of the league's better slot receivers following practice on Saturday, noted some of the offensive tweaks Sarkisian has made.
"Coach is doing a great job in recognizing what guys have gotten better at and that's key," Sanu said. "We're just growing daily."