FLOWERY BRANCH, Ga. – The Falcons took the field for their first 2018 AT&T Training Camp practice Friday morning, but the biggest news of the day came off the field.
During the team's practice period it was announced that the Falcons had agreed to terms with starting left tackle on a five-year contract extension. The extension keeps the former first-round pick and key component of the offensive line in Atlanta for the foreseeable future.
"We're really pumped about that," head coach Dan Quinn said after practice of the extension. "I know that over the summer and into the last few days that negotiation has been ongoing. We're really excited for him to have a longer time here. His commitment, his way that he plays, his style totally suits [us]. We're very excited about that."
Julio is back and all is right with the world
After much fan anxiety over whether or not the Falcons would have their star receiver back for the start of training camp, Julio Jones was there with the team on Friday. He looked healthy and was back to his usual tricks, snagging an impressive one-handed, extended catch that drew cheers from the onlooking crowd in Flowery Branch.
"It was good to have Julio back," Quinn said. "So much of the work that gets done between wide receivers and quarterbacks – it's the individual time, it's the group work and then a little bit of two-minute here, and then post practice, we're devoting a little bit of time each day for the veterans to get some work in on some skills they want to [practice]."
In last year's training camp, Jones was recovering from offseason foot surgery and was limited for most of the practice sessions. This year, there is not recovery to be done. Jones is healthy and should be at full speed throughout camp.
"For me – for the team – it's better, because I'm healthy," Jones said of his status.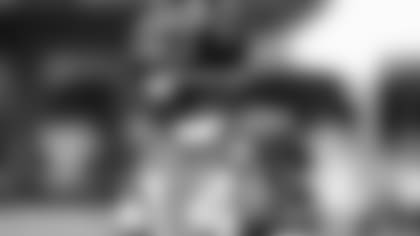 Quinn explains his plan for the kick/punt return competition
During the early portion of practice wide receivers Marvin Hall and Justin Hardy were the two players back returning punts for the Falcons. This is notable because there were a total of seven players who returned kicks during minicamp: Calvin Ridley, Isaiah Oliver, Ito Smith, Damontae Kazee Reggie Davis, Hall and Hardy.
When asked whether or not Hall and Hardy had separated themselves as the primary contenders for that role, Quinn explained that it was all part of the plan to rotate players in that job throughout camp.
"We're going to put two [back there] each day who are going to catch live," Quinn said. "We're fortunate that because [kicker David Marvin] can punt and place kick that we can punt every day. That's going to be important because we need to catch live punts every day. So, someone will catch live punts every day and then, post practice, work on the jugs.
"So, tomorrow, we'll have two other players who will be at the front of the line on punt return and then we'll keep going that way for a while. It'll sort itself out. I think it will take a while to do that, it may take all the way through the preseason, but I'm going to let it play all the way out." 
Pitting starters against starters have helped the Falcons improve
Quinn often uses the phrase "iron sharpens iron" as a way to explain their tendency to have their starters compete against one another in practice and drills. While that's not a novel idea in the NFL, it can help explain the development that Falcons players have had in recent seasons.
"One of the things I do admire about competition at practice: when you're going against somebody [who has] better or equal talent, you've really got to work to get your technique right," Quinn said. "Sometimes when you can just overrun somebody or run around somebody, you can just rely on your talent. Most of those guys in college were better, and now they're playing against guys who are as good or better – so my talent, my technique has got to improve.
"Last night in our team meeting we talked about guys who are better players because of who they go against. So I asked Grady Jarrett if he became a better ball player over the last two years because of the work he did against Alex Mack, and he did. I asked the same question over to Alex Mack – has he played at his best because of Grady? So they take that competition against one another really seriously."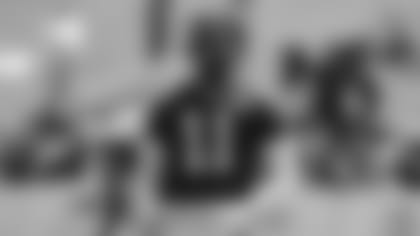 Julio says he was always planning on being at camp
For all of the fretting and worrying about whether or not Jones would be at camp, the Falcons star receiver told reporters after practice that was never in question.
"I was already going to come here," Jones said. "They took care of that. I knew we were going to get it handled. I talked to Mr. Blank as well (Thursday) and I had reiterated what he had said, that I was going to be a Falcon forever."
To read what else Jones had to say on the matter, click here.
Some other notes and observations from practice
When the first team offense jogged out onto the field for the first 11-on-11 session, Justin Hardy was out there alongside Julio Jones and Mohamed Sanu at wide receiver. Calvin Ridley worked with the second team offense and mixed in some with the first team. Also with the first team was right guard Brandon Fusco, who was signed as a free agent this offseason.
Justin Crawford, an undrafted free agent out of West Virginia, continues to look impressive out there. He earned some work with the second team today and caught a few passes out of the backfield. In his final two seasons at West Virginia, Crawford carried the ball 354 times for 2,244 yards and 11 rushing touchdowns.
Ridley continues to show off his impressive separation abilities. He came wide open on a crossing route during the 7-on-7 portion of practice, and he made a nice grab while going against Desmond Trufant during one of the 11-on-11 periods.