Welcome to Straight from the 'Beek! The second block of training camp is underway – check out the 10 biggest takeaways from the first four days here – and Day 6 is shaping up to be a wet one. And you've got plenty of questions – so let's get right to them. And if you want to talk about some topics that we haven't covered or just have some general thoughts you want to get off your chest, submit those right here. Remember, all opinions here are mine unless otherwise noted.
Let's kick it off with another suggestion from a fan in California for the Falcons defense.
Kevin from Sierra Madre, CA
I'm an old-school Falcon fan, Beek, so I do not know if the 2018 Falcon's defense can be as good as the Grits Blitz, but I will submit a name. Let us go with the Brotherhood Blockade. Rise Up Falcons and win it all in 2018 – and take it all to our home and go 19-0. Surpass the 1972 Dolphins and also be the first to win a Super Bowl in your hometown.
Matt: Thanks, Kevin. So this is what we're up to so far, Beekers:
Brotherhood Blockade
The Bruise Brothers
The Smother Brothers
The Bash Brothers
Falcons Flash
The Swarm Brothers
The Flock (see below)
Brotherhood of Destruction
Unless you give me some serious pushback, I'm going to nix the Bash Brothers now. That's already been taken, and most sports fans associate that nickname with former Oakland A's players Jose Canseco and Mark McGwire. Send me your top four and I'll put it to a poll question in the coming days (or weeks).
To Larry from Dalton, Ga. I like The Falcons Flash. Go Falcons!!!!
Matt: And here's another vote. I dunno about this one. It just don't evoke enough fear or intimidation for me. I'll chew on it.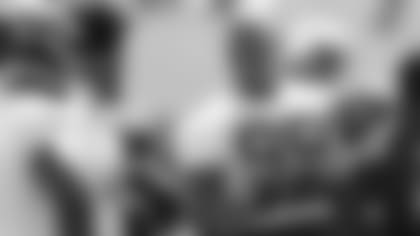 Kevin from Berkhamsted, United Kingdom
Hi, Beek. First, the name for the defense I'd like to suggest is 'The Flock.' I think going away to the Super Bowl champs for the first game of the season is perfect. All the holes have been filled and positions strengthened of an already strong team so I'm super excited to see what this season brings. What one recruit do you think has the potential to make the biggest difference across the team? Personally, I think Isaiah Oliver will allow all areas of the defense to be more effective. As a Brit, the UK Falcons Brotherhood are excited to see three Brits at the club in Alex Gray, Jack Crawford and Aden Durde. Alex looks to be progressing well. Do you think he will one day play a regular-season game for the Falcons?
Matt: Thanks for the suggestion and writing in, Kevin. Let's get to your questions. As far as the one rookie (or recruit, as you refer to them) I want to see more of, I'm going to say all of them. But if I had to pick just one I think the Falcons need to step up most, I'll go with Deadrin Senat. I say that mainly because the team is relatively deep at the other positions. Not so much at defensive tackle. I think if Senat can get on the field and contribute in the way the Falcons believe he can, it'll be big for this defense. But if you've read this space over the last week or so, you already know how much I've written about Isaiah Oliver too. Stay tuned on the rookie front. Regarding the three Brits, most Falcons fans know who Jack Crawford (pictured above) and Alex Gray are, but not Aden Durde, the Falcons defensive quality control coach. Gray is once again participating in the NFL's International Player Pathway program. The program gives international athletes the opportunity to compete at the NFL level and ultimately earn a spot on an NFL roster. The four NFC South and four AFC North teams have players in the program this year. Gray has a roster spot now, can play in preseason games and will be placed on the practice squad once the season begins. But if he continues to develop, yes, I could see Gray making a roster one day -- if not with the Falcons, possibly another team. Each team has an exemption for an eleventh practice squad member, though they are ineligible to be activated during the season.
Carla from Stockbridge, GA
Hi, I have two questions. At the game do you know the song they play on third down? I've tried to Shazam it but, of course, it's loud. Also, do you know if we can get customized color rush jerseys from last season?
Matt: Hey, Carla. I've reached out to some people who would know the song title and as soon as I hear back, I'll drop it in here. Feel free to check back with me tomorrow, too. Regarding, the customizable Color Rush jerseys, I checked the official online store and did not see that one as an option. Check out my results here. You can get custom all-red T-shirts and hoodies, but I didn't see the jersey up there anymore.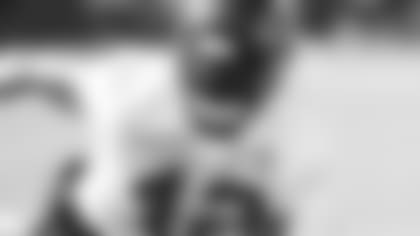 Eric from Spain, TN
Hi, Beek. All the people seem to be talking about Julio and Ridley, but how is Duke Riley performing? Will he be the OLB starter this fall? What do you think about Foye Oluokun? Can he compete for this spot? DQ likes him. Thanks, man. Rise Up!
Matt: Great questions and you got me thinking about this time last year, Eric, soon after I rolled into Flowery Branch and started my new gig here as digital managing editor for AtlantaFalcons.com. I remember the buzz around rookie minicamp and OTAs when it came to Duke Riley. And Riley proceeded to have a solid camp and, well, the rest is history when it comes to his regular season production. Five practices into camp, Riley has been consistent and doing everything right – at least from my vantage point – and that's a good thing. Riley has the speed and instincts, but is fine-tuning his technique (tackling angles, etc.). When Week 1 rolls around and the Falcons take the field against the Eagles, I fully expect Riley to be starting and contributing in a big way. As far as Foye Oluokun goes, I still need to see more of him to give you an honest assessment, Eric. Be sure to ask me again after that third preseason game on Aug. 25.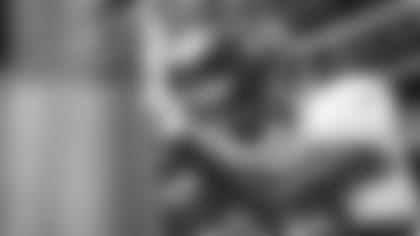 Shakir from Richmond, VA
Are there any undrafted free agent rookies outside of Devin Gray catching your eye? Just dropping names is cool. I don't mind doing some film work.
Matt: Hi, Shakir. Outside of Devin Gray, these are five UDFA players I've been keeping close tabs on (for now):
Running back Justin Crawford
Outside linebacker Emmanuel Ellerbee
Outside linebacker Richard Jarvis (pictured above)
Fullback Luke McNitt
Linebacker Emmanuel Smith