FLOWERY BRANCH, Ga. – The weather was overcast and rainy for the Falcons' fifth practice of 2018 AT&T Training Camp, but that didn't stop the team from heading outside.
If anything, it provided the coaches with yet another opportunity to evaluate the players.
"I'm glad that it happened," head coach Dan Quinn said after practice. "This is another opportunity to get out in the rain and go for it. I think if you can kind of flip it into that mindset – we certainly had one, for those that were there, up in New York last year. It was not so dry. So, having a moment like today that we didn't have to go in due to lightning I thought, 'What an opportunity, man. We've got to nail it, we've got to go after it.'
"I was glad that we got the chance to go. There were no fumbled exchanges, which those were the first things I was looking for. And then, were there more drops or not due to the wet ball? You can't simulate that as good as you can today. So I was happy that it was [wet], probably the only one that was happy it was raining."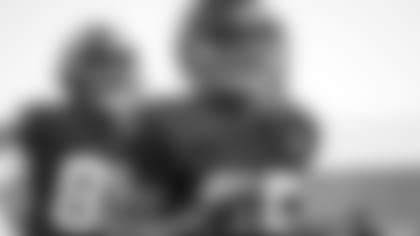 Smith returns; McKinley and Sambrailo sit out
Rookie running back Ito Smith returned to the field Wednesday after missing the last couple of practices with a foot contusion. He received a good deal of work on special teams, and he got several reps with the second-team offense and caught a couple of passes coming out of the backfield.
Defensive end Takkarist McKinley did not participate in practice, and he remains day-to-day with a bruised shoulder.
Offensive tackle Ty Sambrailo did not practice Wednesday and is expected to miss the next three practices due to a hand injury.
Former Falcon returns as guest coach
There was also a guest coach working with the defensive line today: former Falcons pass rusher Patrick Kerney. Kerney played for the Falcons from 1999-06, starting 106 games and recording 58 sacks.
More observations from Day 5
Early in practice the team practiced a few fake field goal attempts.
The defensive line worked on a drill designed to improve their ability to bat balls at the line of scrimmage. The drill involved pushing a sled forward a few yards before leaping up to swat a volleyball that was tossed into the air by a coach.
Right guard Wes Schweitzer worked with the first-team offensive line during today's practice. Brandon Fusco, who has primarily been the first-team right guard thus far, was with the second team.
Linebacker Deion Jones has worked to improve as a run defender this offseason, and he had a great play during 11-on-11 drills to diagnose an outside-zone run and knife into the backfield for what likely would have been a tackle for loss in a game.
De'Vondre Campbell was another linebacker who flashed on a play during the 11-on-11 portion. Looping around on a stunt, Campbell had a clear shot at quarterback Matt Ryan that is probably a sack in a live game.
Austin Hooper and Reggie Davis each had nice catches during 7-on-7 drills. Hooper caught a deep pass down the left sideline, leaping over linebacker Duke Riley to come down with the ball. Davis ran a crisp smash route and tapped both feet in bounds along the sideline.
Second-year tight end Eric Saubert had a couple of uncharacteristic drops today in practice.
The Falcons ran three pass plays at the goal line at the end of practice, but all three passes fell incomplete.
Following practice, Ryan and the receivers ran a drill against starting cornerbacks Desmond Trufant and Robert Alford designed to mimic a goal line situation. Two receivers lined up to Ryan's left and ran a combination of routes designed to get someone open or to catch a fade over top of their defender.