The Atlanta Falcons (0-2) head into their Week 3 matchup against the Chicago Bears (2-0) searching for their first win and looking to play a complete ball game. In its first two games, Chicago has played the part of survivor and won't be an easy out.
In looking ahead at this weekend's game, Matt Tabeek noted that this should be a contest that pits strength against strength for these two teams.
"The Bears are stingy on defense," he writes. "They are giving up only 18 points per game – which is tied for third best in the league – and surrendering 360.5 in total yards per game. When they face the Falcons on Sunday, it'll be strength vs. strength: Bears defense on Falcons offense."
With a trio of dominant pass rushers in Khalil Mack, Robert Quinn and Akiem Hicks, Chicago is capable of overwhelming even the best offensive line. Atlanta's offensive line has been solid through two games so far, but its ability to protect Matt Ryan on Sunday will have a great effect on the outcome.
Raheem Morris identifies problems for Falcons defense
"Much of Chicago's success on offense has come through their run game," Conway writes. "Running backs David Montgomery and Tarik Cohen have rushed for 199 yards through two games, making the Bears the 9th-ranked rushing offense. Where the team has struggled, though, has been in pass protection. Look for the Falcons to take advantage of this area and dial up the pass rush on quarterback Mitchell Trubisky who has already been sacked five times this year."
Behind Enemy Lines: Bears need to create turnovers to beat Falcons
In order to get a better sense of just what the Falcons are up against this weekend, we reached out Bears beat reporter Dan Wiederer (@danwiederer) ofThe Chicago Tribune. For this week's edition of "Behind Enemy Lines," Wiederer discussed, among other things, the Bear's team identity after two weeks, the addition of Robert Quinn to an already imposing pass rush and what Chicago needs to do to leave Atlanta with a victory.
"After seeing Russell Wilson and Dak Prescott take apart the Falcons pass defense, there's optimism in Chicago that the Bears could be in for an explosive afternoon offensively," Wiederer said. "At the very least, there's curiosity to see what Trubisky and Co. can do against an opponent that's vulnerable on D yet capable of keeping the Mercedes-Benz Stadium scoreboard operator active with a high-powered offense. For the Bears to get to 3-0 for the first time since 2013, the defense will have to find a way to fluster Ryan, to create multiple takeaways, to prevent the Falcons receivers from hitting on a series of big plays. It won't be easy. The offense, meanwhile, will have to limit its mistakes, play within itself and capitalize when opportunities present themselves. At some point, the Bears are going to have to put together a four-quarter game to stay unbeaten. To this point, they haven't shown the ability to do so. So, Sunday's game is intriguing."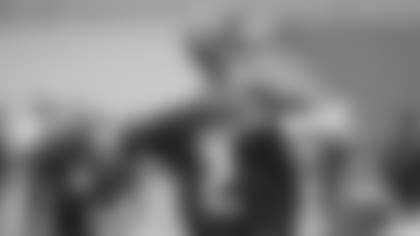 Matt Ryan on facing Khalil Mack, Bears pass rush
Everyone is aware of just how dominant Khalil Mack, a three-time All-Pro and the 2016 Defensive Player of the Year, is for the Chicago Bears. The unit added Robert Quinn opposite of Mack this offseason, and the defensive line has a Pro Bowler in Akiem Hicks anchoring the middle. Atlanta's offensive line has done a good job keeping Matt Ryan clean, as he's been sacked just three times in two games, but they will have their work cut out for them on Sunday. Kelsey Conway wrote about Ryan's comments on facing the Bears' excellent pass rush.
"He's up there ... there's no question about it," Ryan said of Mack when asked who the best pass rusher he's ever faced is. "He's continued to develop as a pass rusher during his time in the league. As an edge rusher, he's long, explosive and powerful. He has multiple moves which makes it tough, it's not like he has one thing."
Falcons will monitor Julio Jones's strained hamstring
Throughout practices during the first two weeks of the NFL season, Julio Jones was listed as a limited participant due to a hamstring injury. He showed no signs of discomfort in Week 1, however, turning in a league-leading 157-yard performance. That changed in Week 2, when Jones looked noticeably bothered by the injury. Falcons coach Dan Quinn said that Jones further strained his hamstring during Atlanta's loss in Dallas and that the team would monitor his progress throughout the week. Jones was a non-participant in practice on Wednesday and Thursday, and more clarity for his game status will come on Friday.
"He definitely strained it in the game from where he felt from Wednesday and Thursday and Friday of doing reps and going through it," Quinn said. "We'll take it all the way through [the week]. This is a guy who really understands his body and knows how to work through it. In his defense, he was certainly ready to go and battle for it all the way through."
Everything to know about the Bears
Another key element of this game for Chicago will be the play of quarterback Mitch Trubisky. After looking extremely sharp in the fourth quarter of their Week 1 win against the Detroit Lions, he settled back into a more inconsistent version of himself against the New York Giants. In her early preview of the Bears this week, Kelsey Conway touched on Chicago's passing attack.
"While he doesn't put up flashy numbers, Trubisky is playing solid football through the first few weeks of the season," Conway writes. "He's completed 38 of 64 passes for 432 yards and five touchdowns. Trubisky and the Bears have the No. 29 ranked passing offense averaging 191.5 yards per game."
Take a look at the best practice photos as we head into Week 3 in this gallery, presented by Quikrete.