Falcons fans don't need a reminder that Matt Ryan and Julio Jones are exceptional, but NFL Media senior analyst Gil Brandt provided one anyway. The legendary former NFL scout ranked his top quarterback-receivers duos and the Falcons' pair was right there near the top of the list at No. 2.
"Don't overlook this pair coming off the Falcons' disappointing 2019," Brandt writes. "Atlanta is poised to become the first team in the common draft era to start 10 former first-round picks on offense, thanks to the acquisitions of running back Todd Gurley and tight end Hayden Hurst. Between their addition and the continued emergency of No. 2 receiver Calvin Ridley, Ryan and Jones should continue to perform at an all-world level as their prolific partnership -- Ryan is the only player in the NFL to top 4,000 passing yards in each of the nine seasons since Jones was drafted, and no one has more than Jones' 12,125 receiving yards in that span -- stretches into a 10th season."
Atlanta comes in at No. 2 behind the New Orleans pair of Drew Brees and Michael Thomas, but a strong argument could be made that the two should be flipped. Although Brees and Thomas are among the game's very best, Ryan and Jones have been at it for a while longer.
Here are some other articles for Falcons fans to check out today:
ESPN: Falcons build defense to slow NFC South offenses
The Falcons went to great lengths to sure up their defense in this year's draft in hopes of better containing the offenses in the NFC South. With the additions of Tom Brady in Tampa Bay and Teddy Bridgewater in Carolina, and the always-dangerous Saints, the Falcons understand they need to field a unit capable of slowing those teams down.
By adding starting-caliber talent like A.J. Terrell and Marlon Davidson, as well as solid depth pieces like Mykal Walker and Jaylinn Hawkins, the Falcons should be better equipped to do that. Dante Fowler, who the Falcons signed in free agency, will also be tasked with adding some extra juice to the team's pass rush.
"Those are both very good players," One NFL defensive coordinator told ESPN's Vaughn McClure of Terrell and Davidson. "I wasn't hoping the Falcons would take those two guys, to be honest with you."
CBS Sports: Ranking every team's draft class
We won't know how each team fared in this year's NFL Draft for a few seasons, but that doesn't stop people from stacking each draft class against the others. CBSSports' Ryan Wilson ranked every team's draft class, and he had the Falcons at No. 23 with a B- grade.
"A.J. Terrell is an example of a player NFL evaluators liked more than draft media, probably because for all the good tape Terrell put out in 2019, his championship game performance against LSU is all most people remember. But he's a good cover corner who balled out at the combine to get back on folks' radar. Marlon Davidson is a versatile defensive lineman who can line up inside or out and Matt Hennessy is one of the most athletic interior offensive linemen in this class."
To read the rest of Wilson's rankings, click here.
AJC: Falcons conduct virtual offseason study program
During the coronavirus pandemic, the Falcons will be conducting their offseason program virtually. This is the new normal for NFL teams, and the Falcons are adjusting their approach to continue educating their players, even if it is from a distance. Atlanta will utilizing technology to have group and individual meetings with its players, which coach Dan Quinn explained after the draft.
"We share our screens," Quinn said. "We know video. We share our screens to do playbook diagrams. We also use other platforms like Zoom where if you had six or eight people and you wanted to see everybody's face to have a discussion on things, we do that.
"We include voice-overs; hey, I'll send you something tonight, these are the three things we'll talk about after you watch it that we can go through tomorrow. So, we're just trying as many ways as we can to go through it, and then we go through a lot of feedback."
D. Orlando Ledbetter of The Atlanta Journal-Constitution wrote more about the Falcons' virtual offseason, which you can read here.
AJC: Georgia Tech, Falcons exchanged info on Hennessy
A little conversation off to the side during Georgia Tech's Pro Day in early March may have led to the Falcons' selection of former Temple center Matt Hennessy in the draft.
The move, one for which the Falcons have received praise, came after Falcons general manager Thomas Dimitroff spoke with Georgia Tech coach Geoff Collins, according to a story by D. Orlando Ledbetter of The Atlanta Journal-Constitution. Collins served as the head coach at Temple in 2017 and 2018 before taking over the same role at Georgia Tech in 2019.
"I just think the world of him," Collins told Ledbetter. "His work ethic. His determination. His character. His attention to detail and also his athleticism to play wherever the opportunity unfolds there at the Falcons. I have full confidence that Matt can play anywhere that they need him."
In the short term, the Falcons envision Hennessy competing for the open left guard spot. While he may eventually take over for Alex Mack at center, Hennessy appears to have the versatility to offer an immediate upgrade at guard.
"I think No. 1, you see the urgency, where he can get out of his stance and get on to the next -- I saw him pull at center," Quinn said. "The other spot that helps, you saw him well was Senior Bowl where he had the ability to play multiple positions. He could play center and he could play guard."
ESPN: Biggest post-draft questions for all 32 teams
The Falcons went to great lengths to address the defensive side of the ball in this year's draft. Four of their six picks went to that side of the ball, including first-rounder A.J. Terrell and second-rounder Marlon Davidson. With such an emphasis on one side of the ball, ESPN believes the question most fans will be asking is, "Is the defense fixed?"
"That's what the Falcons would like for their fans to believe after selecting four defensive players in the first five picks. It looks good on paper to have a potential shutdown starting corner in first-rounder A.J. Terrell and a versatile pass-rusher in second-rounder Marlon Davidson, along with depth in linebacker Mykal Walker and safety Jaylinn Hawkins. But the Falcons still need to show it on the field under defensive coordinator Raheem Morris, especially against Drew Brees and Tom Brady in the NFC South. Newcomer Dante Fowler Jr. must make an impact at pass-rusher, and second-year corner Kendall Sheffield has to live up to that No. 1 corner potential, among other things."
To read the rest of ESPN's biggest post-draft questions, click here.
NFL.com: One post-draft thought for all 32 teams
The NFL Draft often serves as a peek behind the curtain for the vision teams have for their futures. The Falcons clearly viewed their defense as the most pressing thing to address as they seek to make a return to the playoffs for the first time since 2017. NFL.com editor Gregg Rosenthal shared one thought on each team's draft, and he was a bit surprised by the Falcons' first-round decision.
"The Falcons made it to Super Bowl LI with a deep receiver crew whose members all fulfilled different roles, providing a blueprint many teams followed in the ensuing years," Rosenthal writes. "That's partly why I was so surprised they passed on CeeDee Lamb at No. 16 overall. While the Falcons' starting duo of Julio Jones and Calvin Ridley is strong, it's not like they are deep at the position. Taking cornerback A.J. Terrell instead felt like passing on talent for need because the Falcons' previous gambits at cornerback haven't worked out."
To read the rest of Rosenthal's thoughts on the draft, click here.
CBS Sports: Early 2021 mock draft
It's never too early to be completely wrong about the NFL draft, right? The days after each draft are often the chance for many writers around the country to throw out their earliest predictions for the next draft, which is exactly what CBSSports writer Ryan Wilson has done. He based his draft order on SportsLine's season win projections, which slated the Falcons to pick ninth next year. At No. 9, Wilson has the Falcons taking the top linebacker prospect in the class – Penn State's Micah Parsons.
"The Falcons took Fresno State's Mykal Walker in the fourth round of the 2020 draft but Parsons has a chance to be special -- and Atlanta's defense still has plenty of room for improvement," Wilson writes.
To see the rest of Wilson's early 2021 mock draft, click here.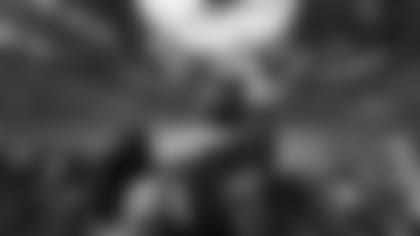 2020 Season Tickets
See the Falcons battle divisional foes along with the Bears, Lions, Broncos, Raiders and Seahawks at the best venue in sports.