Every single day of training camp bring forth a new center running with the first team. Arthur Smith said on the first day of training camp that everyone should expect to see Matt Hennessy and Drew Dalman rotating at the position. But how many of us thought that meant rotating every other drill or every other day? I surely didn't think Smith meant they would switch out daily, which is exactly what they've been doing for the last week.
At some point, a decision will have to be made as to who the starting center will be come Week 1 of the season. So, I asked Arthur Smith what he needs to see from Dalman or Hennessy to be able to make that decision. His answer had everything to do with the command he feels the position has over the offense.
"Obviously, the physical stuff you need to see inside, but a lot of it is command... They run the show out there. They're right down the middle of your offense: Your center and your quarterback. If they've got command you have a good shot," Smith said. "I've seen Ben Jones do it. He helped change the culture in Tennessee. He came in there and was a guy who could anchor the middle. We're looking for somebody who has that kind of command. Obviously, you see Alex Mack did it here, and did it at a high level.
"It's such an important position and the minimum job requirement is to be able to block your guy, but we want to see that presence as well."
With this in mind, I took this thought to Dalman and Hennessy themselves. What does it look like for you - I asked - to demonstrate command, whether that be on the field or in the meeting room?
Here are their answers, which honestly speak for themselves the same way Smith's does:
"O-line is such a unit-based position, so - for me - it's having the guys around me feel confident that communication is a no-factor," Dalman said, "that everything I am going to need to say is going to come out quickly and clearly, and they're going to be comfortable. That's what I think of when I think of command. I think we're both doing that right now."
From Hennessy: "It's one of the most difficult parts of the job, but it's also what makes (playing) center fun. Everyone naturally looks to you because you are that guy, regardless of age, but then you need to do your job and take command of things... I think a lot of it has to do with mentality: How I approach things and how I approach my relationships with the other guys. It's obviously knowing that we're all on the same team, but at the same time it's my job to keep those guys in line. I have to get that done, and they know I have to get that done. It won't always be the friendliest thing, but as long as we're all on the same page and we're putting out a good product together that's all that's really important."
The plan is that Hennessy and Dalman will continue to rotate with the first team for as long as it takes to decide upon who earns the starting role. We don't know yet how long that will take, but rest assured the Falcons are doing their due diligence in figuring out who they want to command the offensive line.
Notes, observations from practice:
FINALLY: OK, this subhead is a bit dramatic but I swear it's what I said out loud when we were able to see the one-on-one period for the first time this camp. As a refresher, the one-on-one period of which I am referring to is something Smith has implemented at the beginning of practice: All 90 men line up on a certain yard line and Smith calls out which position group is going to go against each other. More so, he calls out which individuals will do so, as well. Normally, this drill faces away from fans and media, but on Tuesday we got a front row view. Of the 15 or so individual match ups that I saw, here are my top three:
Kyle Pitts vs. Mykal Walker: Pitts had a step on Walker from the jump, and Walker knew it. That separation Pitts forced after the first move off the jump allowed for an easy pass for Marcus Mariota, as he placed it right into Pitts' hands a few steps from the endzone. Walker knew he was beat early, that's why he gave Pitts a high five afterwards. It felt like a real, "Props, man. You got me," moment.
DeAngelo Malone vs. Rick Leonard: It looked as though Malone got good positioning on Leonard at first, but that positioning was quickly overpowered by Leonard's response to the move as Malone ended up sliding and being forced to the ground by a lineman who is making an argument to stay in Atlanta through a couple cut-down dates.
Feleipe Franks vs. Troy Andersen: Franks said the other day that he had been working on his footwork this offseason. It showed against Andersen during this drill as Franks juked right before cutting back left with his first couple steps. Even with Andersen's speed, Franks created enough separation for Desmond Ridder to find his long frame a few steps later.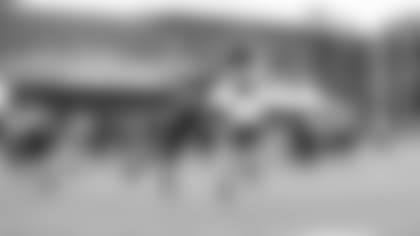 Bryan Edwards makes his return: After injuring his shoulder on Saturday and missing Monday's practice, Edwards returned to action on Tuesday. He wasn't full-go, wearing a yellow jersey and not participating in the more live periods of practice, but it was good to see Smith was right in his initial assessment that his injury wasn't at all series.
Speaking of injuries: In case you missed it, Smith confirmed after practice on Tuesday that defensive tackle Vincent Taylor suffered a ruptured achilles during practice on Monday. Smith said it was a non-contact injury, and that the Falcons have not made a roster move yet.
Hayward pays up: Darren Hall said after practice that Casey Hayward likes to put a bounty on interceptions in practice. So, if someone comes down with one, he'll pay them a pre-determined dollar. He'll have to pay himself on Tuesday as he came down with the lone interception of the day, and perhaps first of training camp. Mariota saw Damiere Byrd cutting across the field and he took his shot, but the ball tipped off Byrd's hands and Hayward was there for the pick.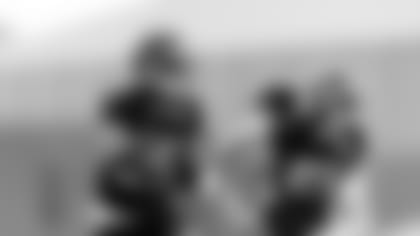 Day 6 standout: I could say Kyle Pitts, in fact I should say Kyle Pitts considering he seems to always standout, but I won't. Today, I thought Stanley Berryhill had a good day. The rookie receiver from Arizona had a couple solid catches, and seemed to have a good connection with Ridder. He's someone I'd keep an eye on as a potential practice squad guy.
Special guest: Dabo Swinney made an appearance at practice on Tuesday. The Clemson head coach chatted a bit with former players Grady Jarrett and AJ Terrell after practice.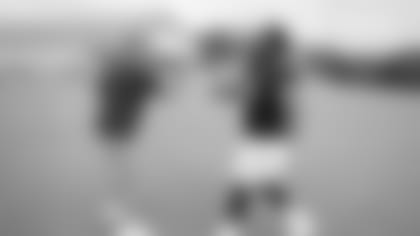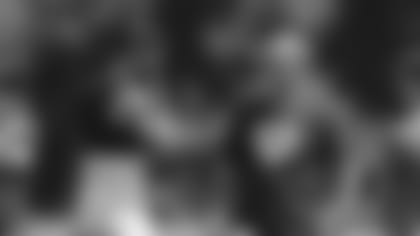 Interested in Falcons tickets?
Join us in 2022 for 9 Regular Season home games! Let us help you find the seats and benefits that interest you!