For the last two weeks I've written about how at 0-2 and, later, at 0-3 there was still plenty of time for the Falcons to turn things around and make a run at the playoffs.
Some of you have called me a Kool-Aid drinker, Pollyanna or things not fit for print after writing it, too. I get it, believe me.
Well, here's some bittersweet news for all of you: I won't be pointing out how teams that have started off 0-4 have gone on to make the playoffs. Nor will I be writing about any "winnable stretches" of games coming up. None of that.
Here it is, folks: Forget talk of the next 12 games. Forget talk of a division title. Forget talk about the playoffs. Forget about milestones and records, too.
None of it matters right now.
No, the only thing that matters for these Falcons is Sunday's game against the Carolina Panthers at Mercedes-Benz Stadium. The Falcons must have this one.
Yes, it's a must-win game. Not only is it another conference game, it's a division game. Normally I'd say every game is important, but this one is really important.
A win Sunday gets Atlanta right back into things, believe it or not. The Saints and Panthers are 2-2. The Bucs are 3-2. A 1-4 record isn't great, but it's a giant step in the right direction.
And I know there's still a few of you out there wondering ... has a team every started off 0-4 and made the playoffs? Yes. It has happened. Once. In 1992 the San Diego Chargers did and finished with an 11-5 record. They ended up losing in the divisional round of the playoffs.
Sorry, I couldn't help myself; I had to point out it could be done.
So, let's start right there – getting that first win – with this edition of Beek's Bits.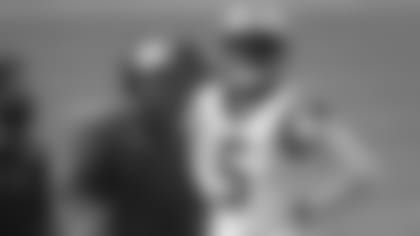 Who are these Panthers?
A lot has changed in Carolina over the last year. For starters, there were two significant changes:
Head coach Ron Rivera is out. Matt Rhule is in.
One-time franchise quarterback Cam Newton is out. Teddy Bridgewater is in.
And for the last two games, the Panthers have been without their best player, running back Christian McCaffrey. Oddly enough, they've won both games. And Carolina will be without his services again on Sunday against the Falcons.
But as Will McFadden writes in this week's After Further Review for AtlantaFalcons.com, even without McCaffrey, the Panthers offense can't be overlooked. Carolina, under new offensive coordinator Joe Brady, has quietly morphed into a good offense and the Falcons should be wary.
In last week's 31-21 win over the Cardinals, the Panthers managed to control time of possession with scoring drives of 13, nine, 10, eight and 15 plays. That's huge when you're trying to keep Kyler Murray and Co. off the field. And much credit goes to Bridgewater and Brady.
The Panthers not only limited Murray in time of possession, but in passing yards. The former No. 1 overall pick threw three touchdowns but was held to just 133 yards passing as the Cardinals finished with 262 yards on offense while running just 55 plays.
I'd expect a similar approach against the Falcons on Sunday.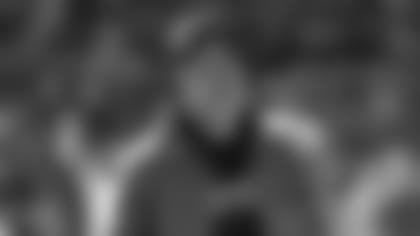 Trending in the right direction
Dan Quinn's record as head coach of the Falcons is 43-41 but the Falcons have gotten it done against the NFC South, especially in recent years.
In each of the last three seasons, the Falcons have gone 4-2 against the NFC South foes. In 2016, when Quinn's Falcons advanced to Super Bowl LI, Atlanta went 5-1 in the division.
The Falcons, as the team's communications department points out, are the only team in the NFC and one of three clubs (Patriots and Chiefs) with a winning division mark in each of the past four seasons.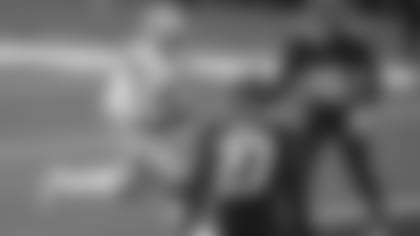 Trending in the wrong direction
We know how weird, difficult and awful 2020 has been. For the Falcons, it's been especially strange.
Chew on this for a minute: The Falcons are averaging 26.5 points per game, which is pretty good in most seasons. Well, Atlanta has now joined the 2012 Saints – who averaged 27.5 points per game – as the only teams in NFL history to start 0-4 despite scoring 25-plus points per game over the four games.
No team in NFL history has started 0-5 while averaging 25-plus points per game.
What that tells me is that the Falcons need to tighten up the defense, and quickly.
Here's a little more history for you: the 2012 Saints have the Super Bowl era record for the worst total defense with 440.1 total yards per game allowed. These 2020 Falcons are on pace to break it (448.3).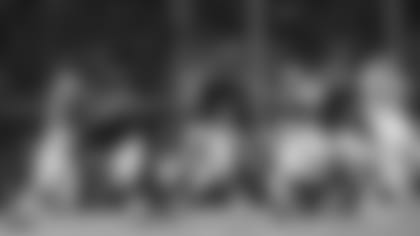 Keys to beating the Panthers
The Falcons have beaten the Panthers five straight times, which is one game shy of tying longest win streak ever by either team in the rivalry. The Falcons won six straight matchups from 2000-2002. And quarterback Matt Ryan has the most wins (16) vs. the Panthers of any QB in NFL history.
So, what will it take for the Falcons to get their first win of 2020 and make it six in a row over the Panthers? I think this one is pretty simple.
1. Stop giving up the big play. First, let's look at the defensive rankings, because it's not pretty. The Falcons currently rank last in the league in giving up big plays. They also rank 31st in scoring defense, giving up 34.5 points per game. Atlanta also needs to keep the Panthers out of the red zone. The unit is ranked 28th in red zone defense.
Some good news: Rookie cornerback A.J. Terrell is off of the reserve/COVID-19 list. Some more potentially good news: It's too early to tell, but it appears that the Falcons could be getting safeties Ricardo Allen and Keanu Neal back as well as defensive end Takk McKinley. The Falcons' secondary's biggest ally right now is the defensive pass rush and McKinley should provide a boost when it comes to pressure.
If the Falcons can stop the bleeding on the back end, it will help this defense immensely. There's no other way to slice it.
2. Keep feeding Hurst. Through four games, Falcons tight end Hayden Hurst is averaging about three receptions and 40.5 yards per game. That projects to be about 48 catches for 648 yards over 16 games. That's pretty good (and I'll explain why later).
There's a decent chance that the Falcons could be without their biggest star on offense, receiver Julio Jones. As good as Calvin Ridley has played this season, he was held without a catch on Monday night against the Packers. That's significant.
And that's why the Falcons need to get the ball into Hurst's hands more. He's one of the fastest tight ends in the league and a mismatch against most linebackers. Right now, Hurst has 13 catches for 162 yards and two touchdowns for the Falcons.
Now, about Hurst's current pace: Austin Hooper's best season in Atlanta was in 2019, when he caught 75 balls for 787 yards and scored six touchdowns. In 2018, Hooper had 71 catches for 660 yards and four touchdowns. Hooper was selected to the Pro Bowl in 2018 and 2019.
3. Protect Matt Ryan. I don't care that the Panthers currently rank last in the league in sacks. That means nothing in this matchup.
Through the first three games of the season, the Falcons had done a pretty good job of keeping Ryan upright. Then they played the Packers on Monday night.
Week 1: Sacked twice by Seahawks
Week 2: Sacked once by Cowboys
Week 3: Sacked twice by Bears
Week 4: Sacked four times by Packers
In 2018, Ryan was sacked 42 times. In 2019, he was sacked 48 times. The Falcons are on pace to surrender 36 sacks over 16 games in 2020.
As I pointed above, the Panthers proved last week against the Cardinals that they can control time of possession with long scoring drives on offense. Atlanta simply can't afford many empty possessions, and sacks can be drive killers. If Ryan is under duress or on his back a lot during this game, I don't like their chances of getting back on track.
Tabeek's Take: I definitely think the Panthers and new coach Matt Rhule want to come into Mercedes-Benz Stadium and kick the Falcons while they're down – and put an end to that five-game losing skid to Atlanta. But you know what? This game is too important to the Falcons and Dan Quinn, and I think having some key players back on defense will help them pull this one out. Look for Matt Ryan to have a big day in a fairly close one. My prediction: Falcons 31, Panthers 24.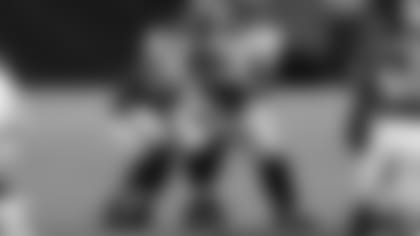 Spin around the NFC South
Here is what's on tap for the Falcons' other division foes in Week 5:
Los Angeles Chargers (1-3) at New Orleans (2-2), Monday at 8:15 pm ET (ESPN)
Tabeek's Take: For a time, it looked as though Justin Herbert and the Chargers were going to knock off the Buccaneers last week before falling in a tight one. I think it's hard to win on the road in the NFL – even in empty stadiums – let alone playing back-to-back road games. I like the Saints at home in a close one ... until the end. Saints 35, Chargers 28
Thursday night: Bears 20, Buccaneers 19
Tabeek's Take: The Bucs (3-2) could have widened the gap some with a win Thursday night. I knew the Bears defense was pretty good and this performance confirmed some of those thoughts about Chicago (4-1). Seeing that end result has to be a little frustrating for Falcons fans, too.
And just in case you're keeping score at home, here's how I'm doing with these predictions:
NFC South picks: 7-3
Picks on Falcons: 0-4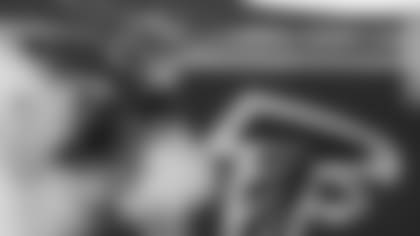 NFC South standings heading into Week 5
1. Tampa Bay Buccaneers: 3-2 overall
vs. NFC South: 1-1
vs. NFC opponents: 1-2
Next three games: vs. Packers (4-0), at Raiders (2-2), at Giants (0-4)
2. New Orleans Saints: 2-2 overall
vs. NFC South: 1-0
vs. NFC opponents: 2-1
Next three games: vs. Chargers (1-3), vs. Panthers (2-2), at Bears (4-1)
3. Carolina Panthers: 2-2 overall
vs. NFC South: 0-1
vs. NFC opponents: 1-1
Next three games: at Falcons (0-4), vs. Bears (4-1), at Saints (2-2)
4. Atlanta Falcons: 0-4 overall
vs. NFC South: 0-0
vs. NFC opponents: 0-4
Next three games: vs. Panthers (2-2), at Vikings (1-3), vs. Lions (1-3)
Tabeek's Take: There's no sugarcoating things, the Falcons need to get a win Sunday against division foe Carolina to get back into the race.The Buccaneers lost on Thursday night and, at the moment, the Saints and Panthers only have a two-game edge on Atlanta.
For a complete look at the official 2020 NFL standings, click here.