FLOWERY BRANCH, Ga. – Dante Fowler is back in action, feeling as healthy and explosive as ever. And, did we mention motivated?
The Falcons edge rusher made that clear a few times during a Monday press conference, his first since the end of last season.
That's an appropriate reaction to a lackluster 2020 campaign where he had a career-low three sacks and just had four tackles for loss and eight quarterback hits. That wasn't good enough, especially after signing a massive contract the previous offseason in unrestricted free agency.
He was asked to take a pay cut this spring to help remedy a messy salary-cap situation inherited by Falcons general manager Terry Fontenot and head coach Arthur Smith. Fowler called it a difficult decision to accept less, but he made it nonetheless.
"The decision was me understanding what happened last year and showing them that I want to be here for a good amount of time," Fowler said. "I felt like, under the circumstances we were in, I had to do my part to help the team in any type of way they were asking for."
Now Fowler has to do his part to help his team win and get back to the 2019 form that produced 11.5 sacks for the L.A. Rams.
Finding his effectiveness is this year's primary motivator, Fowler says, even over the pay cut or the fact he can became an unrestricted free agent at season's end.
"I have something to prove regardless," Fowler said. "I was hurt last year. It is what it is, and I'm ready to come in here and make a statement."
Fowler went into greater detail about his injury situation, saying he gutted it out in part for previous head coach Dan Quinn.
"It was just one of those things where I was hurt," Fowler said. "[Quinn], that was my guy, so it was only right that I play for him. There are times where I probably should've gone to [injured reserve], but it is what is. You live and you learn and you grow from it."
Fowler worked extensively this offseason trying to amplify his trademark burst and explosiveness off the edge, elements of his game essential to success. They should work well in Dean Pees' system, a scheme he likened to working under Wade Phillips' in 2019, when he had a career year.
"Coach Pees does a really good job of drawing stuff up," Fowler said. "If players do their job, it's possible to make a great play every play. He does a good job of getting pressure on the quarterback and setting people up for big play. We just have to do our job."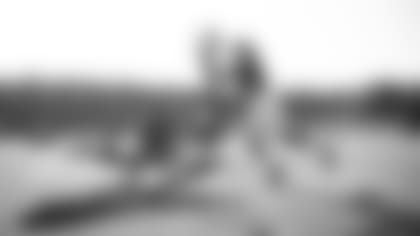 Part of Fowler's job is leading the effort off the edge, whether he's a three-down player or a pass-rush specialist. Head coach Arthur Smith has said several times he'd have to earn a role in the Falcons defense.
He has been eased back into action after starting Falcons training camp on the COVID-19 list, with only a week's worth of work done at this point. His activity will intensify this week during joint practices with Miami and possibly the subsequent preseason game.
"He's coming along," Smith said. "Everything since Dante's been back out here, he's like the rest of these guys, they're continuing to work and he's doing a nice job, getting here and learning, trying to earn a role, learning what to do. Pleased with Dante so far what he's showing on the field."
A look at linebacker Mykal Walker at work and more from Day 14 of 2021 AT&T Atlanta Falcons Training Camp.