OK, let's forget about the disaster in Big D, shall we? It's time to move on to the Bears, who'll arrive in Atlanta on Sunday with an unblemished 2-0 record. I think this is a good matchup for the Falcons, too. More on that later. For now, you've got plenty of questions – so let's get to them now. Just remember that all opinions here are mine unless noted otherwise.
J.C. from Savannah, GA
Beek, thanks for being objective in your thoughts and coverage of our history-making debacle. I can sense you now feel the agony of 50-plus years of "almost," including not only 28-3 but a mind-boggling loss in the NFC Championship Game in which a blew a huge lead to the 49ers. NOW THAT YOU ARE IN THE LOOP, what do you think our final record will be? Once again, be objective. Your call. Beek Nation awaits.
Matt: Well, I always try to objective but often I'm accused of being too positive when pointing out the facts instead of just piling on for the sake of, well, piling on. Regardless, I think this is going to be a very unpredictable season, especially early on with all of the season-ending injuries occurring. A lot of key players have already been lost for the year or for a significant amount of time, and that will affect wins and losses. In looking at the Falcons next game against the Bears, I think that is a very winnable game. I expect them to win, in fact. Playing up in Green Bay the following week will be tough, but it doesn't scare me. It's tough to look beyond those two because of everything happening in the league, but … I'll say this much: I think the Falcons could easily go 6-1 over their next seven games and be 6-3 at the bye. Now, the back end of their schedule is tough, but they would be in pretty good shape heading in. They'll play the Saints twice, the Bucs twice, the Raiders (who looked good last night beating the Saints), the Chargers in L.A., and the defending Super Bowl champs in Arrowhead. Again, not easy. But I do think 6-3 at the bye is very doable.
Marty from Billingham, Teesside, England
Hello Matt, you always seem to stay positive and I appreciate it but I am now starting to think it may be part of your contract/job role after Sunday! I still can't figure out what went on ... People are saying coaching, others are saying the defense. Ultimately when the players cross that white line, they have to take some responsibility. I know last week I said what's the panic over losing one game, but after that it has left me wondering that something may have to change ... the players have the talent so what is going on?
Matt: Oh, c'mon. You know as well as I do that the Falcons could have easily won that game and should be sitting at 1-1. They lost now hold an ugly 0-2 mark. No one here is sugarcoating anything, especially me. I called the loss a sucker punch to the gut, because that's what it felt like for Falcons fans watching that game unfold at the end. Every possession counts and games are won and lost on special teams, too. But let's move on, shall we? I'm tired of dissecting that debacle in Dallas. Let's talk Chicago – a team that I think the Falcons should beat.
Ethan from Auburn, IN
Hi Beek! I have some predictions for MVP so far this year. But first, to the onside kick. Why didn't they pick up the ball? Were they expecting it to go out of bounds? I don't know what they were thinking. Okay, so my MVP candidates so far are Matt Ryan, Aaron Rodgers, Joe Burrow, and Russel Wilson. If the Falcons end up having a good year this year and Matt Ryan keeps these stats up do you think he could win it? I mean the Falcons have to get better because if the Falcons overall can make this team into the top 10 of the power rankings, I think people will notice Matt Ryan. We all saw Matt Ryan's stats in 2018 but the Falcons were bad enough for no one to care. What do you think? Do you agree with these MVPs that I have chosen? Thanks, Beek!
Matt: No one knows why not one of the Falcons players didn't pounce on the ball, Ethan. They should have. The kick was designed to move slow so that the kicking team could get enough players around it to make it a 50-50 ball, and it worked. The Cowboys also kicked it towards their own sideline, reportedly, on purpose. Why? So no one would yell, "Jump on the ball!" Again, it worked. No one on the Falcons did. I wish I had the answer for you, but I don't. As for Matt Ryan's start to the season, he is playing very well. Did you read my Beek's Bits on Monday? You should. I have a section devoted to Ryan and his hot start. Ryan has completed 61 of 90 pass attempts (67.8 percent) for 723 yards (361.5 yards per game) and has tossed six touchdowns in the first two games of the season. He's thrown just one interception.
So just how good is Ryan's two-game start? It's among the very best in his career.
2012: Completed 70.2 percent, 518 yards, 5 TDs, 0 INTs, 117.6 passer rating
2016: Completed 72.6 percent, 730 yards, 5 TDs, 1 INT, 121.4 passer rating
2020: Completed 67.8 percent, 723 yards, 6 TDs, 1 INT, 109.6 passer rating
Here are Ryan's best finishes through the years in different categories:
Completion percentage: 68.6 (2012)
Most completions: 429 (2013)
Most passing yards: 4,944 (2016)
Most pass attempts: 651 (2013)
Most touchdowns: 38 (2016)
Least interceptions: 7 (2016, 2018)
Right now, Ryan is on pace to complete 488 of 720 passes for 5,784 yards and 48 touchdowns, which obviously would all be career highs. Ryan has produced 38 first downs passing through two weeks – and that ranks No. 1 in the NFL right now. Ryan is also on pace to produce 304 passing first downs, which would eviscerate his career-high of 248, set in 2012.
So, yes, if he keeps it up and the Falcons turn things around, he will be in the MVP conversation. But that is a big "if" right now. As far as your other candidates … wow, Joe Burrow? I love what I'm seeing from the rookie, but it might be too soon. The Bengals would have to win that division, and that'll be nearly impossible with the Ravens and Steelers there.
Jesus from Gainesville, GA
What would the future of season look like IF we lose to the Bears?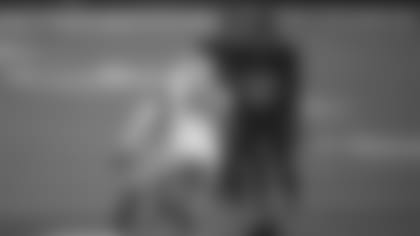 James from Loganville, GA
Is the new onside kick rule, neither team can touch the ball until it travels 10 yards? If touched before 10 yards by the receiving team, what's the penalty? If I were Mr. Blank, I would want a bit more for my millions than what I am receiving. I keep wondering how the Patriots changed their losing culture when Bill Belichick took over? Is he that much better than other coaches or does he just expect more and accept fewer excuses? Any way thanks for your reporting! I stand by the Falcons motto, "Wait till next year"! P.S., Coach Quinn has way too much trust in his coaches in my opinion.
Matt: No, there's no new rule when it comes to onside kicks. The Falcons player could have – and should have – pounced on that ball and recovered it. They didn't. Game over, and now they're 0-2. It should have never come down to an onside kick, though, in my opinion.
Christopher from Oceanside, CA
Hey Beek! A couple of quick thoughts here. 1) Very glad to hear that Kaleb McGary's injury will only cost him 1 week. 2) We really need to do something about our secondary. And 3) This comment is more towards the Matty Ice haters. I hope that all of haters realize how special a QB that we've been fortunate to have for all of these years. There is only so much Matt Ryan can do, and he definitely did not let us down against the Cowboys. I mention this because of all of the ridiculous hate mail that you were receiving during the offseason Beek regarding alleged Falcons fans wanting to move on from Matty Ice. Statistically speaking, Matty Ice is a top-5 QB in the league right now. I just hope that we can stop with the "we need a new QB" chatter! Your thoughts?
Matt: I'm starting to think that a lot of these so-called Falcons fans aren't really fans of the team (or maybe they're Saints fans)– at least the ones who complain about Matt Ryan every single day. Either that or they're not sure what quantifies as good quarterback play in the NFL. It's laughable. As far as the defense goes, yes, I am concerned about the play on the back end of that unit. Russell Wilson and Dak Prescott are two really good quarterbacks, but … wow. They put up ridiculous numbers. The Falcons are currently allowing 476.5 yards per game, which ranks 31 out of 32 teams, and are giving up an average 39.0 points per game, which is worst in the league. Atlanta needs to tighten things up back there, and quickly. MAILBAG
Do you have a question about the Falcons that you want answered? Ask a question here and it could be posted on AtlantaFalcons.com.
Go ahead, ask the Beek
Do you have a question about the Atlanta Falcons (or anything football-related) you'd like to ask Matt Tabeek? If so, hit the link. Please remember to include your home state (or country if you live outside the U.S.). Thanks for reading SFTB!