The Falcons are coming off one of their more impressive wins over the last three seasons – a 43-6 dismantling of the Las Vegas Raiders on Sunday. Next up is a rematch with the New Orleans Saints, and this time they'll meet here in Atlanta. The Falcons are 4-2 since Raheem Morris has taken over and this team refuses to throw in the towel. Meanwhile, you've got plenty of questions and comments, so let's get to them now. Just remember that all opinions here are mine unless noted otherwise.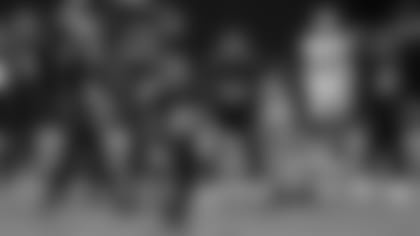 Damon from Ellenwood, GA
Hey Beek! It was refreshing to see the defense come together for such a dominant performance against the Raiders!! More specifically the play of A.J. Terrell was stellar. I'm a loyal Falcons fan. Much so to the point that I can admit my assessment of A.J. Terrell might have been a little rash. You and Jerry from Hinesville made solid points about his performance on Sundays. Hopefully, this is the trend for the defense for the rest of the season and let the chips fall where they may. Thanks again Beek and keep up the good work!
Matt: I've been telling you guys that the play of rookie cornerback A.J. Terrell has been one of the bright spots for this defense – through the not-so-great times and as they've improved. Terrell's play has really stood since training camp. Each game is a learning experience for the former Clemson standout and he's steadily improving. As far as trends go, Damon, there has been one developing with this Falcons team, especially when you look at their four wins.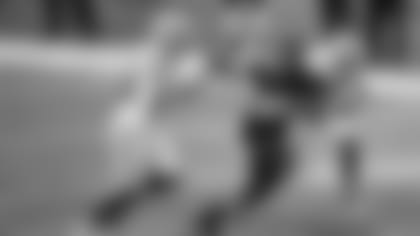 Joe from Denver, CO
Hi Beek! Much to my surprise, the local TV station showed the Falcons game and what perfect timing! First, I must applaud the entire team for beating the Raiders (on Sunday). Sure, Derek Carr had a bad day, but we capitalized on each one of those turnovers. Add to this the stout performance of our much-maligned defense and were up and kept increasing our lead till the point where the network switches to the Colts game before the gun. Well done! Moving forward, I'd love to see the tandem of Brian Hill/Ito Smith share the duties of RB1. I truly love the way both of them keep their feet moving after the first hit! Hill doesn't quit ever on any play. Love the hustle! Hats off to the entire D unit, everyone pulled their weight today. Keep it up Falcons! Thanks again, Joe.
Matt: Hey, Joe. That's great; glad you were able to watch the Falcons game live on TV out there. Derek Carr had a bad day largely because of how the Falcons defense played. They were aggressive, pressed and played a lot of man – forcing those Raiders receivers to get separation and try to win those matchups. They did a really nice job of forcing Carr to hold onto the ball and, as you know, Raiders quarterbacks ended up being sacked five times. As far as the play of Brian Hill and Ito Smith goes, I thought it was effective enough. They combined for 25 carries, 120 yards rushing and a touchdown. It was an excellent collective effort that was led, of course, by the stellar play on defense. Winning the turnover battle always helps. Forcing five and cashing them in for 23 points was huge and a big difference-maker.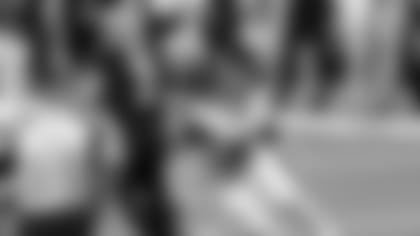 Jerry from Hinesville, GA
Hey Beekaroonie! Great team win yesterday. OK, now that we have a little more tape on Taysom Hill, do you think we will have something for him next week. I think blitzing and press coverage might help. I would say a split with all division foes would be a great constellation prize for not making the playoffs. I will leave you with one of my famous theories that cracks you and your offices mates up. Why don't they hire you as GM, heck, at least you know to draft the best player available? That alone would top TD.
Matt: Hey, Jerry! Yes, it was definitely one of the more dominant Falcons wins in the last three seasons, truth be told. I think when it comes to the Falcons' next opponent, the Saints certainly have the Falcons' attention (and I'm definitely not referring to just Taysom Hill, either). That New Orleans defense caused all kinds of problems for the Falcons during that last meeting. We all know that Taysom Hill is not your traditional pocket passer so the Falcons will have to do a better job accounting for his scrambling, too. I expect Atlanta to play much better this time around when they meet Sunday at Mercedes-Benz Stadium. Ha! I'm not touching that GM comment, Jerry! Being a great general manager is way more than just selecting the best available players on your draft board every year, trust me. I have a tremendous amount of respect for everyone in our scouting and pro personnel departments. I had a chance to meet them all and write feature stories on them when I first got here, and it was a great learning experience for me. And for what it's worth, their thorough work and research was also on display during that 43-6 win over the Raiders, too.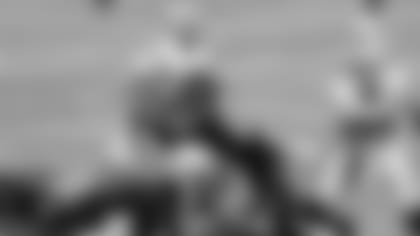 Greg from Cumming, GA
Hey Beek, I like the way the Falcons played Sunday. Played like the Alabama Crimson Tide.
Matt: It was certainly was a dominant performance with a one-sided score by game's end, Greg.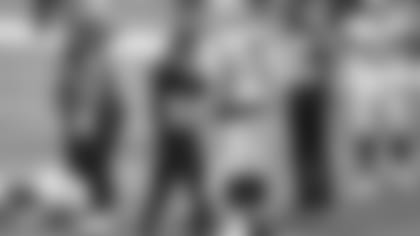 Chris from Oceanside, CA
Beek! Now this is what Dirty Birdz Nation has been waiting for! Last week I wrote about how bad of a game we had against the "Aints", and I must admit, yesterday was the best game that we have played in a long while. I do have one glaring concern though. We NEED to get better running the football. Thank goodness we did not have to rely on the offense to win us that game (as the defense was HUGE against the Raiders). No matter the RB, it seems as if we can't get anything going on the ground, which leaves us extremely one-dimensional on offense. And with both Julio Jones and Calvin Ridley banged up, it may be too much for Matty Ice to handle. TG isn't the answer moving forward, and I now view the RB position as much as a need for us similar to a bonafide pass-rusher. Your thoughts?
Matt: Hey, Chris. As I mentioned above, I thought the running duo of Brian Hill and Ito Smith was effective enough, as they combined for 25 carries for 120 yards and a touchdown. Was it dominant or flashy? No, but it didn't need to be against the Raiders. If you've read this space at all, you'd know that I think the best formula to winning games in the NFL (or at any level) is the combination of a stingy defense and a strong running game. If you have those two things in your favor, a lot of good things usually come from that. As far as team needs go, I do think the Falcons need a dominant pass rusher badly – a "war daddy," as I like to call them. Someone who scares opposing offensive coordinators and forces them to account for their whereabouts every time they're on the field because they can wreck a play at any given time. This is just a guess at this point, but I think there's a good chance that the Falcons backfield will look different, too, next year. For now, Raheem Morris and that coaching staff are 4-2 and have really done a great job doing more with less.
Latest episode of Bird Noises
From Turner to Burner: Patience, paydays and playoffs: Former Falcon Michael Turner talks about waiting longer for his big break, winning, the best team he ever played on, his love of food and more with Matt Tabeek on Bird Noises. MAILBAG
Do you have a question about the Falcons that you want answered? Ask a question here and it could be posted on AtlantaFalcons.com.
Go ahead, ask the Beek
Do you have a question about the Atlanta Falcons (or anything football-related) you'd like to ask Matt Tabeek? If so, hit the link. Please remember to include your home state (or country if you live outside the U.S.). Thanks for reading SFTB!