Welcome to Straight from the 'Beek! It's almost gameday and you've got lots questions today. Just remember that all opinions you see in this space are mine, unless otherwise noted.
---
Ian from Atlanta, GA
Do you think Ricardo Allen is the long-term solution? And out of the players that were here before Dan Quinn, how many do you think will still be around in the next two years?
Matt: I think Ricardo Allen is coming off a solid training camp and has definitely made his presence known making plays in the secondary at different times. He's a leader back there and listening to him at different times, it's a role he embraces. The NFL is and always will be a what-have-you-done-for-me-lately business, Ian. Allen started all 16 games last year and I expect he'll be even better this year with what should be an improved pass rush in front of him (it helps the back end). As far as predicting who will be around, I won't do that.
---
Antonio from Augusta, GA
How many sacks and tackles do you think Grady Jarrett will have, Beek?
Beek: Great question, Antonio. And some of my best friends call me Beek. Moving on ... Jarrett should benefit playing alongside new addition Dontari Poe and the Falcons appear to be improved (and deeper) across the board along the front seven. Jarrett also had one heck of a game in the Super Bowl and if he can carry that momentum into this season, I expect he have more than the four sacks he was credited with last year. My prediction is six sacks and about the same amount of tackles and assists as he had in 2016 (21 and 27).
---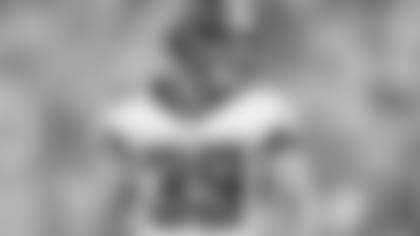 Walter from Frederick, MD
Is Tyler Renew having a good camp and will he make the team?
Matt: It's never easy making an NFL roster, especially for an undrafted free agent. It's going to come down to these last two preseason games for Renew, who was an All-American fullback at The Citadel. If he can make some plays on special teams, it'll certainly help. The Falcons will likely keep just one fullback and Renew is behind Derrick Coleman on the current depth chart.
---
Michael from Lithonia, GA
Our defense has obviously improved and is on a steady climb. At this point, which do you think is better? The front seven, the linebackers, or the secondary? And where do you see us falling in top defenses in the league by the end of the year?
Matt: I like the front seven, Michael. And by the last part of your question, I'm assuming you mean where do I think the defense will rank overall at the end of the season. I think this defense will be better than they were in 2016 in a number of categories – including total yards and points allowed per game. But I'm also not ready to say they'll be a top-10 defense yet. Let's see that first-team unit play some real games for four quarters first.
---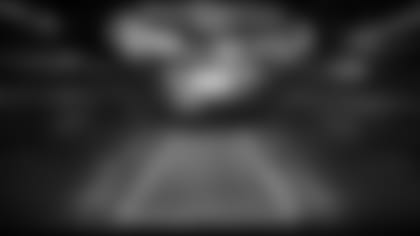 James from Oklahoma City, OK
I doubt I will ever get to see MBS in person and need someone who has been in the new stadium to tell me. Is there a chance punters will hit the roof or scoreboard like they do at Jerry's World?
Matt: No chance, James. And if it ever happens, I'll run 10 100-yard sprints and name my next dog Halo.
---
James from Covington, GA
What color uniform combination will the Falcons where Saturday? Red jersey and white pants, black on black, red jersey and black pants?
Matt: I expect that they'll be in their traditional home uniforms, James. Red jerseys and white pants.
---
Mauricio from San Jose, CA
When will merchandise on atlantafalcons.com be restocked? Specifically, elite jerseys?
Matt: Keep checking back, Mauricio. I don't have an answer on the elite jerseys, but I have ordered several items online and had no issues whatsoever with my orders.
---
Zamir from West Milton
Do you think we will resign Dwight Freeney and if we do, will he's presence help Takk?
Matt: Is that West Milton, Ohio, Pennsylvania or New York? Anyway ... Circumstances can always change, but I really think the coaching staff likes what they have right now with this group, Zamir. So, no, I don't see it happening. And I think there's a decent mix of veteran leadership on this team that's helping bring rookies like Takkarist McKinley along.
---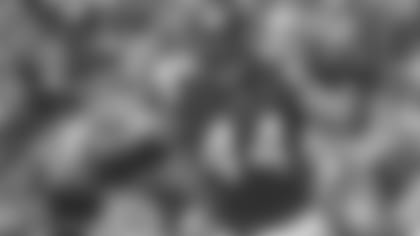 Daniel from Waynesville, GA
Vic-Tak-Poe. Do you think any other threesome will have more sacks than these three combined? And what is your guess for a total for the three? I am thinking 30. Vic 15, Tak 10 and Poe 5.
Matt: Wow, 30? The most sacks for any rookie (since it became an official stat in 1982) is 14.5 by Jevon Kearse in 1999. Most recently Aldon Smith had 14 in 2011. My point is that reaching double-digit sack totals in your rookie year is pretty rare. But to answer your question, here's my prediction: 23 – Beasley (11), McKinley (seven) and Poe (five).
---
Tellis from Carrollton, GA
Do you think the Falcons go to the Super Bowl this year?
Matt: I'm no Nostradamus, Tellis, but I'll say this much: If the Falcons can stay healthy and this defense comes together, they certainly have as good a chance as any team in the league right now. But a lot can happen over the course of a 16-game schedule.
---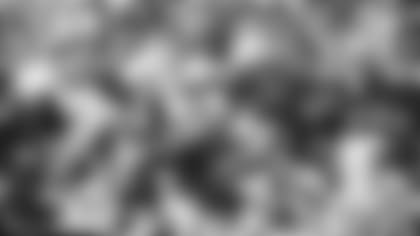 Carl from Charleston, SC
Any chance of painting the end zones a solid red or black in the new stadium? From the pictures, it appears the end zones paint scheme look exactly the same as in the Georgia Dome. I personally would love to see a change there. As much as I dislike the Panthers, their end zones look great in respect to the color scheme. And please change our uniforms. Silver pants, red helmet, etc. Thanks!
Matt: I understand what you're saying with the solid-colored end zones, but I'll politely disagree with you on the end zone paint scheme, Carl, only because the field just looks so good right now. As far as the uniforms go, yes, I'm with you there – I've said it a number of times in this space that I'm a big fan of the old school Falcons uniforms – and I grew up in New York. Love the red helmets and silver/gray pants too from the Steve Bartkowski and William Andrews days.
---
Rick from Lawrenceville, GA
What's your opinion on Matt Simms play thus far? I thought he looked stronger, quicker, and more decisive in the Miami game and the first half of the Pittsburgh game. But the drop-off in his play in the second half last week was painful to watch.
Matt: Here's my opinion on the quarterback position: Be very thankful you have Matt Ryan as the starting quarterback here in Atlanta and hope he remains healthy. Regarding the second half of the Steelers game, yes, it was ugly at times. Coach Dan Quinn even noted that the intensity level dropped and that has nothing to do with talent or athletic ability.
---
Tony from Augusta, GA
After the bitter way of losing the Super Bowl, do you sense the team has a chip on its shoulder to not falter as the Panthers did and return to avenge the loss?
Matt: I think that's a totally logical thing to wonder and ask, Tony. When I arrived in mid-May, I was curious about it as well. But this team is completely focused on 2017 and has put the last year in the rear-view mirror. I won't ever speak about how the players and coaches feel (because only they know), but this team appears to be 100 percent focused on what's ahead. No one dodges questions about the past, but I don't sense any bitterness. They're on to 2017.
---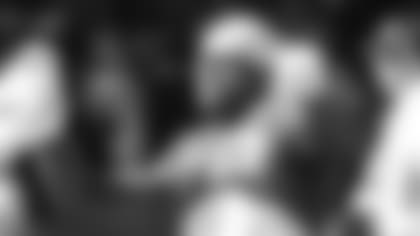 Charlie from Copperas Cove, TX
Which player has impressed the coaching staff the most this preseason?
Matt: I can't say with certainty who has impressed "the most" but I can say that Dan Quinn has singled out more than once for his attitude and performance throughout training camp.
---
Chimya from Atlanta, GA
Do you think that Julio Jones can stay healthy and do you think that we will go back to the Super Bowl?
Matt: I don't know if Jones will stay healthy for 16 games – it's a tough, physical and unpredictable game with bodies flying around on every play. That said, he appears to be ready to go and the Falcons will definitely need him if they want to return to the Super Bowl.
---
MW from Woodstock, GA
How long will the starters play on Saturday?
Matt: We've asked coach Dan Quinn that question a number of times and only he knows the answer to that – not even the starters know. But if I had to guess, I'd say expect more of what you saw in the Dolphins and Steelers games – a series or two. The third game is traditionally called the "dress rehearsal game" because most teams will play their starters for at least a quarter and maybe a half. But the Falcons know what they have in their starters and want to continue to evaluate everyone.
---
Eric from Tallahassee, FL
Besides winning, what would the Falcons do differently or how would they approach the Super Bowl if a repeat of Falcons vs. Patriots were to occur? Think there would be any specific things they might do besides watch the tape from the last loss to the Patriots?
Matt: I was at the Super Bowl and I thought the Falcons played well enough to win that game. I don't want to speculate or second-guess anyone because I wasn't on that sideline or in that huddle, Eric – it wouldn't be fair or right.
---
HaaShim from Charlotte, NC
With Jalen Collins being suspended for most of the season do you think we have enough depth at the cornerback position? Or do you see us bringing someone in mid-season?
Matt: I think the coaches are evaluating that position on their own team and keeping a watchful eye on the 31 other teams right now, too. With one roster cut-down day this year, there will be a lot of players to consider – and quickly. A team will usually make a move if it can upgrade a position (and is in a position to salary cap-wise).
---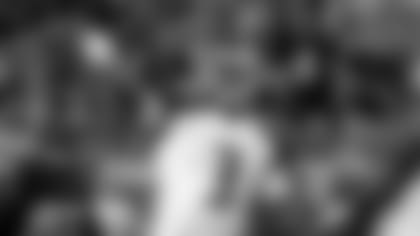 Matthew from Tuscumbia, AL
Who do you think is the biggest threat to Atlanta in the NFC South?
Matt: Great question. I think the other three teams made moves in the offseason to improve their respective rosters, but keep an eye on the Buccaneers. They've got some nice players on both sides of the ball – and I like what they did in the NFL Draft and in free agency. They were close to being a playoff team last year. The two teams split last year.
---
Mikel from Montgomery, AL
Do you feel that Julio Jones's legacy will take a hit because he hasn't racked up as many touchdowns as other all-time greats?
Matt: No, not at all. If he continues on this current path, his legacy will be solidified as one of the greatest receivers of all time.
---
Charles from Columbus, OH
What I can't seem to figure out is why people think the Falcons are not capable of being a good, consistent team. We locked up a lot of key players at key positions and with DQ making it clear what he wants this defense to shape into with additions like Dontari Poe, and Takk (McKinley) along with Vic Beasley and a secondary with amazing depth, I don't see why we can't compete with the best for seasons to come.
Matt: I'm not sure who you're talking to, but the Falcons were consistently good in 2016, especially in the second half of the season. And, as you noted, they are deeper and more talented this season – and are built to compete for seasons to come. You need a quarterback to win in this league, and the Falcons have a great one in Matt Ryan.
---
Ed from Union City, GA
Do you think the Falcons will trade RB Tevin Coleman this year or do you think they will sign him to a contract? I know he has two years left on his rookie contract. They just signed Freeman to the highest-paid running back
Matt: I never say never, but I do not see the Falcons trading Tevin Coleman. He's too valuable to this team and gives them a nice 1-2 punch at running back.
---
Tony from Penonomé, Panama
Atlanta has several international players. Can you update us (or perhaps do a story) on their performance so far, who looks most likely to get the extra international slot on the practice squad? Do you think more than one could make the practice squad?
Matt: Thanks for writing, Tony, and you're right – the Falcons have a few international players, as you put it. Defensive end Jack Crawford grew up in London and was in the same high school class as "Harry Potter" actor Daniel Radcliffe. Receiver Anthony Dable is from France and first learned about American football (NFL) by playing a video game and watching YouTube videos. And then there's tight end Alex Gray, who was a rugby star in England once and actually has been given an exemption to be the 11th practice squad member – but he's ineligible to be activated during the season. Here's another story we did on Gray. HAVE A QUESTION?