The Falcons Building Blocks series is a week-long series of stories that focuses in on certain talent that will be counted on throughout the course of the 2023 year in Atlanta, and beyond.
Two years ago, when I authored this series, and I had certain requirements and marks the players on this list must have. They had to be on a rookie contract. They had to be 27 years old and younger. They had to be thriving already, "with leadership qualities and potential for even better down the road." Though this list follows a similar pattern, like last year, there are no such requirements for the 2023 list compiled and authored by me and Tori McElhaney.
We're looking at players the Falcons can build around, regardless of age, overall status or contract details. The Falcons have a young foundation set. So, who are the main pillars of that foundation?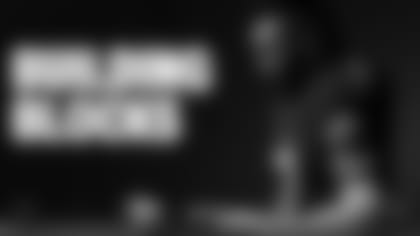 The Falcons have grand plans for Bijan Robinson. They started forming in Arthur Smith's brain well before the NFL Draft, when the creative play designer started watching the Texas running back work in college.
Possibilities grew the more the Falcons head coach got to know Robinson during the pre-draft meetings, especially after spending extended time with him in Austin, Tex.
That's why, when it came time to select at No. 8 overall, Robinson was the guy. Now that he's a Falcon, we can see Smith's vision come to life. We'll see it unveiled as opponents do, in bits and pieces as the season rolls on. No point in giving other teams a scouting report, am I right?
We can confidently say, generally speaking, that running back shouldn't define what Robinson does. He's going to move all over the place. He'll play receiver. He'll move in motion. He'll do a ton out of the backfield as a solo back and in tandem with either Tyler Allgeier or Cordarrelle Patterson.
If we're desperate for titles in this somewhat positionless system, offensive weapon will work.
"Some of the things that we were going to ask him to do, you see it on the tape, with the background, not just the running back, the running back stuff was obvious on the tape, but the versatility part where you use him and where he has been effective," Smith said during the NFL Draft. "I mean, he did that at Texas at times, but his background, playing in the slot, was another big piece of it. That's intriguing. We feel he is an explosive weapon, a home run hitter however he gets the football in his hands."
And while nothing is certain, odds seem great Robinson will make an instant and profound impact on the 2023 campaign. He's a dynamic player who's bigger than you think, someone with the talent to run by you, around you or through you.
That's why we're confident considering Bijan a Building Block despite the fact he hasn't played a single NFL down. The Falcons wouldn't have used platinum draft capital on him if they didn't think so, too. All that said, he hasn't done anything yet and must prove himself, as others before him have done, before being viewed in high regard.
Should expectations be high? Sure. Should they be tempered a bit until we actually see him play? Heck, yes.
Smith often talks about having a short-term vision and a long-term plan for each player. Robinson won't be at his best in Week 1. He'll get better and better the more he learns this system and his role in it. He'll get better and better the more he learns from position coach Michael Pitre and peers in his position group.
"He's such a great person and he's been receptive," Pitre said during the offseason program. "We're challenging him just like all our guys. We throw a lot of stuff at them to see how they learn, how well they can retain the information."
Robinson's a talent the Falcons will build around, someone who has real potential to be a part of this team's bed rock now and in future seasons, someone with the talent to take the offense to another level.
"We really like what he is going to bring to the offense," Smith said. "We really like the impact that he is going to make on offense."
We take a look at Bijan Robinson's visit to Atlanta Falcons headquarters in Flowery Branch after the 2023 NFL Draft, presented by Harrah's.